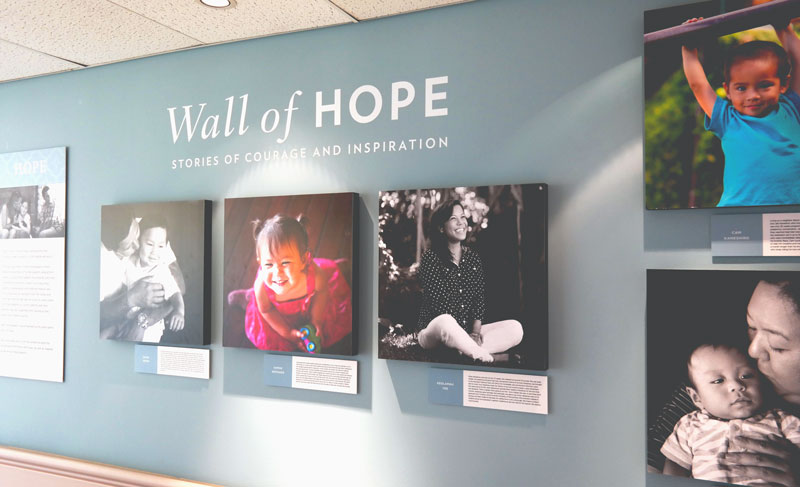 Kapiolani's Wall of Hope displays images and stories of former patients in the hopes to support and inspire current patients and their families as they brave their own medical journey.
Layla Lacey-Nahale
Wall of Hope: Stories of Courage & Inspiration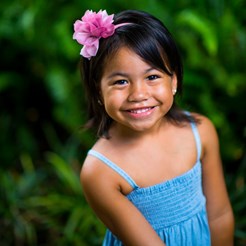 Layla Lacey-Nahale had always been a happy, healthy little girl. 
That changed one day right before Thanksgiving when Layla's preschool teacher noticed the 3 1/2-year-old limping. Layla hadn't fallen down, and her teacher couldn't find any bruises to indicate an injury. Just to be safe, her mom and dad took her to the emergency room in Kona where they lived. The doctors couldn't figure out what was wrong and sent her home. 
Some time later, Layla began involuntarily kicking and thrashing in her sleep. Her legs became so sore that she couldn't walk. It became clear that something was not right, and she was air-transported from Kona to Kapiolani Medical Center for Women & Children.
Doctors at Kapiolani determined that Layla was suffering from Anti-N-Methyl-D-aspartate (anti-NMDA) receptor encephalitis, a rare autoimmune disease only discovered in 2007 in which antibodies attack the brain. It took a collaborative effort of a multidisciplinary team at Kapiolani to develop a treatment for Layla's rare condition.
"I never imagined a medevac trip would turn into 6-7 months." said her father, Kaaina. "She stopped talking, walking, needed a tube for feeding, and became another little girl altogether." 
Over time, and through multiple treatments, Layla has made a full recovery and is once again a happy, healthy little girl.
Published on: April 29, 2016