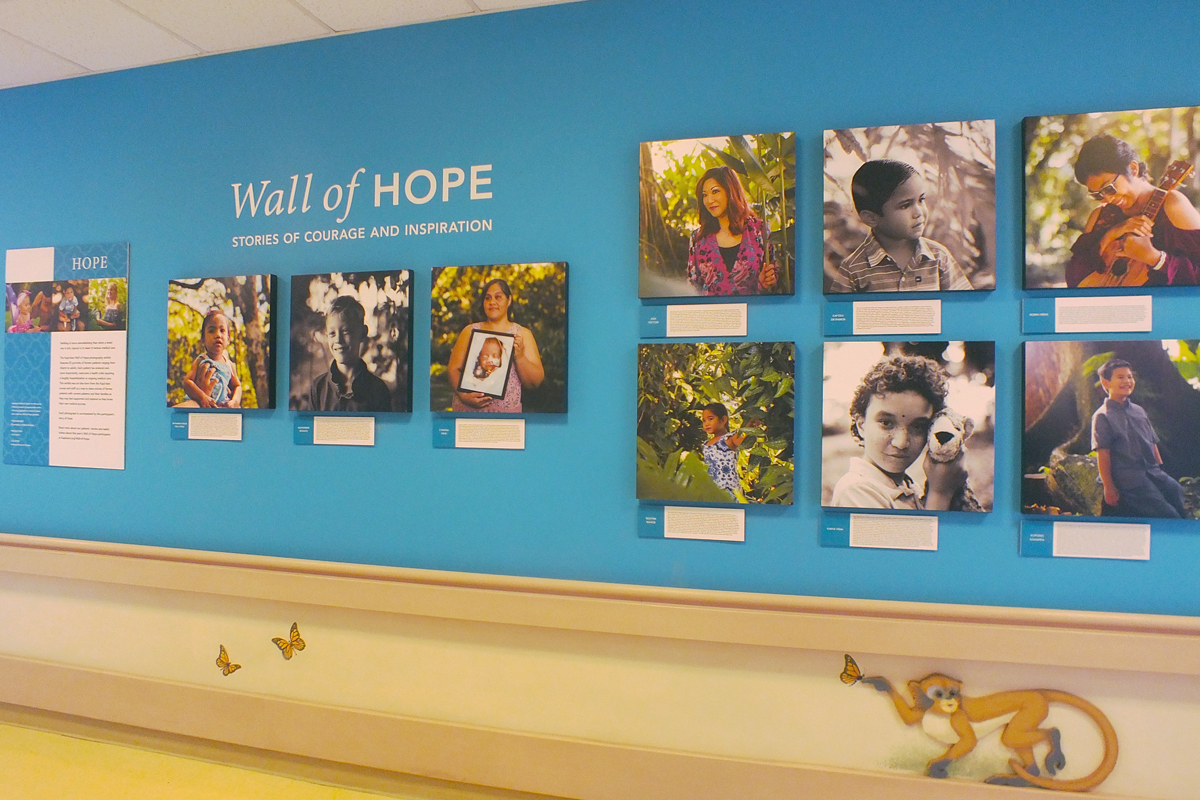 Kapiolani's Wall of Hope displays images and stories of former patients in the hopes to support and inspire current patients and their families as they brave their own medical journey.
Kayle Osai
Wall of Hope: Stories of Courage & Inspiration
"Strength does not come from physical capacity. It comes from an indomitable will." – Mahatma Gandhi
When KayleKamoto Tui Malila Osai was 1 year old, his mother, Melissa, insisted her son receive genetic testing. 
"I knew something was not right," Melissa says. 
Kayle's tests showed that he had a chromosome abnormality that would later be confirmed as Carney's complex, a condition that puts individuals at an increased risk of developing benign tumors in the heart and other parts of the body, such as the hormone-producing endocrine glands and adrenal glands on top of the kidneys. 
Due to his condition, Kayle has received numerous medical procedures at Kapiolani Medical Center, to include brain and heart surgeries, MRIs, ultrasounds, X-rays, echocardiograms, bronchoscopy, colonoscopy, endoscopy, g-tube revisions, feeding therapy and other various tests. 
"The better question is, what has he NOT had done at Kapiolani," Melissa says. 
"Kayle has seen almost every sub-specialty doctor at Kapiolani. They have become a huge part of our family and know us well," Melissa adds. "When Kayle has procedures or overnight stays his doctors will go out of their way to stop by and check on us. Nurses on the wing, operating room and recovery all know Kayle and his crazy curls. Most people refer to him as 'Moto.' We are so blessed and lucky to have such an amazing team of people looking after him." 
The attention Kayle receives doesn't end with the Kapiolani medical staff. Melissa mentions a coffee cart lady named DeeDee, who has come to know the Osai ohana because Kayle always stops at her cart for a chocolate milk. 
"She always asks how he is doing or buys him a milk – she is an extremely caring and sweet woman," Melissa says. 
Now 9, Kayle is doing extremely well. On May 2, 2017, for the first time in eight years, he had his feeding tube removed so that he can eat on his own. He has been gaining weight and eating orally without any issues. 
"Kayle will need to be monitored for tumors for the rest of his life," Melissa says. "These tumors, although benign, are life-threatening if undetected. His multiple other diagnosis, such as hard of hearing, global developmental delay, autism and scoliosis, are due to the additional gene deletion. 
"Kayle is an amazing young boy who has endured more than anyone should in his lifetime. He always has a smile, a wave hi, aloha or hug to give out," Melissa says. "Life is a miracle, no matter what condition you are born with. Be strong, do not give up, stay positive and enjoy every minute."
Published on: October 31, 2017