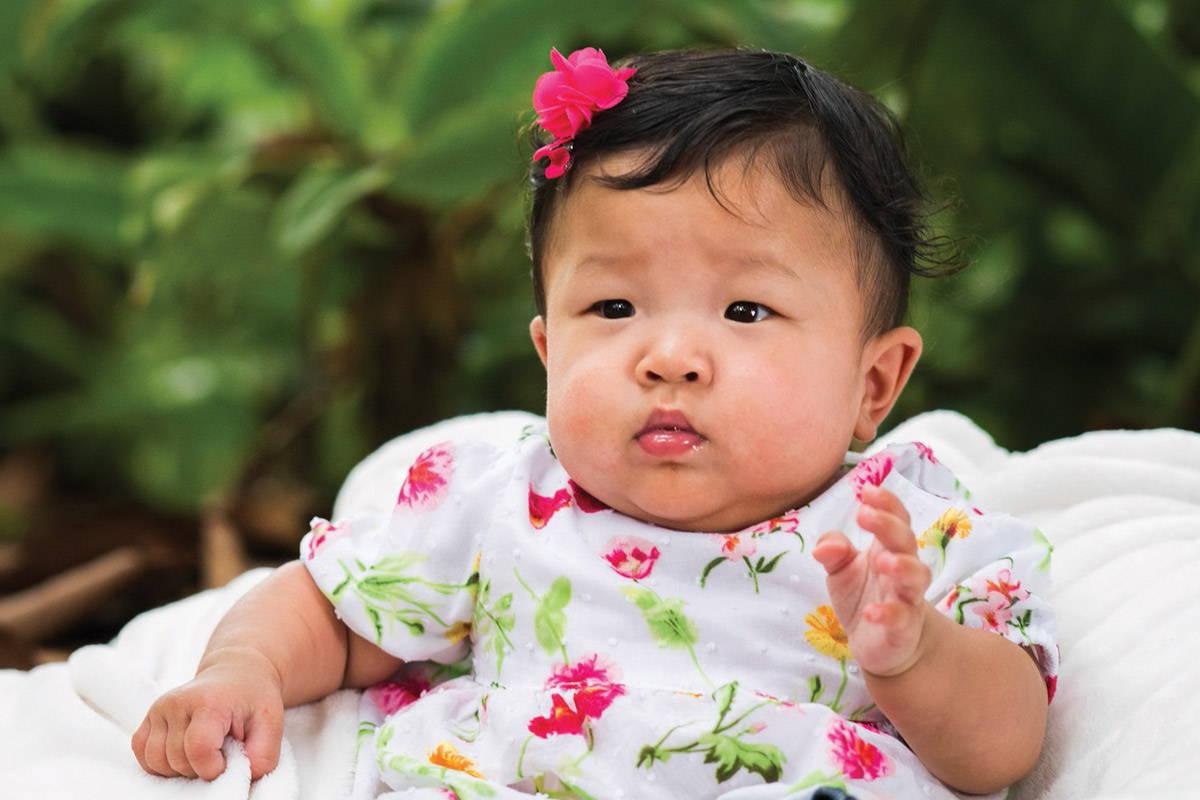 Kalley-Mae Yee
Wall of Hope: Stories of Courage & Inspiration
Little Kalley-Mae Yee's story begins before she was born.
On Dec. 15, 2018, Cherilyn Yee was medivacked from her hometown of Hilo on Hawaii Island to Kapiolani Medical Center for Women & Children on Oahu. Even though Cherilyn was 23 weeks into her pregnancy, she would need an emergency C-section because her water bag was leaking and the baby was breach.
"We felt like we were on a roller coaster," says Cherilyn's husband, Kevin. "Our initial feelings of joy when she was born were replaced with the scared reality that she may not survive."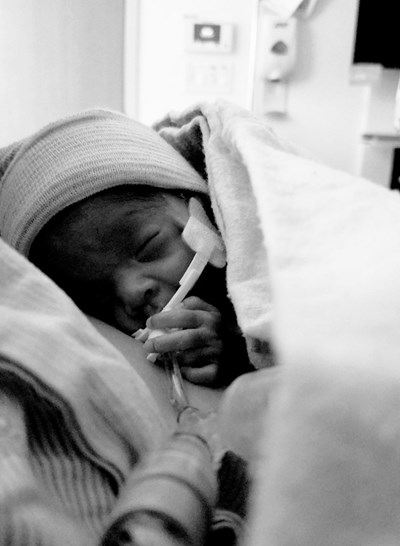 Kalley-Mae weighed just 1 pound, 6.6 ounces at birth, making her a micro-preemie.
Because she was so small, Kalley-Mae would need to stay in the Kapiolani Neonatal Intensive Care Unit for six months in order to gain weight and strength.
Our initial feelings of joy when she was born were replaced with the scared reality that she may not survive."
Kevin and Cherilyn remained by their daughter's side during the entire 183-day ordeal.
"During her stay in the NICU there were good days and not so good days – it was an emotional roller coaster of so many feelings!" Kevin says. "We were happy that we were able to be with her and spend time with her, but sad and always wondering if she was going to make it through another night because of all the complications and challenges she endured."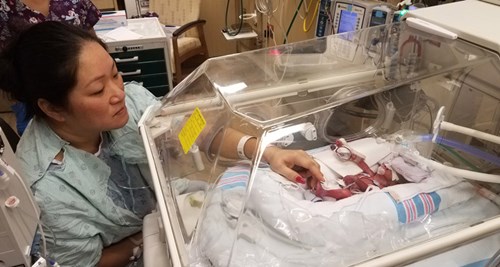 Kalley-Mae endured 10 blood transfusions, surgeries to correct complications in her heart and eyes, and required a breathing machine and feeding tube to support her.
She also suffered two bouts of pneumonia.
However, the expert care and above-board compassion of the Kapiolani staff enabled Kevin and Cherilyn to remain hopeful even during the lowest points of their daughter's journey.
"We are very appreciative of everything that was done for Kalley-Mae and for ourselves as well. From the moment that we arrived at the medical center to the follow-up appointments we still attend till this day, all the staff including but not limited to the doctors, nurses, specialists, parking/security, janitorial, and cafeteria staff have been incredible," Cherilyn says.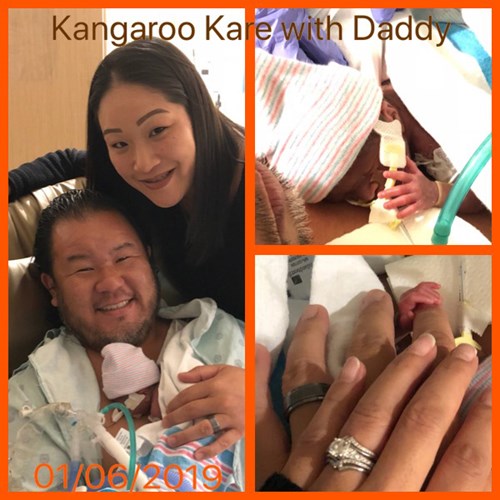 "We were able to connect with some of the other patients and share stories of what we were each going through and being that support system for each other," she adds. "We may have physically left Kapiolani, but we remain in contact with many of the staff there."
Kalley-Mae's story continues to be written. She is approaching a major milestone – her first birthday – and is thriving.
We are glad that we are able to share her story of hope and inspiration with everyone."
"She is exploring solid foods and loving it!" Cherilyn says. "She loves being out and about and meeting all her aunties, uncles, cousins and friends. She is a happy baby who loves to talk-story and laugh."
"We are happy on the progress Kalley-Mae has made and continues to make, and we owe it to Kapiolani," Kevin adds. "We are glad that we are able to share her story of hope and inspiration with everyone."
Published on: October 21, 2019