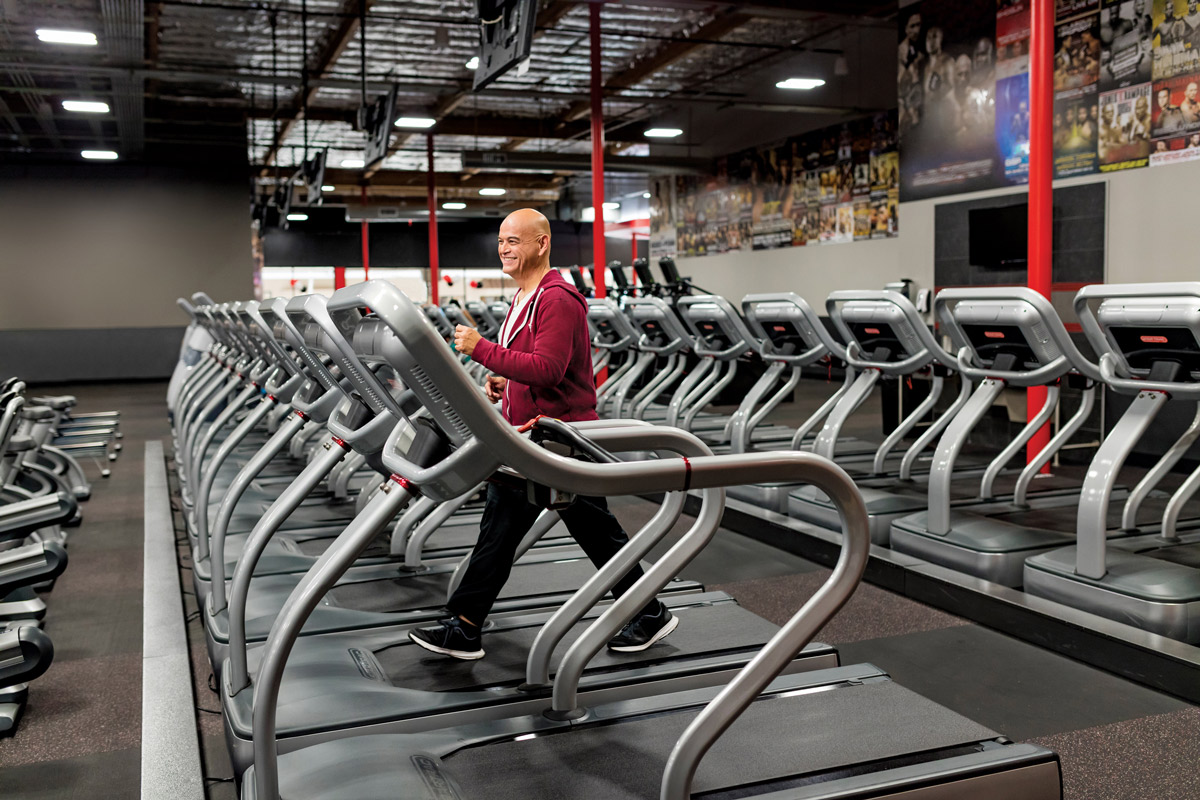 Once sedentary, Felix now counts walking, hiking and gym time among his favorite activities.
Felix Calvo
Honolulu resident Felix Calvo says he was always a big kid growing up. 
"I never knew how it felt to be skinny," the 54-year-old says. "I had friends who did a lot of activities that I wanted to do with them – hiking, going to the beach, dancing, enjoying a social life – but I couldn't because of my weight." 
Embarrassed about his weight, Calvo would make excuses for not joining his friends, or he would intentionally put in extra hours at work so that he didn't have to make up an excuse. 
He explored several weight-loss options, but was never successful in gaining control of his weight. 
"I would get bored easily with the program and would go back to old habits, which were not good habits at all," he confesses. 
Those unhealthy habits contributed to a litany of obesity-related conditions, including sleep apnea, high blood pressure, high cholesterol and prediabetes. 
"I was on five medications for high blood pressure, all of which were prescribed at the maximum dosage," Calvo says. 
When his doctor wanted to add a sixth medication to the list, Calvo decided it was finally time for a change. 
"I was tired of my lifestyle and the condition of my health," Calvo says. "I couldn't stand my sleep apnea machine, and almost never used it when I went to bed. I was on two high cholesterol pills, I had high blood sugar, and my kidney function was not healthy. I wouldn't take my pills because I was just tired of taking them … I was tired of living on pills that only prolonged my life. 
"I hated going shopping for clothing; I was a closet junk-food eater; I just hated my life," Calvo adds. "I needed something to help me take control of my life and to get into shape." 
Calvo found that something when he joined the Hawaii Pacific Health 360° Weight Management Center at Pali Momi Medical Center in March 2014. Here, he shares how the program helped him regain control of his entire life.
Date joined the Hawaii Pacific Health 360° Weight Management Center at Pali Momi Medical Center: March 2014

Health conditions prior to joining the program: High blood pressure, high cholesterol, sleep apnea, kidney disease, borderline diabetic.

What was your lifestyle like prior to joining the program?
Stationary – no physical activity, and I ate a lot of junk food – sweets, fats and carbs – no vegetables in my diet at all.
When I was bored, I would eat, even when I was not hungry, just to keep me occupied. Food became my social friend.
I would go to restaurants by myself and order as if I was ordering for two. If I did any computer work, I would have a 2-pound box of chocolate at my side while I was on the computer, just to keep me company. I would hang with food and not hang with friends.

How has your life changed since joining the program?
My life is not a stationary life at all! I do a lot of walking, hiking and gym time – three to four times a week – and I work out with a trainer two times a week.
But, my eating habits have also changed. Now, I include more lean meats, vegetables and whole grains in my diet, and less carbs.
One of the most unexpected changes is that now I love dressing up and shopping for clothing that I feel good in, instead of shopping for comfort or for clothing that will hide all my fats and flaws.
However the most significant change is going after what I always dreamt of doing, and that was to be a flight attendant. Who said you cannot follow your dreams in your latter years of life?
I am happier now than I was in my past life, and I have more self-confidence to take on any challenges that come my way. I have been given a second chance in life, and I am loving every day of it. I can't wait to share it with everyone I meet along the way!

What healthy changes have you made to your life?
Eating more raw vegetables – I never did this before! I also plan my meals instead of just going out and eating junk foods.
I also like getting out in nature and enjoying the fresh air – I keep myself busy with activities instead of putting food in my mouth!
Overall, I am more self-confident and in control of my life.

What would you tell someone who is considering joining the program?
You've got to be in the right mindset to start this program. You must know it is not an easy journey, but it is a journey that is a very positive experience if, again, you have the right mindset in why you are doing this or why you have chosen this path to take.
This program is not a quick fix – this program is a lifestyle-changing program.
You must take care of No. 1, and that is you. This is a time to put yourself first.
But you also have to surround your personal life with positive people to help you with this journey and to help you maintain your goals in your new life. Reach out to other people who have taken this journey for support and guidance. It may sound easier said than done, but once you identify those people who are your cheerleaders, always keep them close by.
Once you reach your goals, it is such a high, like no other high in life. Compliments are given to you that you have never heard in your life – just take them, and thank the person for giving them.
We all have different reasons of why (we've joined the program), but you and only you can make that reason, and no one else.
Life is a journey, and it's up to you to make that journey a positive or negative one. Learn to love yourself and this new life first, before loving others.
Published on: April 19, 2017