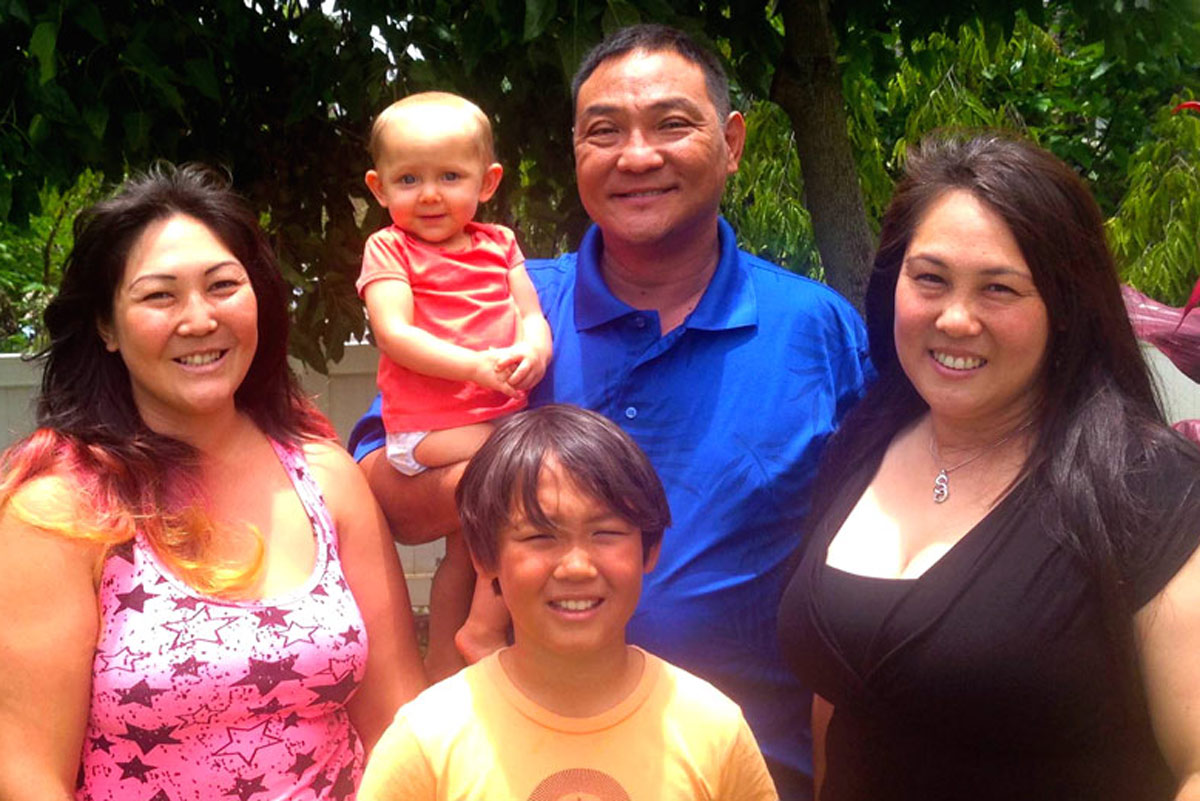 By acting F.A.S.T. at the first signs of a stroke, Dean Hashida (back) is today able to spend time doing what he loves: spending time with his two daughters and two grandchildren.
Every Second Counts When Stroke Strikes
On July 31, 2014, Dean Hashida woke up feeling tired, as if he didn't get enough sleep the night before. He drove to work like it was any other day, but once he got there, he noticed a numb sensation on the left side of his face that gradually got worse. 
Feeling there was something wrong, the Mililani resident drove himself to Pali Momi Medical Center.
Years earlier, Dean suffered what's often called a mini-stroke, or a transient ischemic attack (TIA). This put Dean on guard, and pushed him not to take any chances or delay in seeking medical care. 
Once he reached the emergency department, he told the staff about the numbness he was feeling in his face, and about his previous TIA attack.
In a matter of minutes, Huidy Shu, MD, medical director of Neurology Services at Pali Momi, and his team assessed Dean and ordered a CT scan, which confirmed that Dean was experiencing a stroke. 
"The team was very calm and assured me everything would be OK," said Dean. "They did everything they could to save my life, and the doctor told me everything that was going to happen."  
Treatment for a stroke is most effective when started immediately.
Dean's decision to go to the hospital when he first started feeling the numbness in his face allowed him to have the greatest chance for a full recovery because doctors were able to administer tPA, or tissue plasminogen activator. The drug works by dissolving the blood clot blocking the vessel and by improving blood flow to the part of the brain being deprived of blood flow. It must be administered within three hours of the onset of symptoms to be effective, and Dean had gotten to the hospital within that time frame. 
Four days later, Dean was able to walk out of Pali Momi on his own two feet. 
The father of two and grandfather of two knows he's lucky to enjoy spending time with his family now and hopes others will learn from his experience.
"As someone who has survived a stroke, my advice would be to get educated on the signs of a stroke; think about your family, your grandkids, your friends," says Dean. "Do not hesitate to call 911 if you think something is wrong. Every minute counts."
To hear Dean's story in his own words, watch the video below.
Published on: April 29, 2016