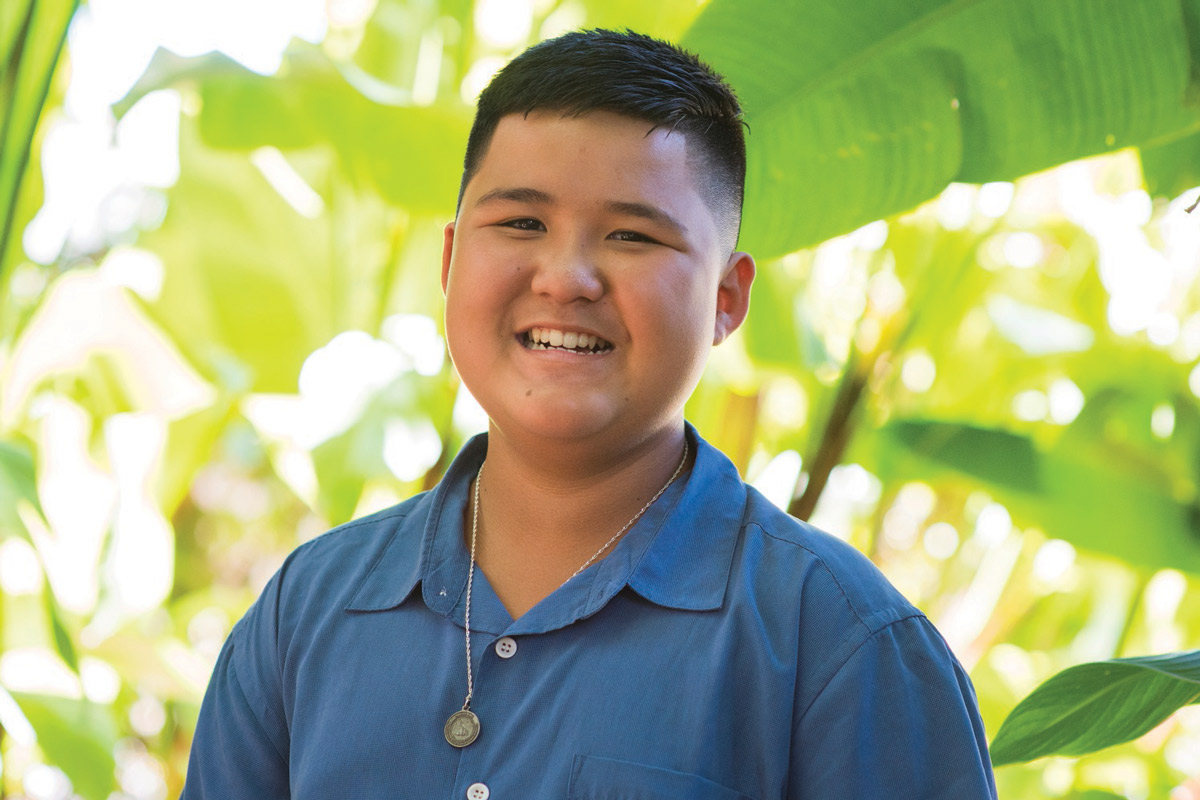 Aidan Gadingan
Wall of Hope: Stories of Courage & Inspiration
One Sunday morning Aidan Gadingan wasn't feeling too well. Thinking it was the flu, his mom, Rhonda, gave him some medicine and Aidan felt better.
By the next day the 9-year-old's symptoms had gotten worse, so Rhonda took him to the nearest Emergency Department on Kauai. The doctors there gave Aidan anti-nausea medication, which allowed him to keep down water and get some rest.
However, on Tuesday night, Aidan began acting unusual. He started wetting his pants and had trouble walking and even holding himself upright. When his mom would ask if he needed help, he would just shrug.
"My gut told me to take him to the ED because he wasn't acting like Aidan and to be honest, I was scared," she says.
Aidan had a follow-up appointment with his doctor scheduled for the next day. During the checkup, the pediatrician found Aidan was severely dehydrated, and he was rushed to the ED for treatment.
"Aidan was not speaking, eating or drinking. The nurse told me that they believed he had meningitis," Rhonda says.
Aidan's pediatrician contacted specialists at Kapiolani Medical Center for Women & Children and later that evening, Aidan was being medevacked to Oahu to be monitored.
Everyone knew how important their role was and they did an excellent job. We had plenty of support."
Aidan was diagnosed with acute hemorrhagic leukoencephalitis (AHLE), an extremely rare condition that severely damages the protective covering of nerve fibers in the brain and spinal cord.
Little is known about AHLE because most people diagnosed with the disease die within days of developing symptoms.
"It was terrifying what Aidan was going through," Rhonda says. "We didn't get answers to what triggered his body's reaction, and we knew we wouldn't find the reason. But to be honest, I knew Aidan would be OK – I didn't have any doubt that Aidan would be coming home with us. It just took a little longer than expected."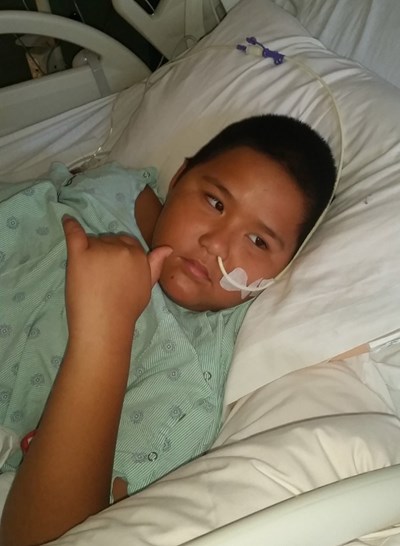 Aidan spent several months at Kapiolani undergoing treatment.
Because of the complexity of his condition, his care team included doctors, nurses, neurologists, residents, social workers as well as consultants at Stanford and the Mayo Clinic.
"Everyone knew how important their role was and they did an excellent job. We had plenty of support," Rhonda says.
Aidan's recovery is expected to take two years, but the 10-year-old is making progress in his journey back to full health.
Don't give up. Fight it, pray and work hard."
He is home on Kauai, where he loves to fish, swim, play with his cousins, snorkel and play video games.
He is in the fourth grade but has a separate speech therapist, two teachers who teach general learning, a math teacher and a nurse who follows Aidan throughout the school day in the event he has a seizure.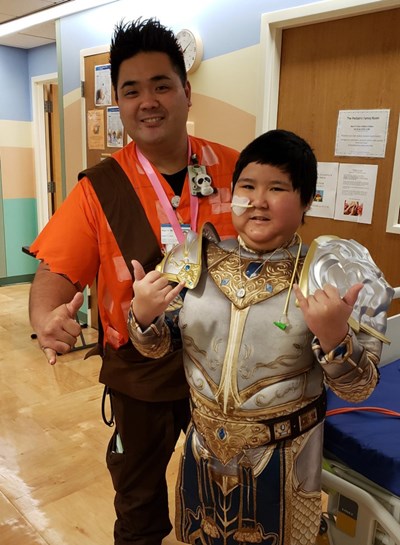 "Cognitively, Aidan has a long way to go," Rhonda says. "Aidan lost a lot of brain tissue, which affected his vision, senses, emotions, physical mobility and speech."
In September 2019, Aidan was scheduled to travel back to Kapiolani for an infusion treatment, after which his parents will decide what next steps to take.
Rhonda says Aidan doesn't remember a lot of what happened during his time in Kapiolani, except for the friendships he made with other patients – and the food.
"Kapiolani has good tuna melts," Aidan says. "The other patients became good friends and they would come to see me and cheer me up."
Rhonda and Aidan hope other families can learn from their experience.
"If you don't feel good you have to tell your parents or the doctors so they can help you get better," Aidan says. "Don't give up. Fight it, pray and work hard."
Published on: October 21, 2019