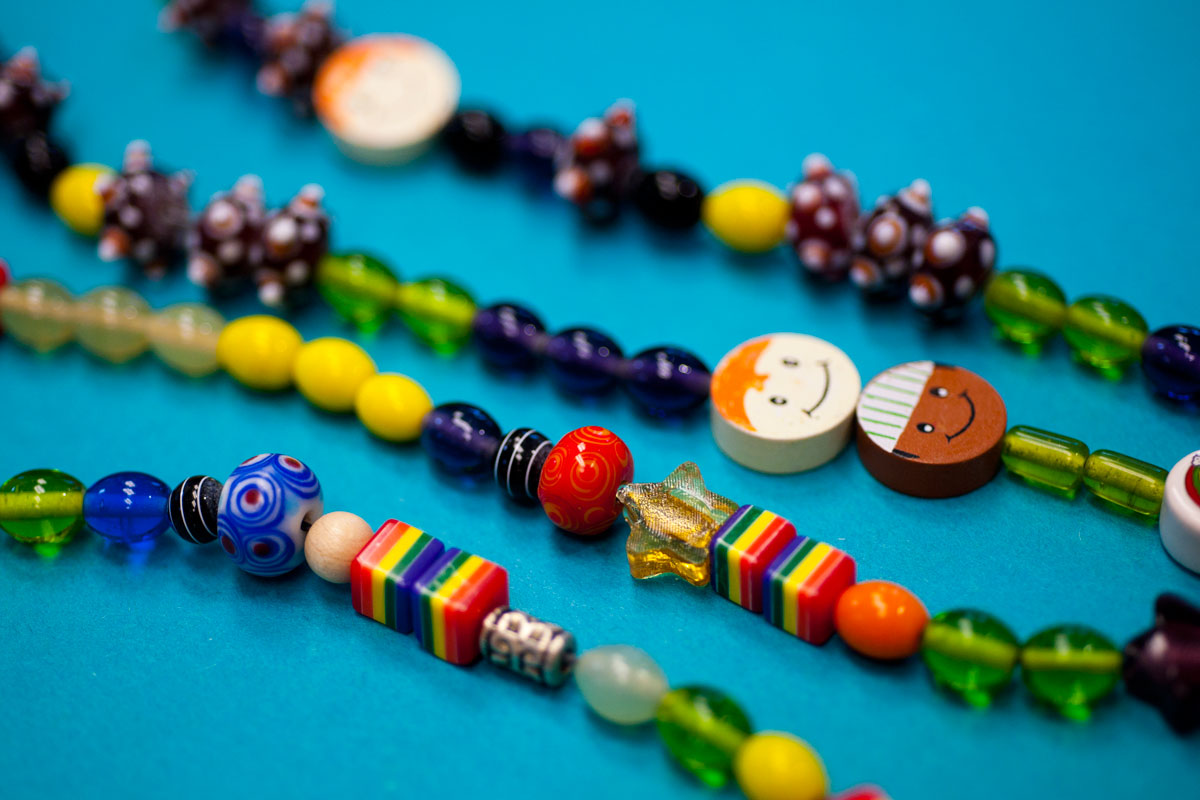 Little Beads Tell a Bigger Story
Beads may be small, but they carry a whole lot of meaning. They can be symbols of luck or tokens of glory; a religious talisman or a fashion statement.
At Kapiolani Medical Center for Women & Children, beads tell a story. It can be a story of strength, care, survival or loss.
But mostly, at Kapiolani, beads tell a story of courage.
"Beads of Courage is an 'arts-in-medicine' program that allows patients to record their treatment milestones in a very tangible way," says Emily Gelber, an assistant with Kapiolani's Child Life program.
Patients begin their bead collections by spelling out their names with lettered beads on a black silk cord. Different beads of various colors, sizes and shapes are added on with each new procedure, special accomplishment or milestone a patient may experience in the hospital.
According to Gelber, each unique bead represents a distinct hospital encounter, from a simple yellow bead signifying an overnight stay at the hospital, to a beautiful glass butterfly bead for bereavement.
There is an apple bead for hospital tutoring, and a "Helping Hand" bead that Healing Touch volunteers give out.
There is even a pewter dog bone bead that shows the patient has gotten a visit from Tucker, a golden retriever hospital facility dog who also serves as Kapiolani's CCO (Chief Canine Officer).
"The beads thus become a starting point for the patient to engage in therapeutic conversation about their diagnosis and treatment path," Gelber explains. "The program can also help patients bravely face new experiences or cope with adjustment difficulties, as many look forward to collecting new beads and take ownership over creatively depicting their individual journey."
Kapiolani was the first to bring the Beads of Courage program to the islands in May 2006. It began in the pediatric oncology department and expanded to include Kardiac Kids (children with heart ailments).
On March 1, the program extended its reach even further so that now, all interested pediatric patients with chronic illnesses, as well as long-term NICU patients and their families, can participate.
"Our hope is that all patients who come to the hospital frequently, or stay for a long period of time for their treatment, can benefit from Beads of Courage," Gelber says. "We are hopeful that the expansion of the program will enhance the overall patient experience, encourage family-centered care, and that Kapiolani staff will have an additional tool to develop therapeutic interactions and relationships with patients and families.
"By giving beads or asking a child about a particular experience they had at the hospital, Kapiolani staff are able to complement their roles of providing medical care and medical knowledge by becoming a source of support for that child and family," Gelber adds.
Beads of Courage is a national program developed in February 2003 by Jean Baruch, a pediatric oncology nurse from Arizona.
Since its inception, Beads of Courage, Inc. has established programs in more than 60 children's hospitals in the United States, New Zealand, Canada, the United Kingdom and Japan.
Published on: April 26, 2016