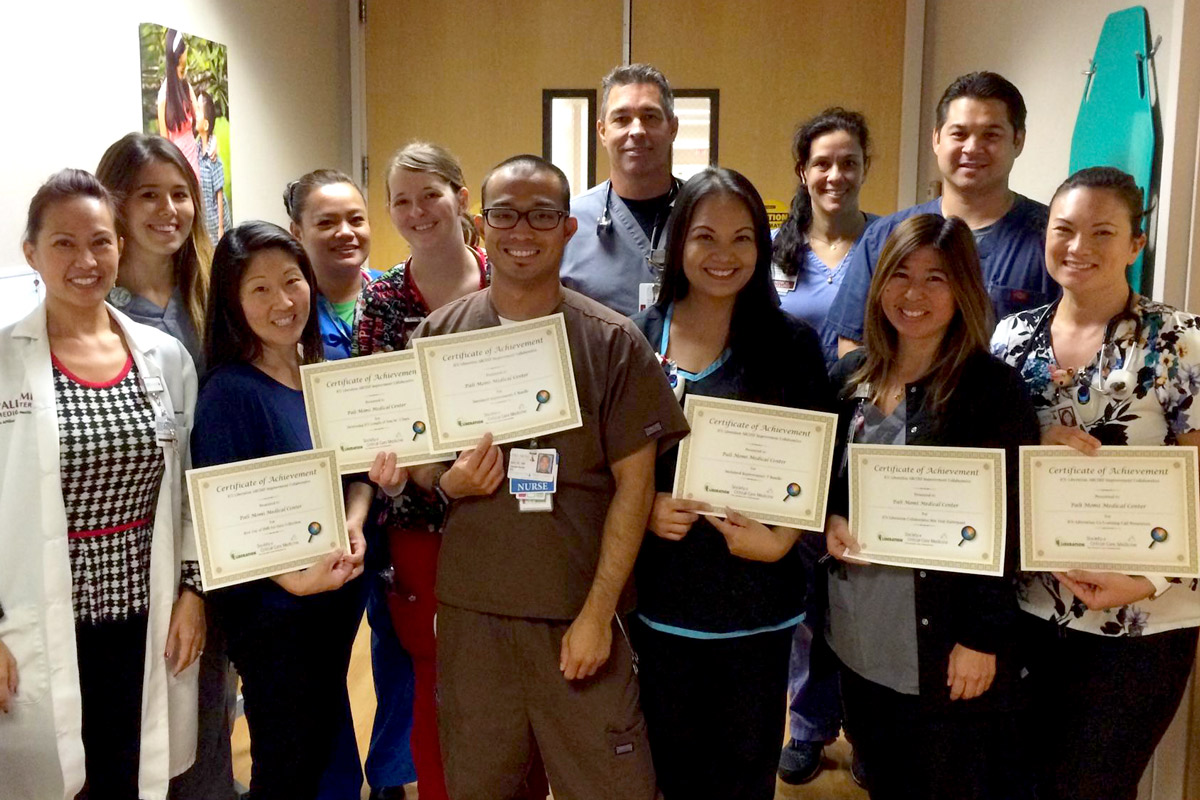 A few members of Pali Momi's ICU team display their certificates of achievement awarded to the group during a gathering of ICU Liberation collaborative members in Chicago recently
Creating a Healthier ICU
Pali Momi helps build best-practice standard for care
When you hear the term "Intensive Care Unit," what do you imagine? You probably picture a closed unit with restricted visitation, serious and busy staff, and heavily sedated, bedridden patients on tubes and ventilators. 
The image is intense, to say the least. 
Well, forget what you thought you knew about a hospital's ICU. 
At Pali Momi Medical Center, ICU patients are more alert (thanks to fewer medications), they're more mobile (thanks to hands-on exercises), and families are more than welcome to visit (especially during the unheard-of period during change of shift). 
What's causing this drastic shift in the way hospitals are caring for ICU patients? 
Pali Momi is a member of a national collaborative building an A to F Bundle soon to become the best-practice standard for the care for ICU patients.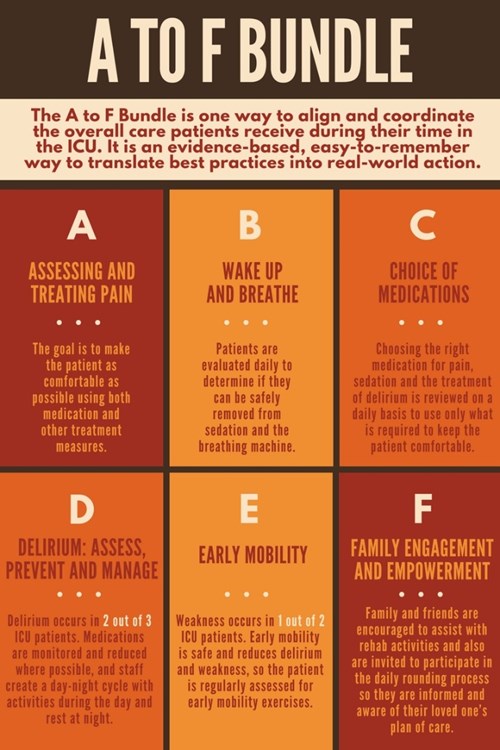 In November 2015, Pali Momi was selected to be part of a quality improvement project called ICU Liberation. Sponsored by The Society of Critical Care Medicine, the gold standard in ICU-governing bodies, this 18-month initiative aims to reduce the debilitating impact of intensive care on patients. 
Pali Momi was the only facility selected from Hawaii to join 67 other national hospitals that include industry leaders like Cleveland Clinic, UCSF Medical Center, and Scripps Mercy Hospital. 
"We didn't think our little hospital out here in the Pacific had a chance, but we decided to go for it and put in our application because we're always working on improvements and trying to find ways to make our ICU better," says Lorna Coloma, Pali Momi ICU manager. 
As it turns out, they were right to toss their hat into the ring. Seven months into the program, and with only partial data available, Pali Momi received the unexpected honor of a visit from Dr. Juliana Barr, a recognized industry expert and co-author of U.S. guidelines on PAD (pain, agitation and delirium in ICU patients). 
Barr was highly impressed with Pali Momi's efforts to initiate and perform all elements of the bundle, and at how engaged staff were in embracing bundle elements. 
For example, Pali Momi's ICU had already been working with Hawaii Pacific Health's Epic team to create ICU flow sheets that chart patient assessments. Other hospitals in the collaboration found this practice new and exciting. Now, Hawaii Pacific Health's use of the electronic health record is a national model that's been adopted by a majority of the collaborative.
 
Success due to team effort
Pali Momi is helping create the new industry standard for ICUs throughout the nation to achieve the following:
Better handle pain management.
Reduce delirium and coma.
Reduce the burden of physical weakness.
Engage family members in the care and healing of their loved ones.
 At a recent gathering of ICU Liberation collaborative members in Chicago, Pali Momi was recognized with six certificates of achievement.
"This was an extremely complex process to do because of the nature of ICUs and how they traditionally operate," says Dr. Emilio Ganitano, Pali Momi ICU medical director and key leader of the team. 
"We were able to get it done because everyone – from the different specialties, to administration, to every single frontline member of the team ­– embraced this new way as a better way to provide care for ICU patients and families," Ganitano says. "Staff have worked hard to make it happen and have been wonderful in doing each of the six steps of the bundle with every patient. Our success is based upon that work." 
Although the initiative is still ongoing, ICU patients are already receiving better care. Families are happier, and staff members continue to be excited. 
Quality results from January to August 2016 show Pali Momi high in performance and compliance, with near 100 percent for family participation and engagement (compared to 60-70 percent for other hospital members) and near 100 percent compliance with sedation/agitation assessments (compared to the nation's best at 70 percent).
"I feel very lucky and proud to be a part of the team," says Melissa Yoneda, Pharm D, who attended the November conference. "After going to Chicago to see what the other sites are doing, I realized Pali Momi has one of the most well-established A to F programs!" 
"Even though we're a small hospital, we've been pretty much 'on it' and are lucky to have staff that's on board," adds ICU Charge Nurse Mary Manding. "I think that is key to why we're so successful. Everything we're doing is evidenced-based practice. You do these things because patients get better and families are happier, and we see that they feel more involved, and are not afraid to ask questions. It makes me feel proud to be a part of a big initiative like this."
Published on: January 6, 2017