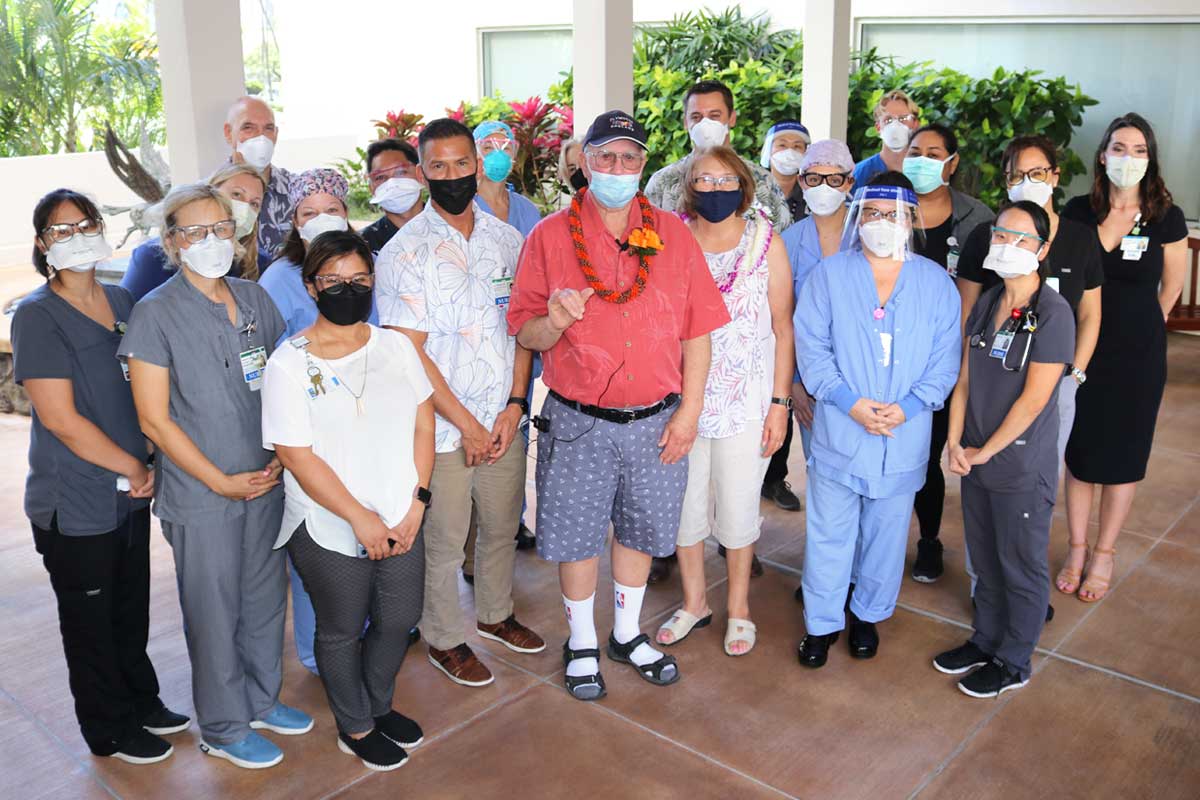 Feb. 23, 2002, marked Paul and Karen Greenslade's first visit back to Straub Medical Center since April 2020, when he was among one of the first COVID-19 patients in Hawaii to be hospitalized, and one of the first to recover.
COVID-19 Survivor Reunites With Straub Staff Who Gave Him a 'Second Chance at Life'
Happy tears and inspiring stories filled the Healing Garden at Straub Medical Center as Paul Greenslade reunited with the staff who cared for him when he was a patient at Straub in 2020.
Paul and his wife, Karen, were there for an unveiling ceremony of a bench purchased thanks to their generous donation. On the bench rests a plaque commemorating Paul's "second life," a reference to Paul's journey as one of the first COVID-19 patients in Hawaii to be hospitalized, and one of the first to recover.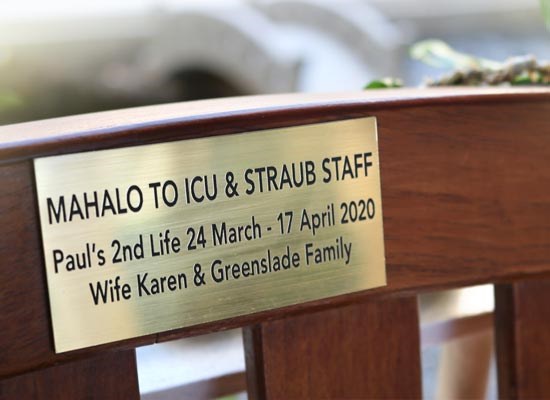 Paul was admitted March 20, 2020, and spent 25 days at Straub – 12 of those in the intensive care unit. He was released April 17, the day after his 79th birthday. Straub marked the milestone recovery with a standing ovation from hundreds of staff members who lined the halls as Paul was wheeled out and reunited with Karen.
"Absolutely amazing, wonderful people. Brilliant, brilliant hospital," Paul said. "I was lucky because [if I had been in the U.K.] I wouldn't have had the attention, and I don't believe I'd have made it. What a difference."
After returning home to the United Kingdom, Paul sent a donation to Straub in honor of the nurses, physicians and support staff who had cared for him during that difficult time.
We wanted to make a contribution for giving me a second chance at life."
"Paul kept in touch over the last several years. He's written letters, thinking of other stories he wanted to share and staff he wanted to thank," said Straub Chief Operating Officer Travis Clegg. "You think back to 2020 and how scared we all were, how scared he and his family were. For him to actually be able to return in person, be healthy, walking and able to thank staff himself was really, really meaningful for a lot of people."
Watch highlights from the unveiling ceremony below, or visit our YouTube channel here.
Published on: March 11, 2022