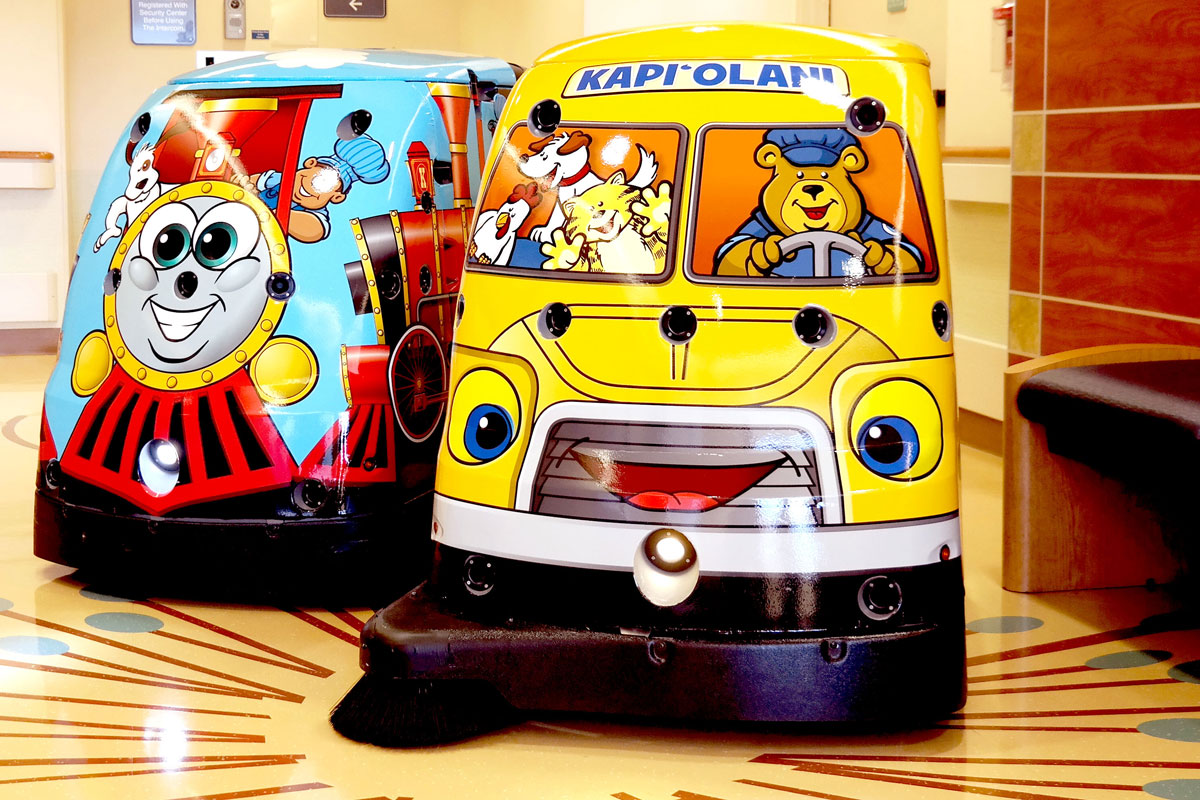 Clean Machines Are on the Move at Kapiolani
It sounds like the plot of a major summer blockbuster – robots disguised as a bus and train, whose mission it is to keep the innocent safe by searching out and annihilating villainous germs and bad-guy bacteria.
The action doesn't unfold on the big screen, but rather in the hallways of Kapiolani Medical Center for Women & Children.
The superheroes, in this case, are the Aerobot and Hydrobot, two hands-free, high-tech floor cleaning machines that have been specially outfitted with full-body decals designed specifically for the women's and children's hospital.
"We have further enhanced our current and successful cleaning and disinfecting program to focus on 'healthy cleaning' through innovation and science," says Robert Crawford, director at Kapiolani Medical Center.
"We are very fortunate to have a CEO and administrative body that understand and embrace this concept that cleanliness is an intricate part of patient care," Crawford adds, "and have helped pave the way for new and innovative cleaning and disinfecting technologies and methodologies."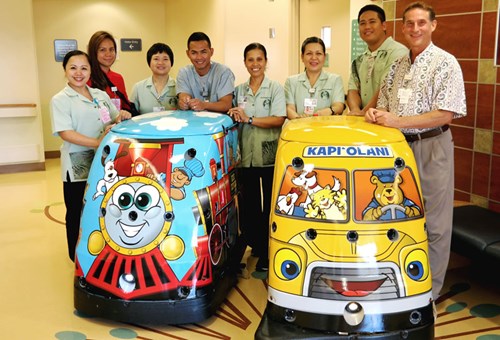 The health care-grade Intellibots work together to maintain the highest environmental cleaning standards. Aerobot takes the lead to vacuum, sweep and prep the floors. Then, Hydrobot swoops in, using a series of sensors to determine how dirty the floor is before adjusting its speed to achieve optimal results.
Both bots utilize multiple sonar sensors and specialized software that enables the hands-free machines to avoid obstacles such as IV poles, gurneys, medical equipment and patients.
"The automated robotic floor care machines are environmentally friendly, utilizing only 7 gallons of water a day, versus the 125 gallons traditional floor scrubbing machines average per day. And that is just the beginning," Crawford says. "The water is run over UV-C lights to destroy microorganisms, then passed through a multi-stage filtration system to filter the water down to 1 micron – safe, clean and environmentally responsible."
And, as water is the only component these machines require to disinfect and clean, Kapiolani has been able to further achieve its goal of "healthy cleaning" by reducing the number of harsh chemical cleaners used around the hospital all while maintaining high cleanliness standards.
"We also addressed disinfecting by implementing state-of-the-art technology that uses a silver-based solution," Crawford states. "It has no adverse health concerns at all, including skin and respiratory exposure. It can be used on all surfaces, including toys, PC keyboards and high-touch surfaces (e.g., tabletops, doorknobs, elevator buttons), and kills 99.9999 percent of microorganisms in 30 seconds."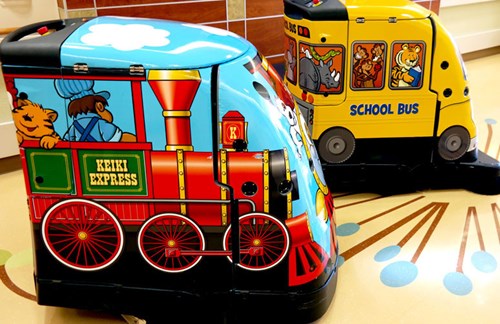 Crawford adds that in order to promote "a positive environment and an abundance of smiles," each Itellibot has been transformed with a one-of-a-kind "toonville" skin: The Hydrobot becomes the "Kapiolani School Bus," while the Aerobot is the "Keiki Express" train.
"The decal designs were chosen by Kapiolani Environmental Services employees, which is just another prime example of the lengths our administration and staff go to for the health and well-being of their patients," says Crawford, adding that both bots also are equipped with MP3 soundcards that provide a literal soundtrack for the machines as they make their way through the hospital halls.
"Children and adults alike smile ear to ear in amazement, and many do a little happy dance when they see the bots come by," he says of reactions so far to the newly launched clean machines.
"Bottom line," Crawford says, "healthy cleaning is patient care, and the Intellibots are smile medicine."
Spoiler alert: In this storyline, the good guys win.
Published on: May 12, 2015