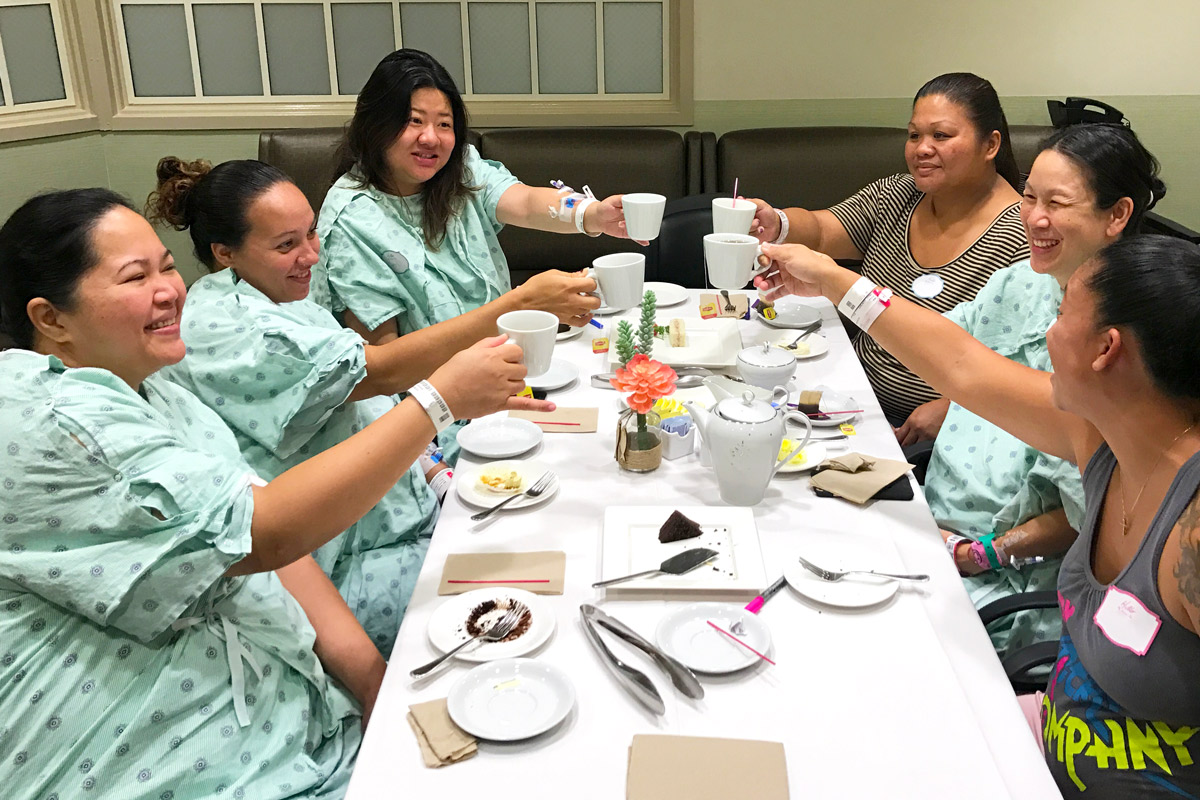 Antepartum Program Raises Expecting Mothers' Spirits
A group of six pregnant women gather around a beautifully dressed table set with a tea pot, fresh finger sandwiches and delectable desserts.
"I've been here for over a month now and this is my 32nd week," one mom shares.
"Oh yay! You're almost there," another replies while the whole group claps.
Every Tuesday afternoon, expecting mothers gather on the fourth floor of Kapiolani Medical Center for Women & Children for high tea to lift their spirits. That's because they are living at Kapiolani until they give birth.
Some stay in the medical center for a few days, some a few weeks, and others even a few months.
"They're not in labor – they're not delivering yet. They are here for a certain reason, and we are observing them," explains Maria Chorney, a clinical supervisor at Kapiolani who manages the medical center's Antepartum Program for expecting mothers.
"Some of (the women) are from a neighbor island or other states and they don't have family around, so we are providing these activities to help them with their boredom, to boost their morale and for them to know that they're not alone," Chorney says.
The Antepartum Program, which includes weekly activities like a tea social, bingo hour and crocheting classes, helps the mothers cope with being away from their loved ones.
"In the beginning – like every morning – I begged the doctor to discharge me because I miss my regular routine. I normally go to work 40 hours a week and get to see my family every day, and then all of the sudden I'm here. I'm stuck here," shares Ewa Beach resident Roslyn Navarro, who has been living at Kapiolani for more than a month now.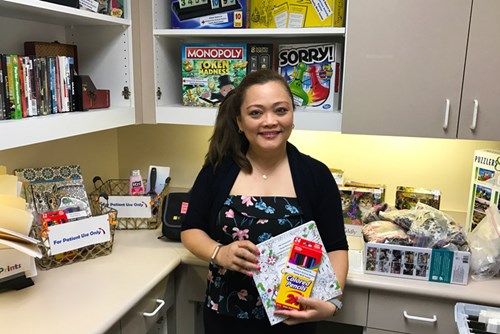 Navarro was admitted after she showed signs of preeclampsia. She has a 9-year-old son and husband at home.
"Now that they have these activities, I am always looking forward to it because I get to see pregnant women like me," Navarro smiles. "It kind of helped me because now I accept where I am, and I'm just waiting until I get to deliver."
Navarro isn't alone. All the mommies at the tea social laugh and even cry together. They share their stories, their fears and their hopes.
"The mothers here are awesome, and you know we are all going through the same things," says Shauntae Silva, who was flown from Hawaii Island to Kapiolani after her water ruptured.
"I met one (woman) who has been here for a while and she's doing it, so it gives me confidence. Just to see other strong mothers here gives me the strength and the confidence to know that I can do this," says Silva, who adds that she still misses her four other children and husband back home.
In addition to the weekly tea and bingo socials, Silva has been finding support in an adult coloring book Chorney provided her.
"The coloring really helps," Silva says. "It's a spiritual book, and I was brought up in church, so it helps me with the sayings in the book. It helps me throughout the day so I don't break down."
"Coloring is therapeutic for me, so I knew it would help," Chorney says.
Other Antepartum activities include weekly visits from a therapy dog named Diego, live music performances by Hawaii musicians through Make 'em Smile, and in-room entertainment, including the ability to borrow DVDs, books, magazines and puzzles.
"This program is so important to me because it's still young – we are building it up," says Chorney. "It took a lot of love and sweat to get this going, and it is so gratifying because I can see it really does make a difference to these patients."
The Kapiolani Antepartum Program is always accepting donations for the mothers. Items that are needed include books, magazines, DVDs, adult coloring books, color pencils and bath toiletries like shampoo, conditioner and body wash.
Contributions can be made to the Kapiolani Women's Health Services Fund.
"I love it, all the mothers love it, and the future other mothers will love it," says Silva. "The program helps them to overcome their fear. If they are going through a depression state or they feel like there's nothing they can do here, at least they have something."
Watch the video below to learn more about the program.
Published on: July 25, 2017