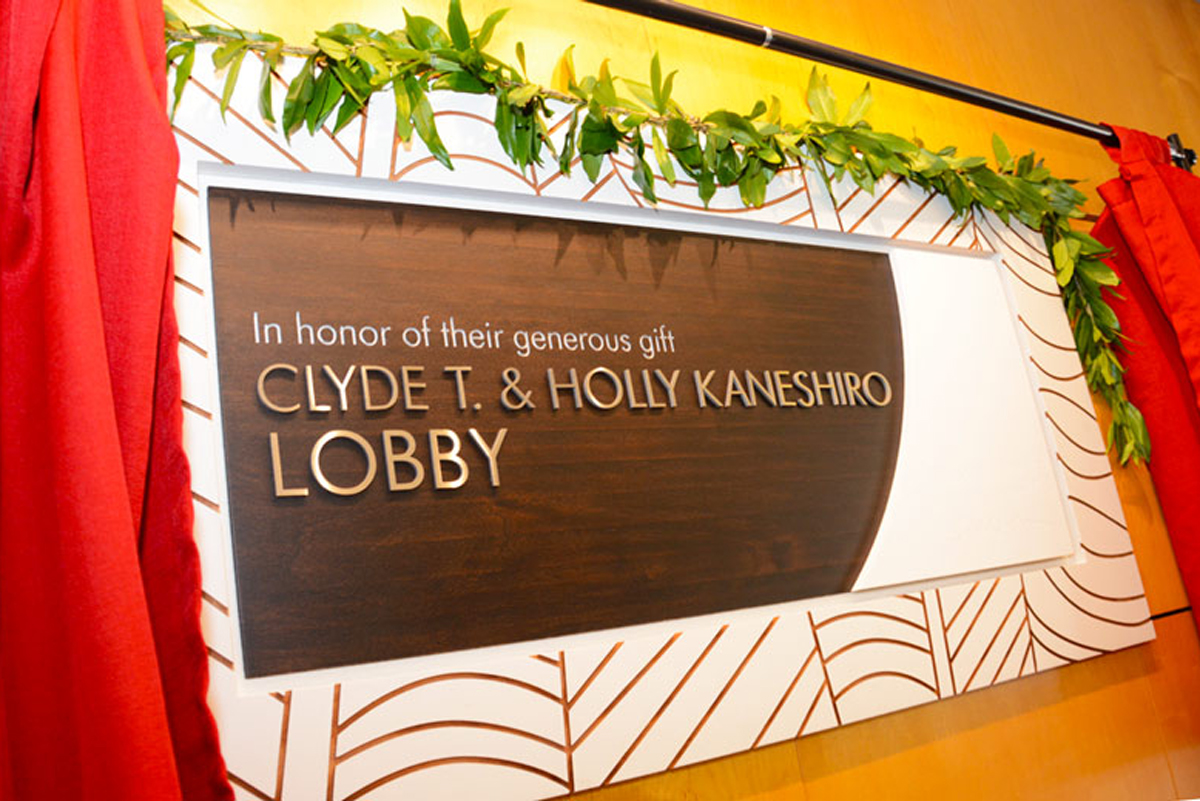 This plaque that graces the second-floor lobby of Pali Momi serves as a small "mahalo" for the Kaneshiro's generous gift.
An Inspired Gift
Clyde T. and Holly Kaneshiro have never been treated at Pali Momi Medical Center, but they are forever connected to the hospital through an inspired gift. 
The second-floor lobby now is named after the Kaneshiro's.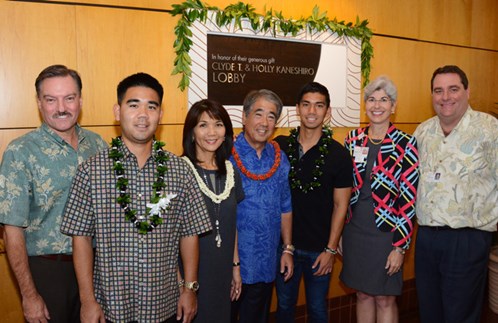 For them, it serves more as a reminder than a recognition piece for the lifesaving care received by a close friend. 
Clyde and Harold Nakabayashi work together; however, their relationship goes far beyond that. 
Clyde's father, Hideo, asked Harold to join his company 40 years ago. Now, as Clyde leads the Honolulu Disposal Service, the loyal employee feels like family. 
That's why it hit so close to home when Harold was rushed to the Emergency Department at Pali Momi. 
"They didn't know if I was going to make it," says Harold. "It was like all hands on deck. All of these doctors and nurses were trying to decide what was wrong with me." 
His wife, Rita, remembers the moment she returned to his side. 
"I came over and held his face to mine and said, 'You can't leave yet,'" Rita remembers. "He kind of came out of it. That's when we found out he had congestive heart failure." 
Harold was treated at Pali Momi's cardiac catheterization lab. His cardiologist, Abhijeet Koli, MD, says that the key step to saving Harold's life was Pali Momi's cardiac ultrasound team, which was able to get the right picture of the heart valve and measure the right pressures so that the accurate diagnosis could be made. 
"It's just reaffirming to us that this is why we do what we do," Koli says.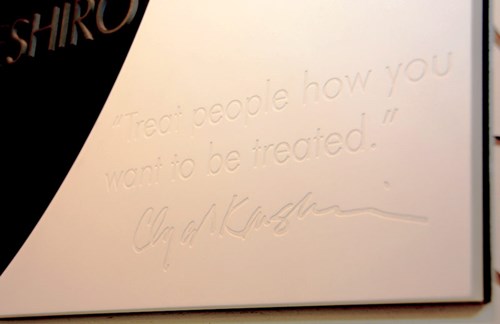 The donation from the Kaneshiro family to the Pali Momi Foundation will help the hospital continue to serve the community. 
"What we take away from this experience is that life is fragile, and we need to support the medical needs of Pali Momi to give people, like our dear friend Harold, every chance to live life to the fullest," says Clyde.
Published on: May 25, 2016