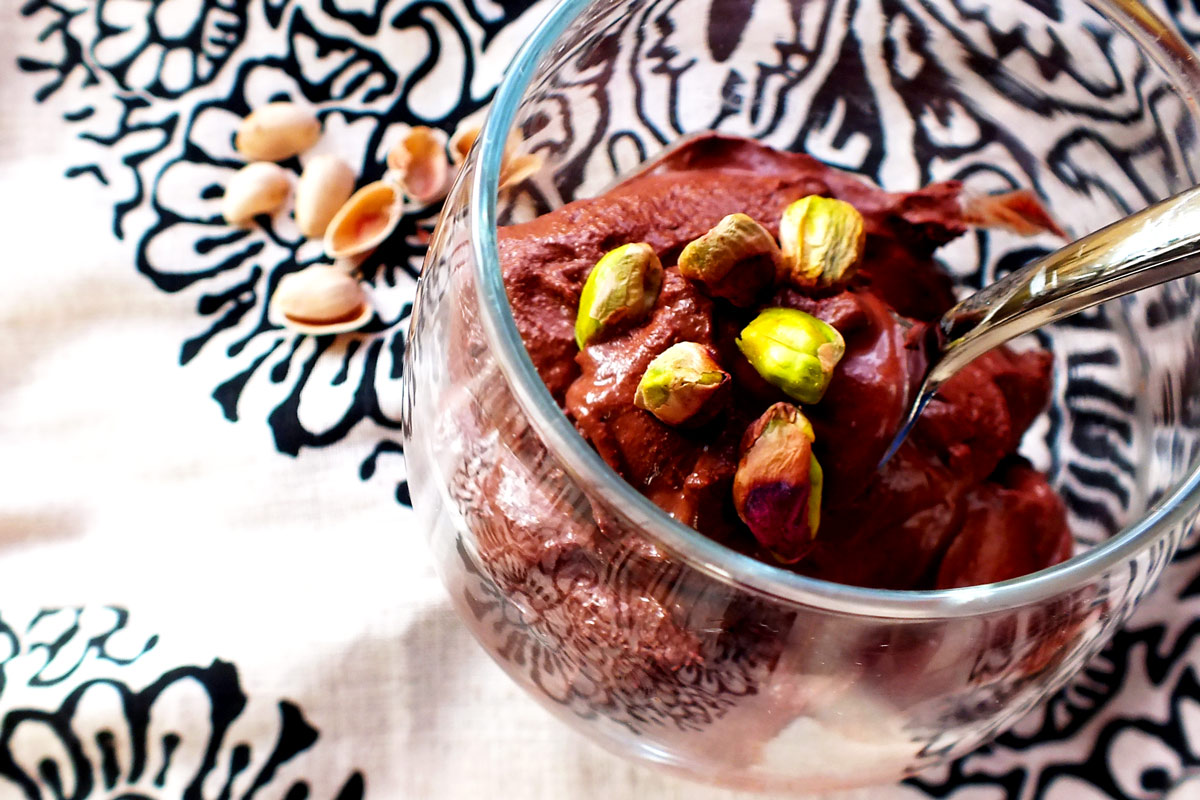 Lightened Up Dark Chocolate Mousse
Chocolate: We love it and hate it at the same time.
Whatever form it comes in – bar, cookie, ice cream, doughnut, hot, cold, liquid, solid – we crave chocolate, and would gladly eat it at all meals of the day.
And we do. We eat it for breakfast, lunch and dinner, and at various times in between.
But when we see the consequences of overdoing it on chocolate – weight gain, diabetes and heart disease, to name a few – our best friend is suddenly our biggest enemy.
In a word, it's complicated.
"I don't know too many people who don't love chocolate. However, it's not always easy to get your fix when you have to watch your calories, weight or blood sugar, in the case of diabetes," says Sally Belles, a registered dietitian nutritionist and certified diabetes educator at Straub Clinic & Hospital.
But, as Belles proves with this recipe for Lightened Up Dark Chocolate Mousse, it is possible to reconcile our relationship with this dietary frenemy.
According to Belles, chocolate in itself is not bad for your health; in fact, cocoa solids found in chocolate contain compounds called flavonols, which have antioxidant and anti-inflammatory properties.
"Choosing dark chocolate – at least 70 percent cacao – may help blood sugar levels," Belles says, noting that recent studies indicate antioxidant compounds found in dark chocolate may help the body use its insulin more efficiently to control blood sugar.
"Anything that can help improve blood sugar naturally sounds like it can't be all that bad, especially in the form of chocolate!" she says.
Be sure to use bittersweet dark chocolate and good-quality cocoa powder for the recipe. Milk and semi-sweet chocolates often contain added sugars and fat, while manufacturing processes can decrease the nutritional value of these chocolates.
"A shot of espresso can intensify the pure chocolate taste without adding more fat to the recipe," adds Belles. "This recipe is lower in calories, saturated fat and cholesterol than a traditional chocolate mousse recipe without sacrificing the flavor and texture we all crave. Keep in mind, a little goes a long way!!!!"
Lightened Up Dark Chocolate Mousse
Recipe from nutrition and healthy cooking author Elaine Magee, MPH, RD
Serves 8
Ingredients:
1 1/3 cup (8 ounces) bittersweet chocolate chips
2 tablespoons unsweetened cocoa powder
5 tablespoons strong coffee (or 5 tablespoons water)
1 tablespoon brandy
1/4 cup egg substitute (or 2 egg yolks)
3 tablespoons powdered sugar, divided
1/8 teaspoon salt (optional)
4 egg whites
2/3 cup light whipping cream
Directions:
1. In microwave-safe medium bowl, combine chocolate chips, cocoa powder, coffee and brandy. Microwave on defrost setting until chocolate is almost completely melted, about 1 minute. Stir to finish melting the chocolate.
2. In small bowl, use a fork to whisk egg substitute with 1 tablespoon of the powdered sugar and salt, if desired, for about 20 seconds. Stir egg substitute mixture into the chocolate mixture.
3. In large mixing bowl, beat egg whites using an electric mixer fitted with a whisk attachment on medium speed until frothy, about 1 minute. Add 2 tablespoons powdered sugar and beat egg whites on high speed until soft peaks form, about 1 minute.
4. Stir about 1/2 cup of the whipped egg whites into the chocolate mixture. Softly fold in the remaining egg whites using a rubber spatula.
5. In same mixing bowl that held the egg whites, whip whipping cream on medium speed until thickened slightly, then increase speed to high and beat until soft peaks form. Gently fold whipped cream into chocolate mixture using a rubber spatula.
6. Spoon mousse into 8 individual cups. Cover with plastic wrap or foil and refrigerate for at least 1 hour. Enjoy within 2-3 days.
Nutritional information per serving:
Calories: 215; Protein: 4g; Carbohydrates: 21.5g; Total Fat: 13g; Saturated Fat: 8g; Monounsaturated Fat: 4.5g; Cholesterol: 22mg; Dietary Fiber: 2g; Sodium: 53mg
Published on: February 13, 2015