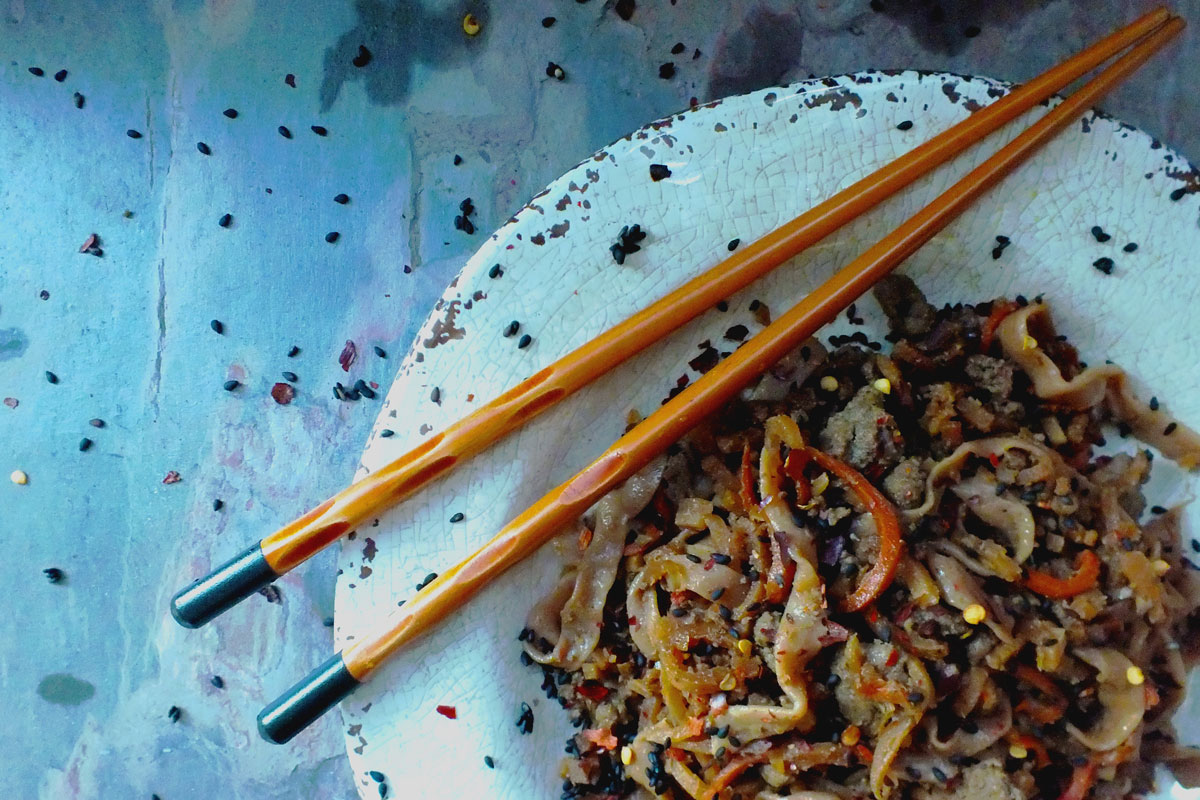 Gobo Stir-Fry
Ugly fruits and vegetables are on trend in the culinary community, as more and more people are stepping out of their comfort zones to try foods that, visually, are a little … scary. 
Case in point: The fibrous root vegetable gobo. 
"You shouldn't be afraid to try gobo!" says Sayuri Asano, a registered dietitian with Kapiolani Medical Center for Women & Children. 
"It's a food; it's not going to bite you!" Asano laughs. "Even if a food doesn't look 'pretty,' you never know what to expect – you may be pleasantly surprised!" 
Also known as burdock, gobo originated in Northern Asia and is a popular ingredient in Japanese cuisine. It has a crisp, sweet taste that when cooked takes on a flavor similar to that of an artichoke. 
"Gobo is a good source of fiber," Asano says, adding that it also is high in potassium but low in sodium and calories. 
This extremely versatile vegetable can be served multiple ways – boiled, roasted, stewed, braised – you can even slice the root into thin slivers and bake it to make a healthy chip-like snack! 
Below, Asano shares her favorite way to serve gobo – finely shredded and mixed with carrots, shirataki and soba sauce. 
"When making Gobo Stir-Fry, if you do not care for the crunchy texture of the gobo, add a little more liquid and simmer a little longer," Asano suggests. "Also, you can add chili pepper flakes for extra spiciness." 
Gobo Stir-Fry
Appetizer: Serves 10
Entrée: Serves 3
Ingredients:
1 1-pound package frozen kinpira mix (if using fresh vegetables, approximately 2 gobo, shredded, and 1 large carrot, shredded)
1 package shirataki noodles
1/2 pound lean ground chicken, pork or beef
1/4 cup soba sauce (concentrated sauce)
1/4 cup green onion, chopped
Sesame seed oil, to taste
Sesame seeds, to garnish
Directions:
1. Wash shirataki well with hot water and chop it short.
2. Toss ground meat in a nonstick stir-fry pan and stir and cook well.
3. Add kinpira mix and cook until vegetables become soft.
4. Add chopped shirataki and cook well.
5. Add soba sauce and 2 tablespoons water. Simmer until sauce thickens.
6. Remove from heat and serve with green onion, sesame seed oil and sesame seed.
Nutritional information per appetizer serving (2.5 ounces):
Calories: 70; Carbohydrates: 3g; Protein: 5g; Total Fat: 3g
Nutritional information per entrée serving (6 ounces):
Calories: 170; Carbohydrates: 20.5g; Protein: 11.5g; Total Fat: 7.5g
Published on: October 14, 2015