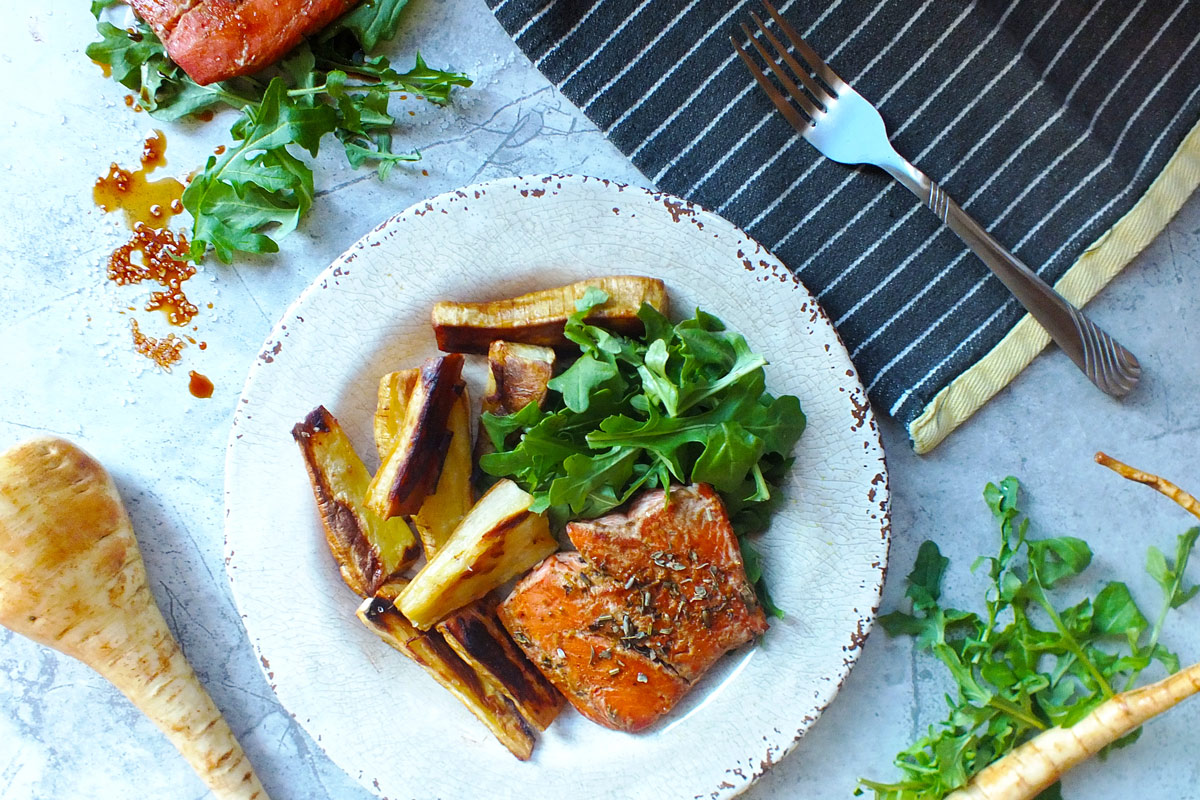 Ginger-Glazed Salmon & Roasted Parsnip Chips
Fish and chips are a pub-food pair made in heaven, but all that grease and empty carbs won't do your heart any favors. 
"Fish and potatoes are both foods that are very good for your health, but when they're breaded and deep-fried, all those benefits are lost," says Nicole Sievers, a registered dietitian at Wilcox Medical Center. 
This diet disaster gets a healthy makeover in the following recipe for Ginger-Glazed Salmon & Roasted Parsnip Chips. 
Fresh ginger, rosemary and tamari lend an exotic flavor to high-protein salmon, while parsnips take the place of potatoes to lend a slightly sweeter, earthy taste to the meal. 
Serve with a side salad of peppery greens, such as watercress or arugula, to balance out the dish.
Ginger-Glazed Salmon & Roasted Parsnip Chips
Serves 4
 
Ingredients:
1 pound parsnips, peeled and cut into 3/4-inch thick slices
3 tablespoons canola oil
2 teaspoons fresh ginger, finely grated
2 teaspoons fresh rosemary, finely chopped
2 tablespoons low-sodium tamari
1/4 cup fresh orange juice
4 skinless wild Alaskan salmon fillets
 
Directions:
1. Preheat oven to 425 degrees.
2. Place parsnips on a rimmed baking sheet and drizzle with 2 tablespoons oil; toss to coat, then spread in a single layer.
3. Roast parsnips until they begin to brown around the edges, about 15 minutes. Flip and push to edges of baking sheet.
4. Combine ginger, rosemary, tamari, orange juice and 1 tablespoon oil in a bowl. Brush tops of salmon fillets with glaze and place in the middle of the baking sheet.
5. Cook for 12-15 minutes, flipping halfway through and coating with remainder of glaze, until fillets are opaque around the edges and flake slightly in center when pressed. Remove from oven and serve. 
Nutritional information per serving:
Calories: 458; Carbohydrates: 21g; Protein: 41g; Saturated Fat: 1g; Unsaturated Fat: 13g; Cholesterol: 107mg; Dietary Fiber: 5g; Sodium: 598mg
Published on: February 18, 2016