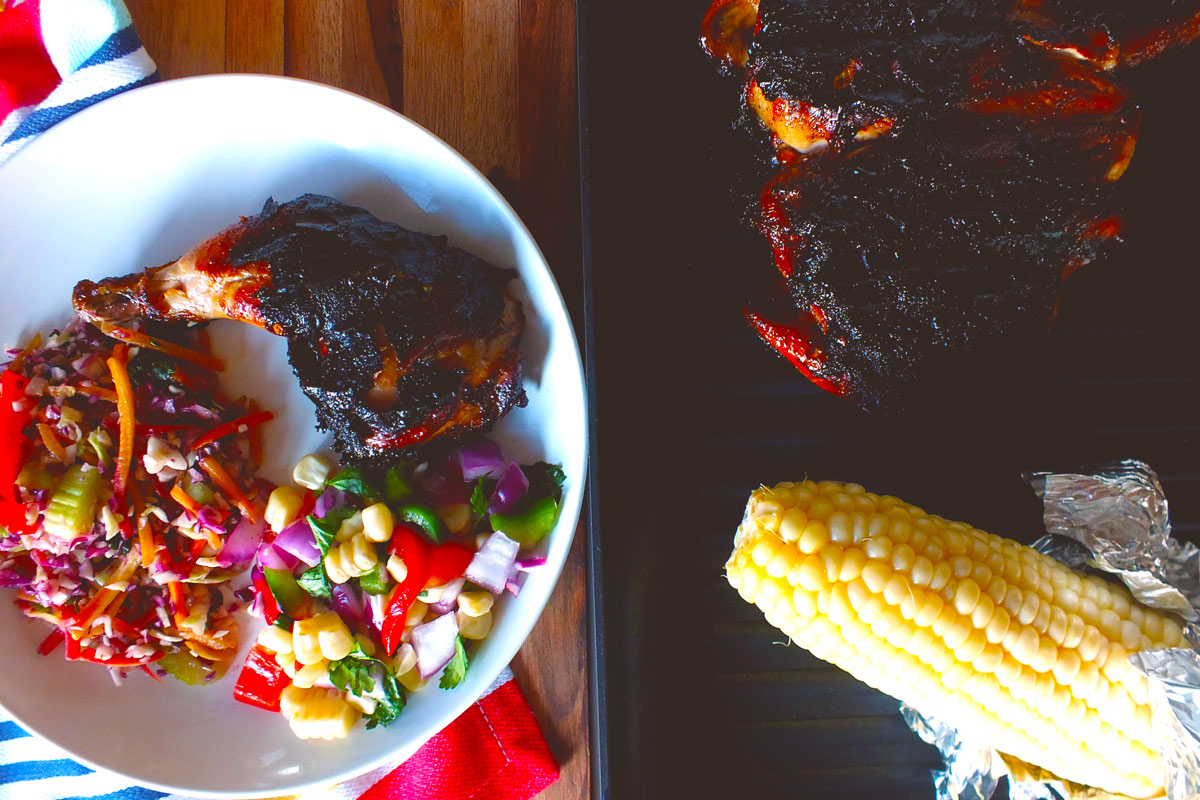 Butterflied Cornish Hen with Smoky Balsamic Marinade & Roasted Corn Relish
Barbecue chicken and burgers are the staples of many a potluck, but to really impress your guests, think outside the bun with this recipe for Butterflied Cornish Hen with Smoky Balsamic Marinade & Roasted Corn Relish courtesy of Sally Belles, registered dietitian and certified diabetes educator at Straub Medical Center. 
"Basting, glazing or marinating Cornish hen, chicken, fish or lean meat are lighter ways to enjoy grilled foods for summer," explains Belles. "Marinades, spices, more-intense glazes or reductions add flavor to healthier cuts of meat, so you won't miss the old, boring standbys like hamburgers and hot dogs. 
"Both the American Heart Association and the American Institute for Cancer Research recommend limiting red meat (beef, pork, lamb) to 18 ounces per week for heart health and cancer prevention," Belles adds. "Although grilling at very high temperatures is known to produce cancer-causing substances, the American Institute for Cancer Research in its expert report states there is not enough scientific evidence showing that grilled meat specifically increases risk for developing cancers." 
Cornish hens are young chickens that weigh between 1-2 pounds. Like their larger cousins, Cornish hens supply a serving of high-quality protein that helps build and maintain proper blood, bone and muscle health. 
They also are low in fat, with the majority of the fat in a Cornish hen coming from heart-healthy monounsaturated and polyunsaturated essential fatty acids. 
"A typical Cornish hen weighs about 2 1/2 pounds and has proportionally more breast meat, which is leaner than the darker meat of the drumsticks or thighs," says Belles. "The small size is perfect to feed two people and for portion control." 
To complement these tasty birds, Belles created a Roasted Corn Relish that incorporates many of the flavors synonymous with summer – sweet Kahuku corn, spicy jalapeno, and fresh lime and cilantro. 
"Colorful, chopped vegetables add brightness, extra flavor as well as provide vitamins, minerals and cancer-fighting phytochemicals," says Belles. "Roasting intensifies the flavor of sweet corn, so you don't miss the extra salt, sugar, mayonnaise or sour cream typically found in slaws or relishes." 
For a technicolor feast, serve with a side of Rainbow Coleslaw and Fresh Fruit Kebabs with Coconut Yogurt Dip for dessert. 
Butterflied Cornish Hen with Smoky Balsamic Marinade & Roasted Corn Relish
Butterflied Cornish Hen with Smoky Balsamic Marinade
Serves 2-4 
Ingredients:
1 small Cornish hen, 2-3 pounds (may substitute a small roaster chicken)
1/2 cup Balsamic vinegar
1/2 cup olive oil
2 teaspoons liquid smoke
1/4 teaspoon smoky paprika
Directions:
1. If using an outdoor grill, preheat for 15-20 minutes on high. Reduce the temperature to medium when ready to grill. If using an indoor grill or large grill pan, heat on high for 7-10 minutes. Reduce to medium-high heat when ready to grill.
2. Wash and dry the hen. Place the hen backside up on a large, flat surface or cutting board. Using a pair of sharp kitchen shears, begin cutting close along side of the left backbone. Repeat along the right backbone. Discard the backbone. Turn the hen breast-side up. Open up and stretch out the hen so the drumsticks face out. Now press the breastbone firmly and flatten.  
3. To prepare the marinade, add vinegar to a small bowl. Gradually whisk in olive oil until emulsified. Whisk in remaining ingredients.  For this recipe we will use the marinade to baste the hen while on the grill. 
4. Brush grill or grill pan with peanut or canola oil for higher heat cooking. Baste both sides of the hen with a generous amount of the marinade. For a more-smoky flavor, season the hen with additional smoky paprika after basting.
5. Place the hen breast-side down on the grill. Place a cast iron skillet or heavy pan on top of the hen to weigh it down. Press the hen as flat as possible so it is flush with the surface of the grill. This allows for even, faster cooking.
6. Grill the hen for 10-12 minutes, then flip the hen. Baste the top side of the hen and grill the bottom side for another 10-12 minutes. The hen should be fully cooked in about 30 minutes.
7. Allow the hen to rest for 10 minutes before carving and slicing to ensure moist, flavorful pieces. Serve with corn relish and mixed greens salad for a bright summer feast!
Nutritional Information per 3-ounce serving (white and dark meat without skin):
Calories: 160-200; Carbohydrates: 0g; Fat: 8-14g; Protein: 21g; Cholesterol: 100-125mg; Dietary Fiber: 0g; Sodium: 55mg 
Roasted Corn Relish
Serves 2 
Ingredients:
2 ears of sweet corn (Kahuku corn if you can get it!)
1/2 small red onion, finely chopped
1/2 cup green bell pepper, diced
1 small jalapeno pepper, seeded and minced
1/4 cup sweet pimento, diced (bottled diced or sliced works well)
1/4 cup fresh cilantro, finely chopped
Juice of 1 large or 2 small limes
1 tablespoon extra virgin olive oil
1/8 teaspoon kosher or sea salt
Directions:
1. Remove the corn husk and silk. Wash and dry the corn. Wrap each ear of corn in foil.
2. Place corn in the middle oven rack and roast for 20 minutes at 400 degrees. Be sure to let the corn cool after roasting.
3. Meanwhile, combine the remaining ingredients in a medium-size bowl. Toss lightly to mix.
4. After the corn has cooled, slice the corn kernels off each cob. Toss into the relish mixture.
5. Season to taste with salt and pepper (optional). Refrigerate for 30 minutes. Serve with the Cornish hen.
Nutritional Information per serving:
Calories: 102; Carbohydrates: 17g; Protein: 3g; Total Fat: 7g; Cholesterol: 0mg; Dietary Fiber: 3g; Sodium: 255mg
Published on: July 24, 2015