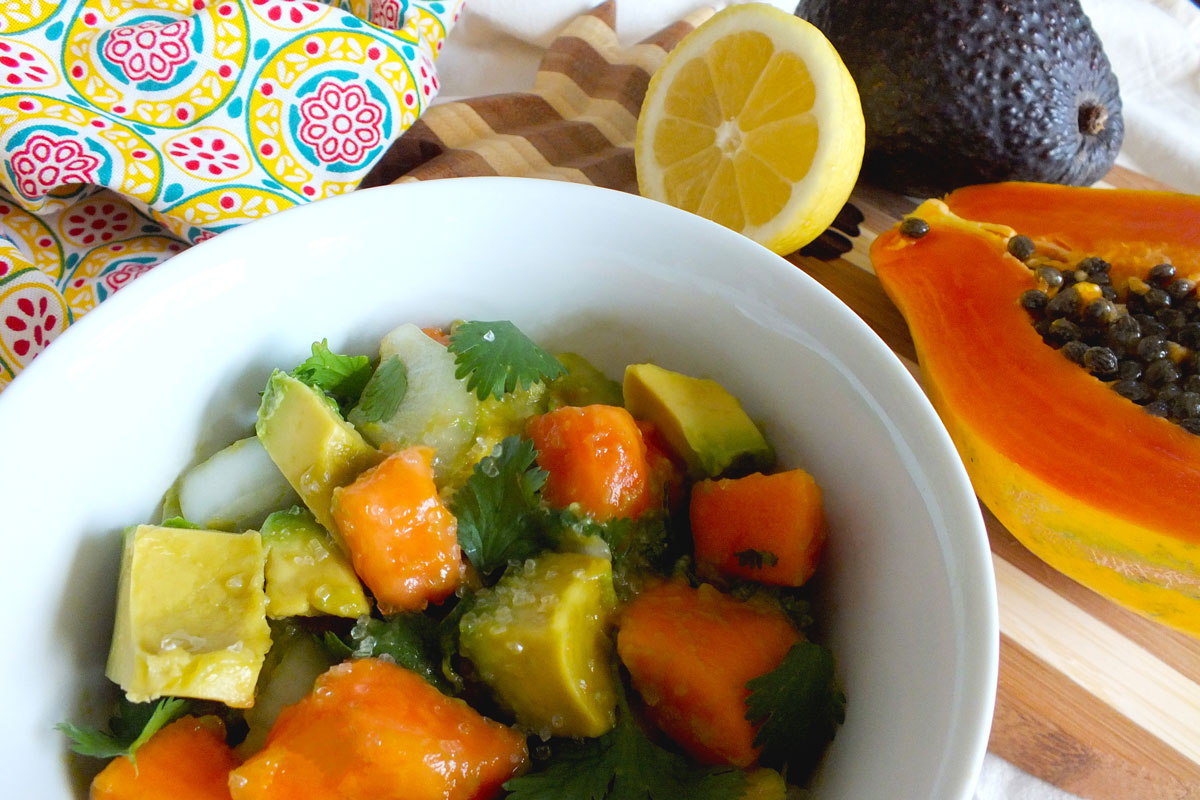 Avocado Papaya Salsa Salad
Is your regular salsa recipe feeling a bit bland? Spice things up with local, seasonal ingredients!
This original recipe from Kauai resident Teresa Gardner favors tropical flavors from the islands, like Maui onions, avocados and papayas. 
"With the exception of the garlic, all of the ingredients in this recipe can be sourced locally," says Nicole Sievers, a registered dietitian with Wilcox Medical Center. 
Similar to tomatoes, papayas are high in lycopene, a cancer-fighting phytonutrient that gives fruits and vegetables their reddish hue. 
Papayas also are a good source of other nutrients such as vitamins A and C, folate, potassium, copper, magnesium, fiber and a digestive enzyme called papain, which has natural anti-inflammatory effects against conditions such as asthma, osteoarthritis and rheumatoid arthritis.
Add in some avocado for a dose of healthy fat and fresh herbs like cilantro and mint for extra flavor, and you've got the the perfect topping for a variety of festive summertime dishes.
"This recipe is very low in saturated fat, low in carbs for us diabetics, and is low in sodium as well," Sievers adds. "It's a versatile recipe that I can see used as a salsa on top of fish or chicken, in tacos, with chips or crudité as an appetizer, or as a colorful side dish!" 
Avocado Papaya Salsa Salad
Serves 6
 
Ingredients:
2 medium or 1 large avocado
1 medium papaya
1 small Maui sweet onion, diced
Half of a lemon
1/2 cup cilantro
1 teaspoon ginger, grated
1 clove of garlic, minced
1/2 teaspoon dried mint
1/2 teaspoon salt
 
Directions:
1. Cut the avocados and papaya into large chunks.
2. Add chopped cilantro and squeeze lemon all over the mixture.
3. Add garlic and onion. Sprinkle with salt and mint, and mix together. Store and serve chilled. Good for 2-3 days. 
Nutritional information per serving:
Calories: 96; Carbohydrates: 10g; Protein: 1g; Total Fat: 7g; Saturated Fat: 1g; Dietary Fiber: 4g; Sodium: 199mg
Published on: June 28, 2016