---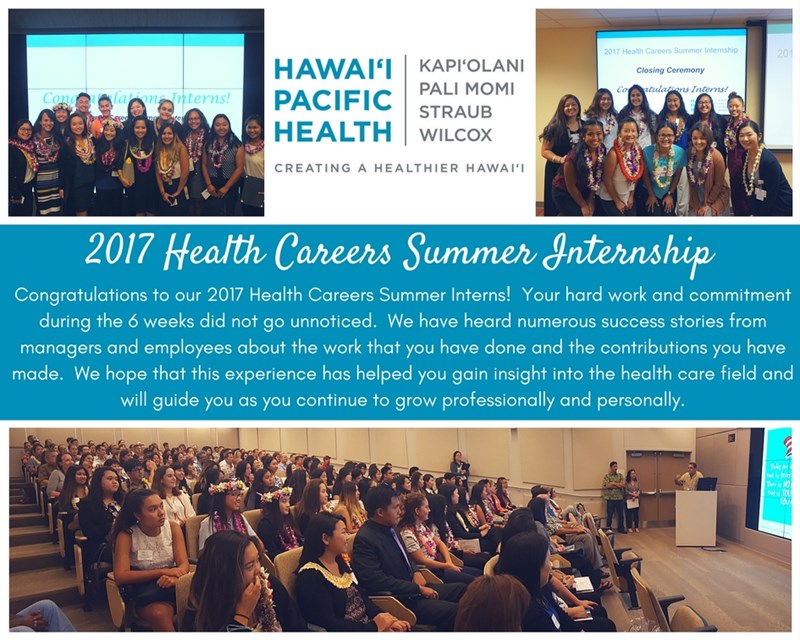 According to the Bureau of Labor Statistics, careers in health care occupations and industries are expected to have the fastest employment growth – adding more than 100,000 jobs this past year.
Our unique 6 week, paid internship program offers high school seniors and college students a rare opportunity to gain first-hand experience in the health care industry. Interns have the opportunity to learn more about hospital systems, interact with experienced health care professionals, and explore a variety of different health care professions.
Internships are offered at Hawaii Pacific Health and its network of medical centers in Hawaii, including Kapiolani Medical Center for Women & Children, Pali Momi Medical Center, Straub Medical Center, Wilcox Medical Center, and Kauai Medical Clinic.
Testimonials from Previous Interns:
"From participating in this internship, I confirmed my interested in becoming a physician."
"My internship was full of learning and growing, both professionally and as a student."
"This internship has helped me get a better idea of what career I want to pursue and what part of the health care field I fit in. I feel better prepared to make an educated decision about my career path, now that I understand what working in various departments is like."
"I made a lot of connections with people who could help me and answer my questions. My interest in the medical field has been reaffirmed!"
"This internship provided me with an amazing opportunity to learn about and experience aspects of the medical field that I had not been exposed to before."
"Before the internship, my goal was "I want to be a Physician Assistant". While that is still my goal, another goal that I have for myself is "In the future, I want to work at a place like Straub." The warm atmosphere at Straub made me excited to return everyday for my internship and I hope that after I'm done with my education, I can return to Straub as an employee."
"Whenever you think of medicine and health care, you think of doctors and nurses caring for patients on the med-surg floors. However, being assigned to the Business Intelligence Department opened my eyes as to how much more there is to medicine!"
"The Hawaii Pacific Health, Health Careers Summer Internship is an invaluable experience for anyone considering a career in health care. Being able to spend 6 weeks working in a hospital allowed me to get a better perspective on my future career."