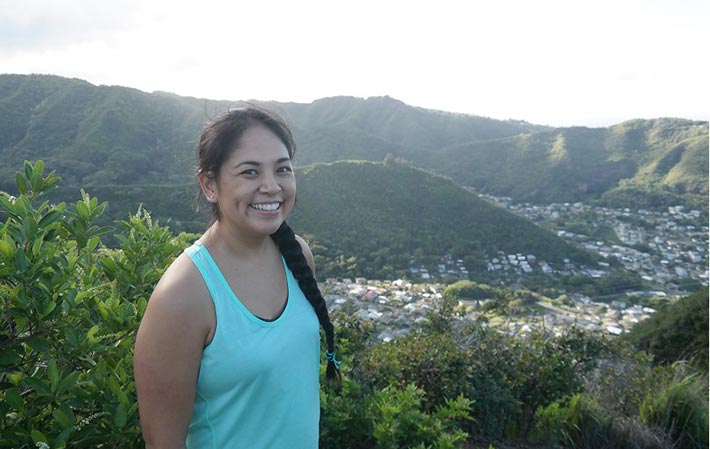 Laurie Yamamoto
Registered Nurse, Pediatric Intensive Care Unit
Kapiolani Medical Center for Women & Children
Interested in a fulfilling career at Hawaii Pacific Health?                                                                                Apply Today!
$2,500 relocation bonus and $7,500 hiring bonus available!
Local girl Laurie Yamamoto began her nursing career in the Pediatric Intensive Care Unit (PICU) at Kapiolani Medical Center for Women & Children more than 10 years ago after being invited to participate in a new graduate program.
With a nursing degree from the University of Hawaii at Manoa, Laurie hoped to begin her career as a geriatric nurse at Straub Medical Center, but a unique opportunity presented itself when a Hawaii Pacific Health Human Resources recruiter noticed her application and called to see if she was interested in working in the PICU at Kapiolani.
Although the idea of working with pediatric patients in the ICU scared her, she told herself that if she could do this job, that she could do anything she set her mind to. Laurie accepted the position, knowing that although things don't always go as planned, opportunity presents itself for a reason.
Laurie first knew she wanted to be a nurse after working as a volunteer at an adult day care center on Kauai. It was a great feeling for her to help and give back to the older adults there, even if it was a simple task of helping them eat or walk down the hall.
In her current position, Laurie is responsible for taking care of some of Hawaii's youngest and most critically ill patients. She helps families understand their child's diagnosis and works to involve them in the plan of care. As a PICU nurse, she is there not only for the patient, but also for the family to help them all on the road to recovery.
Laurie works in the new Diamond Head Tower at Kapiolani. She likes the idea of providing patients a quieter environment to help them heal and to give families a better environment that will enable them to be near their child.
She says one of the best parts about her job is learning from her team at Kapiolani.
"I love being a part of a team – doctors, nurses, respiratory therapists, physical therapists, occupational therapists, pharmacists – that works well together. We all work together to help our patients recover."
When she isn't working, Laurie enjoys spending time outdoors, going to the beach and hiking. Being in nature often gives her time to reflect and offers great stress relief. Working three 12-hour shifts provides her with the flexibility to enjoy these activities weekly, and living in Hawaii makes her days off feel like vacations.
Laurie would highly encourage others to apply to join the PICU team at Kapiolani.
"I truly enjoy my job," she says. "Every day I am given the opportunity to help others, and I get to provide loving care to someone else and make their day a little better than the previous. As corny as it sounds, some days I am able to witness miracles. Kids who we didn't think were going to make it show a full recovery, and being a part of that healing process is a great opportunity to have."