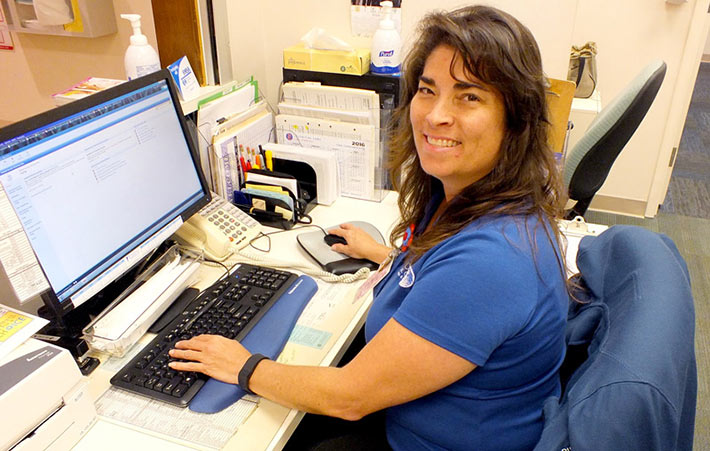 Kelly Gonsalves
Patient Service Representative, Outpatient Clinics
Kapiolani Medical Center for Women & Children
Interested in a fulfilling career at Hawaii Pacific Health?                                                                                Apply Today!
Kelly Gonsalves has been a dedicated employee in the Kapiolani Medical Center for Women & Children's Outpatient Clinics for 22 years.
However, her story with Hawaii Pacific Health begins in 1990, when Kelly was a part-timer who worked in four different departments before finding her "home."
"I was planning on getting a degree in criminal justice, but had to come home after a couple of years to start working right away due to unforeseen circumstances," says the Kaiser High School grad. "Before Hawaii Pacific Health, I worked in a weight-loss center as a weight-loss counselor. After doing that, I kind of needed a change, and that's when I started at Hawaii Pacific Health.
Kelly applied to Hawaii Pacific Health on the recommendation of her friends who worked for the company.
"They mentioned Hawaii Pacific Health was looking for ward clerks, and they mentioned I may be good at it because I am good with people. I just applied, and once I got here, literally the first day I worked here, I loved it!" Kelly says.
In her current role of patient service representative, Kelly is responsible for arranging patient appointments, handling insurance and supporting physicians in whatever capacity she can.
But her favorite part of her job is her daily interactions with patients.
"I just love working with the people – the kids and the adults," Kelly says. "I really enjoy working with the children when they come in. Seeing them when they are first babies and then growing up – a lot of the patients when I started working here are now parents themselves who are now bringing their children in, so it is just amazing to see our patients growing up with us with their own kids."
"Kelly delivers compassionate care to the families of the Outpatient Clinic and establishes good rapport with patients and staff," says Kirsten Pennaz, RN, manager of Clinical Operations-Outpatient Clinics at Kapiolani.
"Kelly will go above and beyond for her patients," Kirsten adds. "She makes positive suggestions for improvement and offers solutions. It is evident that Kelly is committed to quality by her willingness to provide the best work she can to help our patients."
On her free time, Kelly is an avid paddler and strong supporter of the University of Hawaii athletics, hobbies that Kelly says her schedule allows her to enjoy.
"The clinic is a Monday-through-Friday job, and this schedule allows me to paddle when I want to," she says. "I go to football, baseball, basketball and volleyball games … It is nice that Hawaii Pacific Health is also a sponsor, so when they are having their little giveaways, I get excited about the opportunity of going to different games!"
If Kelly had a friend interested in a position with Hawaii Pacific Health, she says she would whole-heartedly encourage them to just apply – just as her friends did two decades ago.
"Hawaii Pacific Health is awesome because they care about their employees," Kelly says. "I have worked with all different people in the hospital, and they're all just really great people and they care about you. I think that's important. It's good for morale
"It's just a really good company to work for, and I am proud to be an employee – that's why I have been here for more than 20 years!"