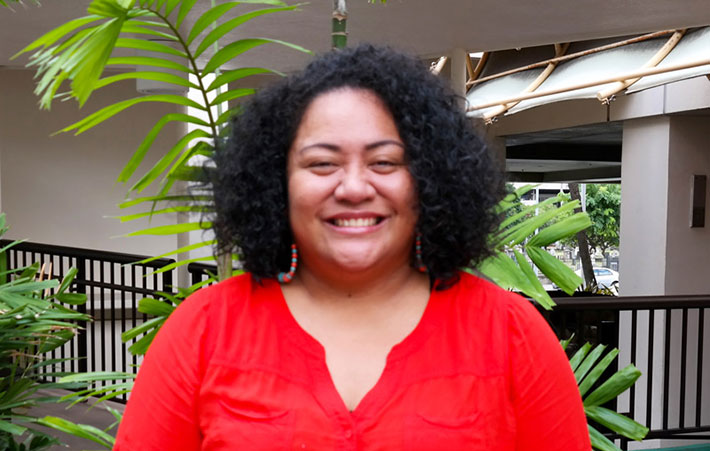 Catherine Maiava
Electronic Medical Record Clinical Systems Trainer, IT Department
Hawaii Pacific Health
Interested in a fulfilling career at Hawaii Pacific Health?                                                                                Apply Today!
Working at Hawaii Pacific Health opens multiple doors to grow your career.
Catherine Maiava began working at Kapiolani Medical Center for Women & Children in 2006 as a clinical assistant in the medical center's Emergency Department.
"I had my degree and was certified as a nurse's assistant. I had done home care before, but I didn't have the credentials or the one-year experience. I decided I should just apply anyway, because I really wanted to work with kids. I applied to all of the CA positions and I was very fortunate; I got an interview and within the week I was hired."
After nine and a half years, Catherine decided she wanted to explore other areas of the Hawaii Pacific Health organization and transferred to the IT Department's Optimization and Training Team.
"My manager had always been supportive and given me opportunities to step out and grow and exposed me to other areas outside of being a clinical assistant in the ED," Catherine says. "In a way, when one door closed, other doors opened for me that I never would have thought to pursue."
In her current role as EMR Clinical Systems Trainer, Catherine is responsible for being knowledgeable in electronic medical record (EMR) systems and workflow in a clinic setting, be it on the floor, in the clinic or in position-specific areas.
"We train and offer support to clinicians and those who use the EMR system. We also work with the service desk in receiving calls for any urgent or non-urgent issues," she explains. "We offer support with upgrades or go-lives to ease the transition into it. We look for ways to make using EMR better for the user."
The position required experience with EMR systems, preferably two years of education, training and teaching EMR clinical systems. As a CA, Catherine's experience with EMR systems was limited. She needed additional training, which is being provided to her through Hawaii Pacific Health and its Epic system.
"I'm still in training. However, I can't wait to start teaching and interacting with our staff!" Catherine says. "I enjoy the team I work with, the purpose behind this team, learning new things and working with people. This team adds the human aspect to the IT team."
Though she no longer works in the hospital setting, Catherine says she still finds ways to challenge herself and fulfill her original goal of providing the best care possible to patients and families.
"It's not just doctors and registered nurses, but you have the dietary team, the rehab team, the finance team, the admissions and registration team, the SPD team, the housekeeping team, the maintenance team, the IT team – the list goes on – all working together in the Hawaii Pacific Health body to provide the best for our patients," she says.
"One of my favorite quotes by Albert Einstein said that a life lived for others is a life worth living. Big or small, directly or indirectly, we can still do so much."