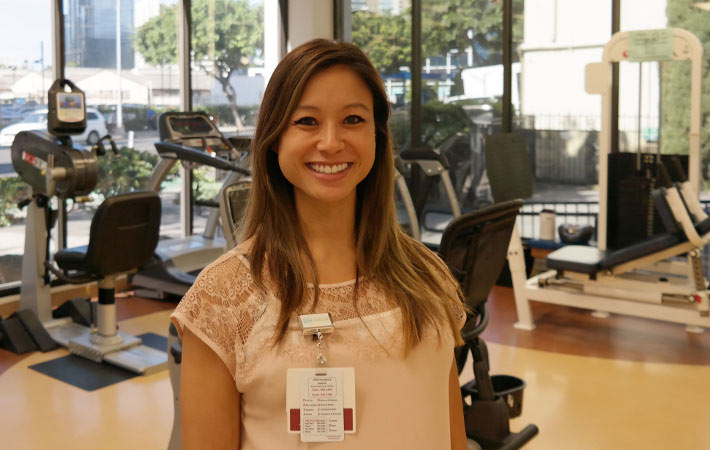 Catherine Chang
Physical Therapist, Physical Therapy Center (PTC) 
Straub Medical Center
Interested in a fulfilling career at Hawaii Pacific Health?                                                                                Apply Today!
Catherine Chang's favorite part about being an outpatient physical therapist is being able to work with different patients and seeing them improve with each PT session.
Working at the Physical Therapy Center (PTC) at Straub Medical Center, Catherine educates patients on how to help with their physical impairments and improve their function. She also teaches them ways to reduce and manage their pain, and prevent symptoms from worsening.
Catherine moved to Hawaii from Milpitas, California, and began working at Straub in June 2014.
"Since my youth, I've always been active and into sports. I knew I wanted to have a career where I could promote physical activity and fitness to help improve health and well-being," says Catherine.
She attended college at the University of California, Davis, where she received a bachelor's degree in psychology with an emphasis in biology. She says she became interested in physical therapy when she did an internship in college and saw how PTs work with patients to help them regain their function and improve their quality of life. Catherine continued her education at the University of the Pacific in Stockton, California, where she received her Doctor of Physical Therapy degree (DPT).
Catherine works with patients who have musculoskeletal conditions of the spine, lower and upper extremities, acute chronic pain, cervicogenic headaches, balance/gait impairments and post-operative patients, to name a few.
She goes through therapeutic exercises with her patients at the PTC and teaches exercises they can perform at home to improve function and reduce pain. She says most of her patients are motivated to go to physical therapy because they want to get better, and their positive attitude helps them get better faster during the rehab process.
"My workday can be busy, but it's nice to see a variety of patients, and it makes my day go by relatively fast," Catherine says.
Catherine enjoys living and working in Hawaii because of the great weather year-round, beautiful beaches and the wonderful mix of cultures that make up Hawaii.
"I was drawn to Hawaii for all of these reasons, and I am so happy that I made the move here and can call Hawai'i my home," she shares.
When she's not at work, you can find Catherine being active and outdoors.
"I spend my free time working out at the gym, going to the beach, running, hiking, riding my bike around town, and doing water activities such as snorkeling or stand-up paddleboarding," says Catherine, who also loves to travel, be it to the mainland to visit her family, to outer islands or to different countries. In fact, she makes it a point to travel to one international destination each year.
"Hawaii Pacific Health is a wonderful company to work for," Catherine says. "I believe in its mission statement, and the company strives to take care of its patients as well as employees. Working for Hawaii Pacific Health is one of the best decisions I have made, and I am proud and happy to be a part of this ohana."