Imaging is an important diagnostic tool that is used by many medical specialties.

Our imaging staff is expertly trained and certified to provide you with accurate, efficient imaging services in a comfortable, supportive environment. 
Programs & Services available at:
Kapiolani specializes in diagnostic imaging for newborns, children, and teens.
That means everything, from its equipment to its pediatric protocols, are tailor-made for kids. Kapiolani uses the lowest radiation level of any CT scanner in the state. In fact, its levels are far below the American College of Radiology (ACR) recommendations.
MRI Information for Parents (PDF)
Kid Friendly CT Information for Parents (PDF)
Kapiolani Imaging: 1-808-983-8626
Pali Momi has been instrumental in elevating the level of care for Central and West Oahu.
It has pioneered health care for the communities it serves through investments in state-of-the-art technology. Pali Momi is home to West Oahu's first permanent MRI, 320-slice CT scanner and cardiac catheterization program.
Pali Momi's imaging department offers a full complement of comprehensive diagnostic imaging services and is equipped with the latest, most advanced technology. Pali Momi's tradition of high quality care underscores its emphasis on ensuring the safety of its patients. The medical center's safe scanning procedures ensure that the radiation dosage used in its procedures is far below the nationally recommended levels.
Additionally, Pali Momi offers convenient scheduling options including early mornings, evenings and weekends. Services include:
Computerized Tomography (CT) – featuring the new 320-slice CT scanner
Diagnostic – general radiology (available at Pali Momi Outpatient Center)
Electroencephalogram (EEG)
Mammography
Magnetic Resonance Imaging (MRI) – featuring our new 3T MRI, the highest-field strength available
Nuclear medicine studies
Osteoporosis (DEXA)
Special procedures in a newly renovated, comfortable space
Ultrasound – general, gynecological, obstetric and vascular
For appointments, call: 1-808-535-7733
Straub offers a wide range of services, ranging from simple x-rays to complicated interventional radiological procedures.
We offer MRI (1.5T), helical CT scanners with low dose radiation, ultrasound, digital mammography and tomosynthesis*, nuclear medicine, and comprehensive angiography.
Straub also has the only upright stereotactic breast biopsy system in the state, which allows patients to undergo their breast biopsy in the sitting position, rather than lying face down. Digital mammography and X-ray are also available at most satellite clinic locations.
Straub's staff is available to perform a wide variety of vascular and non-vascular interventional procedures, including: diagnostic angiography, venous evaluation of pelvic congestion syndrome, and embolization of uterine fibroids.
On staff are ten radiologists that are fellowship trained in the following subspecialties: neuroradiology (brain and spine), musculoskeletal (joints), cardiac (heart), mammography (breast), interventional radiology (imaging-guided procedures and treatment), and body imaging.
*Available only at Straub's King Street location
Straub Imaging and Radiology Services: (808) 522-4220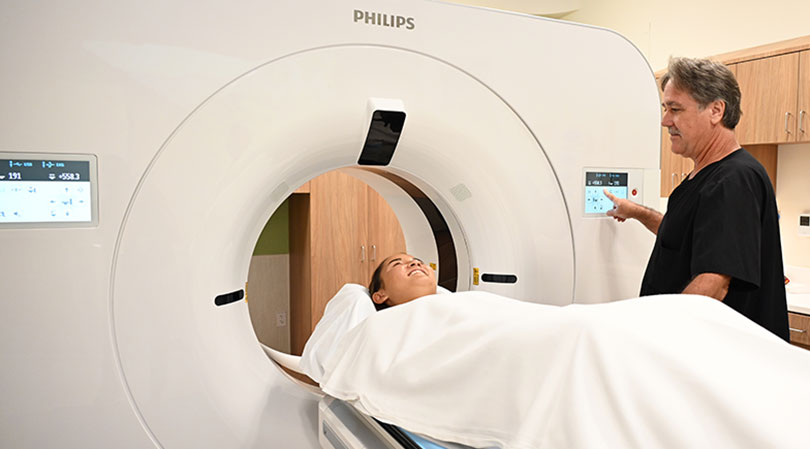 The center is equipped with state-of-the-art technology to serve patients across the inpatient, outpatient and emergency settings.
The spectral-detector CT scanner produces comprehensive images for patients of all ages, including children, and with a range of medical needs, such as bariatrics. The machine generates high-quality, exceptionally clear images with faster setup times and shorter exam times. This results in a lower dose of radiation as well as a more comfortable overall experience.
The 320-slice CT scanner offers advanced imagery full-body scanning in a single rotation of the X-ray tube. This faster scan time is helpful for patients who have a hard time staying still for extended periods.
Advanced features of the CT scanners at Wilcox help medical teams detect, diagnose and monitor both common and chronic diseases, disorders and conditions, including cancer, heart disease and bone fractures.
Imaging services are available 24 hours a day, seven days a week. Board-certified physician radiologists provide quality care and timely interpretation of radiographic procedures.
Services are by referral from a patient's primary care physician, who will use these internal images of the body to assist with diagnosis and treatment.
Wilcox Family Imaging Center: 1-808-245-1030