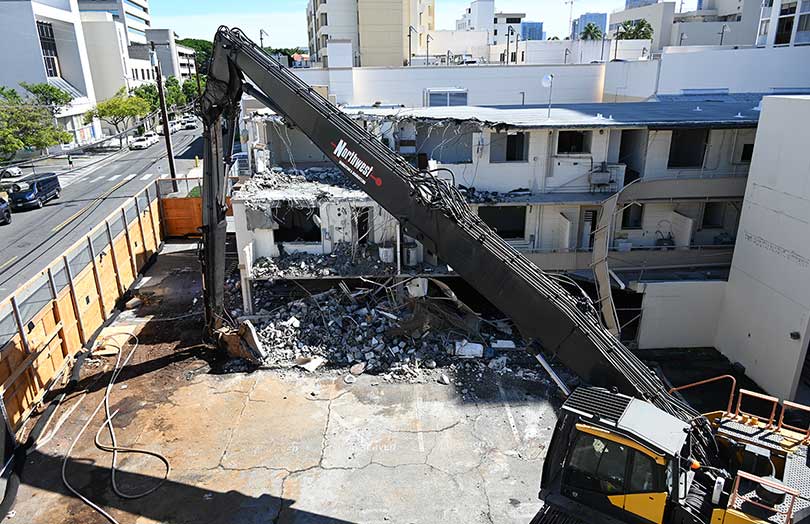 Work is underway on Straub Medical Center's new, state-of-the art health care campus of the future. Thursday Jan. 26, 2023, crews began the construction phase of the multi-year project with the demolition of buildings along South Hotel Street.
The first is a two-story building at 801 S. Hotel St., which housed support services for the medical center. Over the next few months, contractors will demolish three more buildings in the block between Kealamakai Street and Ward Avenue to clear way for the medical center's new 760,000-square-foot campus. The future facility will be designed to give Straub medical teams the space, tools and resources needed to provide care for Hawaii patients for decades to come.
"We are excited to begin the new year with the start of this visionary project," said Dave Underriner, Straub CEO and Hawaii Pacific Health executive vice president of Oahu operations. "Our new health care campus will include the latest technology, increased efficiency and flexible spaces so entire families can receive the highest quality care in one place, just as Dr. George Straub envisioned when he opened his clinic on King Street more than 100 years ago."
The current construction will not affect patients coming to the medical center or traffic in the area.
When completed, the new Straub Medical Center campus will triple the size of the current facility. The renovation includes additional parking with an expanded patient drop-off area, larger patient rooms, a bigger Emergency Department and more solar panels and green spaces for patients. The historic Strode building, which has been at the site since 1933, will also be renovated.
To read more about the project, go to FutureForwardStraub.org.