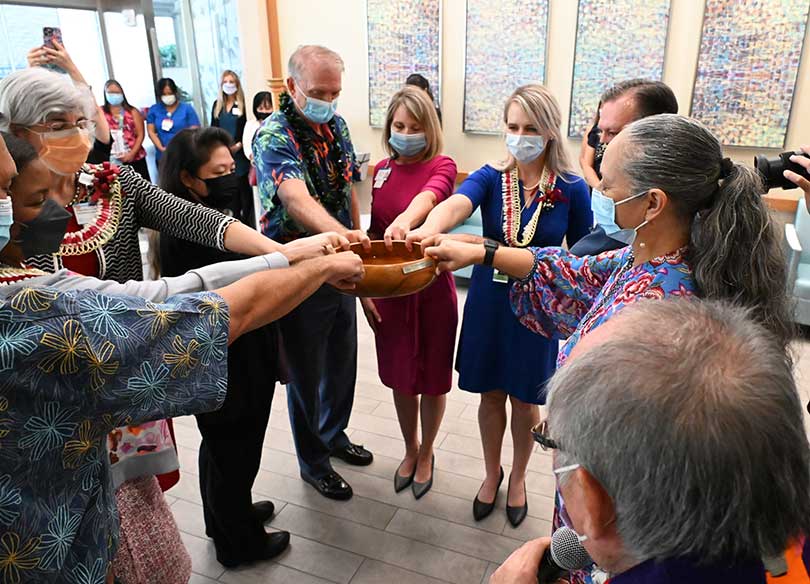 Today marks a momentous occasion for Pali Momi Medical Center. Five years ago, the medical center opened its comprehensive cancer center, creating a one-stop location where specialized medical teams could provide coordinated cancer care services for patients in Central and West Oahu.

Patients, physicians, nurses, staff and medical center leadership commemorated the five-year anniversary earlier this week with an intimate blessing at the Aiea cancer center.

"This milestone is very meaningful for our staff, patients and the community," said Gloria Brooks, Pali Momi chief operating officer. "For the past five years this center has been a place of hope and healing. The high-quality care we provide is a reflection of the state-of-the-art technology and our dedicated cancer team. This all deserves to be celebrated."
The Dr. James T. Kakuda Cancer Center at Pali Momi Medical Center is the first integrated center of its kind serving Central and West Oahu, and the only center in Central and West Oahu that is nationally accredited by the American College of Surgeons Commission on Cancer.
The 24,000-square-foot center provides comprehensive and coordinated cancer care, including diagnosis, treatment and support services, in one convenient location. It includes an Infusion Center, Multispecialty Clinic, dedicated telehealth suite, state-of-the-art conference center, onsite pharmacy and lab services provided by Clinical Labs of Hawaii.
Studies have shown access to medical oncologists, surgical oncologists and other specialists in one location leads to more efficient care, better outcomes and an enhanced patient experience.
In 2021, the Pali Momi Cancer Program provided the following services:
28,594 screening mammograms.
8,778 hematology/oncology appointments.
15,860 infusion appointments.
The cancer center opened Oct. 30, 2017, as the Hawaii Pacific Health Cancer Center at Pali Momi Medical Center but was renamed in 2021 in honor of Dr. James T. Kakuda. The late surgical oncologist served as chief medical officer and chief of staff at Pali Momi. Kakuda had envisioned a center that would provide the Central and West Oahu region a full spectrum of cancer services and access to expert care specialized for the patient's specific cancer condition.
The Dr. James T. Kakuda Cancer Center has an established collaborative partnership with the Cancer Center of Hawaii, which provides radiation oncology services to patients from its location within the Pali Momi cancer center. This access to advanced cancer care services allows the Cancer Center of Hawaii and Hawaii Pacific Health to combine their respective areas of expertise for a level of coordinated cancer care not previously available on the Leeward side of the island.
"This really was the first true comprehensive cancer center on Oahu to put medical oncology, infusion services and radiation oncology support all in the same structure," said Dr. John Lederer, medical director of the Cancer Center of Hawaii. "I have been here since day one, and it's been a great privilege to care for our patients."
The Pali Momi cancer center also holds partnerships with:
The University of Hawaii Cancer Center, which is recognized by the National Cancer Institute (NCI) as a consortium cancer center.
The Fred Hutchinson Cancer Center's Network Program, which connects community-based physicians with the latest cancer research and treatment options from world-renowned physicians, scientists, nurses, counselors and more. Pali Momi's and Hawaii Pacific Health's affiliation with the Fred Hutch program expands existing initiatives with leading facilities in patient education, quality improvement, research and clinical trials.
These partnerships with renowned innovators in cancer treatment and research enhance the care provided to patients, now and into the future.