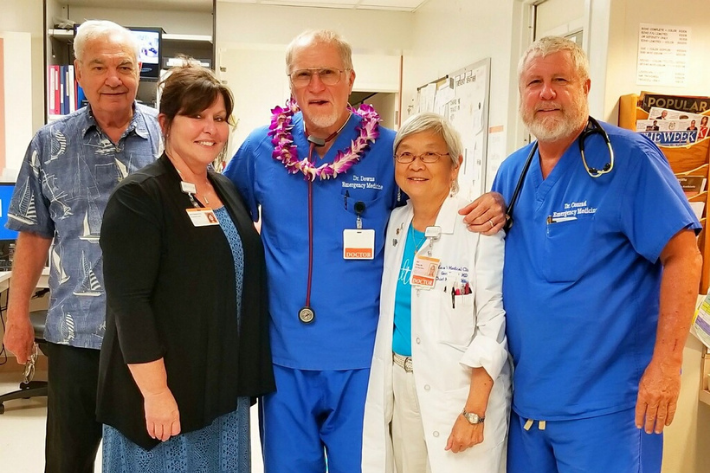 Left to right: Dr. Roger Netzer, ear, nose and throat physician; Jen Chahanovich, Wilcox Medical Center president and CEO and Kauai Medical Clinic CEO; Dr. Monty Downs, emergency medicine physician; Dr. Geri Young, Kauai medical director; and Dr. Robert Conrad, emergency medicine physician.
They both began their medical careers on Kauai in the 1970s. Now, Wilcox Health is celebrating two doctors who have cared for Garden Isle families for 100 years combined – Dr. Monty Downs and Dr. Roger Netzer.
Dr. Roger Netzer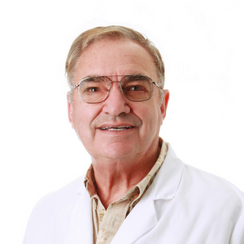 After earning his medical degree from the University of Michigan and practicing in Newport Beach, California, Netzer answered an ad for a position for what was then the Kauai Medical Group in 1973. He moved to Kauai and became the island's first ear, nose and throat specialist.
"When I started, there were 35,000 people on Kauai," Netzer said. "There were no traffic lights. The medicine… it was mostly contracted medicine with the plantations." Yet, he said, the Wilcox family always did its best to ensure he had what he needed to provide the community with the best care possible.
During his 50-year career as an otolaryngologist, Netzer also served as the chief of surgery at Wilcox Medical Center and chair of the Hawaii Medical Board. He has also been a fellow of the American Academy of Otolaryngology and Head and Neck Surgery and a member of several other national organizations. But many of his patients say it didn't matter how busy his schedule became, Netzer made sure to take the time for them.
"You knew people and patients became your family members. So, I always wanted to be kind and felt I wasn't doing a good job if I didn't answer all their questions and fully explain everything that was being done," Netzer said.
In 2002, his eldest son, internal medicine and family medicine physician Dr. Craig Netzer, returned home to join Kauai Medical Clinic, continuing the tradition of caring for the people of Kauai.
Dr. Roger Netzer retired on Thursday, April 7, 2022, but plans to volunteer for projects and organizations working for the community.
Dr. Monty Downs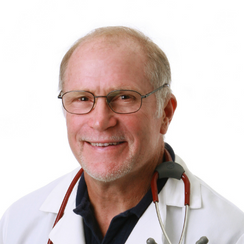 Dr. Monty Downs is a familiar face for patients in the Wilcox Emergency Department (ED). He has been practicing medicine on Kauai since 1972 and joined Wilcox two years before emergency medicine was even recognized as a specialty.
"In the mid-'70s, our job was to know a lot about a lot of things," Downs said. "We may not know as much as each specialist but, for example, we know a lot about someone with chest pain or a pregnant woman with a stomachache. We could get things going and call on specialists if needed."
One of those specialists was Netzer. Downs recalls Netzer was the only ear, nose and throat surgeon on Kauai for decades and would respond, day or night, to assist with critical emergencies.
Downs himself became the first board-certified emergency room physician on Kauai in 1983. He recalls the moment his team shifted from paper charts to a new machine called a computer, and how technology changed and improved patient care in the decades to come. Beyond his work as a physician, Downs and his wife, Elaine, also donate to Wilcox. Their gift helped pay to renovate exam rooms in the new ED, which is slated to be completed next month. He says giving helps offset the mentally and physically exhausting work of emergency shifts.
"You have to maintain an attitude of really appreciating being a part of peoples' lives," he said. "We see life at its most vulnerable state."
Many remember him not only for his excellent care, but also his musical skills. When he wasn't busy, Downs would often play guitar and harmonica for patients in the ED and, more recently, at the Wilcox Medical Center COVID-19 vaccine clinic.
Downs is also a fixture in many other areas of Kauai's community. He is an officer of the Kauai Lifeguard Association and a team physician for Kapaa High School's football team.
Downs retires on Sunday, April 17, 2022, and will take on the role of medical director for Kauai Hospice on Sunday, May 1, 2022.