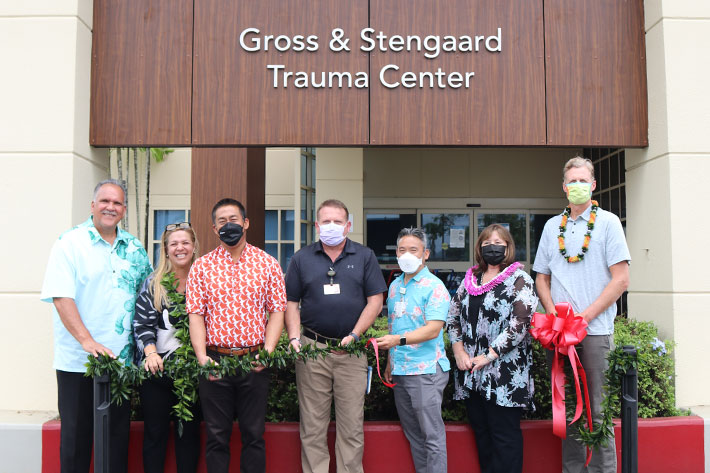 State and county leaders joined Wilcox Medical Center staff and community members today to celebrate the blessing of the facility's new Emergency Department (ED). It's the first time the ED has been completely renovated and updated since it opened in 1995.
The new space features two trauma resuscitation suites and several specialized care rooms. Patients suspected of having infectious diseases will be treated in one of three rooms with negative pressure. This helps prevent air from flowing out into other areas and aids in keeping airborne diseases contained. Specially designed equipment is readily available at new pediatric and OB-GYN rooms. All patient care areas are now completely private. Prior to construction, some rooms were semi-private spaces separated by curtains.
Wilcox is Kauai's only Level III Trauma Center and the first in Hawaii to be verified by the American College of Surgeons. The two new trauma suites will help improve efficiency of lifesaving care. The doors are double the size of the previous rooms, making it easier for health care workers to quickly move equipment and patients on gurneys into the area. The larger rooms can also accommodate more trauma team members, the latest technology and essential supplies.
"We know how devastating a trauma incident can be, especially for our small community," said Jen Chahanovich, president and CEO of Wilcox Health. "Most of these medical emergencies involve multiple patients who need care simultaneously. We know that investing in these state-of-the-art trauma suites will continue to elevate the emergency care for the people on Kauai."
Wilcox's new ED also includes a dedicated room for behavioral and mental health patients. A key part of this space is its telehealth capabilities featuring advanced video technology that allows Wilcox staff and specialists from across the HPH system to engage with patients at any time without entering the room.
Community donations funded the $5.1 million project. Generous contributions were made by Jenn Gross and Peter Stengaard, Dr. Priscilla Chan and Mark Zuckerberg, descendants of the Wilcox family, physicians and staff, members of Kauai's business community and many others.
The renovations began in October 2020, and Wilcox's ED has remained open at all times throughout the construction. Wilcox averages 25,000 emergency visits and 450 trauma activations a year.
Watch the Video: Emergency Department Blessing at Wilcox Medical Center