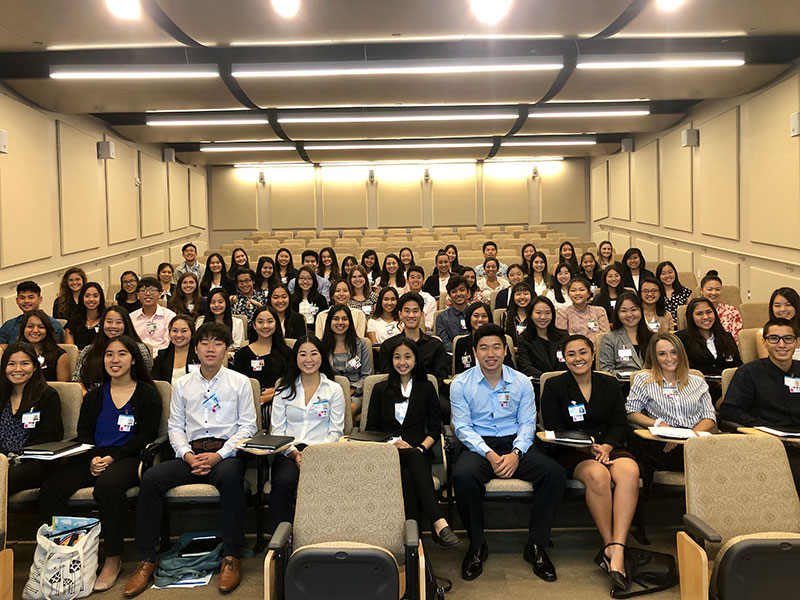 Hawaii Pacific Health is now accepting applications for its 2020 Health Careers Summer Internship program. The six-week paid internship program runs June 22-July 31 on Oahu and June 15-July 24 on Kauai. The deadline to submit applications is Friday, March 6.
This unique paid internship program offers students a rare opportunity to gain first-hand experience in the health care industry, learn more about general operations within a hospital system and explore a variety of different health care professions.
Each year, outstanding high school juniors, seniors and college students join the Hawaii Pacific Health team for the summer and have the opportunity to interact with and learn from experienced health care professionals within the Hawaii Pacific Health system, which includes Kapiolani Medical Center for Women & Children, Pali Momi Medical Center, Straub Medical Center, Wilcox Medical Center and Kauai Medical Clinic.
Students are introduced to health care professionals from various specialties and participate in visits to Hawaii Pacific Health's medical facilities to get a better idea of what area in health care they are interested in pursuing in the future. They also have the opportunity to attend events like a Career Development Seminar that provides students with additional training in workplace readiness, performance expectations, and further skill exploration and development.
"This program provides an one-of-a-kind opportunity for students here in Hawaii who have an interest in health care to get a firsthand look at what it's like to work in a health care setting," said Carl Hinson, director of workforce development for Hawaii Pacific Health. "Participants will interact with Hawaii Pacific Health employees, physicians and other health care professionals in various areas of the organization, which provides an invaluable learning experience through a paid internship program."
Since its inception in 2004, more than 850 students have participated in the program. Recent program alumni have returned to work within the Hawaii Pacific Health system.
Applications for the 2020 Health Careers Summer Internship are available online at HawaiiPacificHealth.org/SummerInternship. All components of the application can be completed electronically. The deadline to submit applications is Friday, March 6, 2020.
For more information about the Health Careers Summer Internship, call Hawaii Pacific Health Human Resources at 808-535-7571.