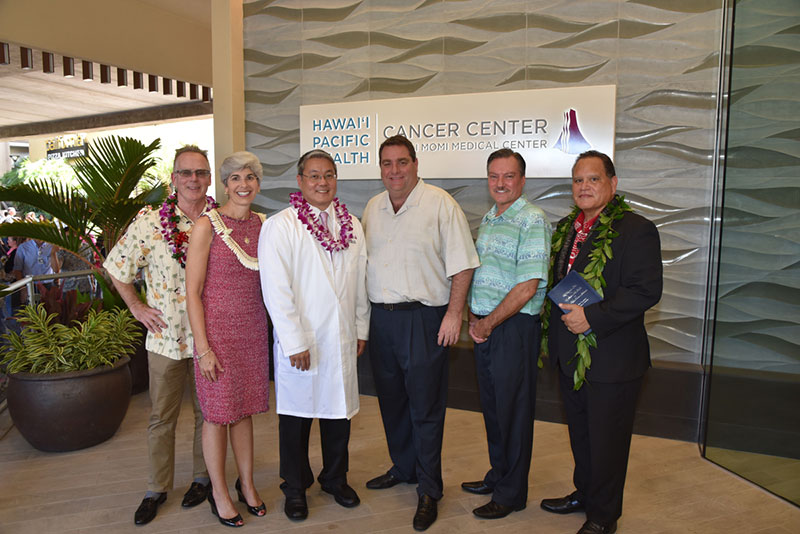 The new Hawaii Pacific Health Cancer Center at Pali Momi Medical Center opened today with a blessing ceremony and grand opening event attended by physicians and staff, community and construction partners, and government leaders. The 24,000-square-foot center will provide comprehensive and coordinated cancer care, including diagnosis, treatment and support services, in one convenient and centralized location for Central and West Oahu residents.
"The coordination of cancer care for patients can be complex, and this new center will help to alleviate that burden for patients residing in Central and West Oahu by providing one convenient location for all of their care needs," said Pali Momi Medical Center Chief Medical Officer James Kakuda, MD. "We're grateful to all of our partners who have helped to make this center possible, and who support our mission to reduce the impact of cancer in our communities and create a healthier Hawaii."
Located on the ground level of the Downtown Parking Garage at Pearlridge Center, the center will be completed in multiple phases. This first phase opening now includes medical oncology, radiation oncology therapy, physician offices, a conference center and common areas. Additional amenities include ample parking as well as free shuttle service and easy access to and from Pali Momi Medical Center.
Radiation oncology therapy will be provided through the Cancer Center of Hawaii, which is relocating its Leeward Oahu campus currently located in Ewa Beach to the Hawaii Pacific Health Cancer Center at Pali Momi. The Cancer Center of Hawaii will begin seeing patients at this new location on Nov. 1.
"We are excited to be a part of this new center and this effort to provide access to advanced cancer care services for the residents of West Oahu," said Cancer Center of Hawaii Founder John Lederer, MD. "This new space will provide the opportunity for the Cancer Center of Hawaii and Hawaii Pacific Health to combine our areas of expertise and provide a level of coordinated cancer care that has not previously been available on this side of the island."
Phase II will include infusion services with an estimated opening in spring 2018. Future phases will be designed based upon specific community needs.
In addition to being the first comprehensive center for cancer care serving Central and West Oahu, it is the only program in West Oahu accredited by the American College of Surgeons Commission on Cancer. In addition to the Cancer Center of Hawaii, patients will benefit from Hawaii Pacific Health's partnerships with other local and national organizations recognized for their leadership in cancer treatment and research, including the University of Hawaii Cancer Center and the Seattle Cancer Care Alliance.
For more information about the Hawaii Pacific Health Cancer Center at Pali Momi, visit HawaiiPacificHealth.org/CancerCenters.
PHOTO CAPTION:
Pictured in the photo above at the blessing ceremony for the new Hawaii Pacific Health Cancer Center at Pali Momi Medical Center are (l to r) Dr. John Lederer, founder of the Cancer Center of Hawaii; Gidget Ruscetta, chief operating officer of Pali Momi Medical Center; Dr. James Kakuda, chief medical officer of Pali Momi Medical Center; Ray Vara, president and CEO of Hawaii Pacific Health; Art Gladstone, CEO of Pali Momi Medical Center and Straub Medical Center; and Kahu Kelekona Bishaw.