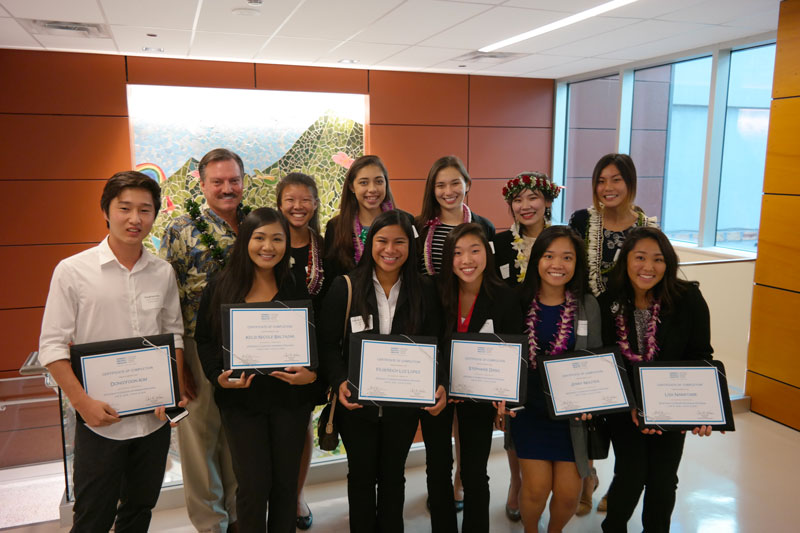 Hawaii Pacific Health recognized 76 outstanding students for participating in its 2016 Health Careers Summer Internship Program at a special closing ceremony at Kapiolani Medical Center for Women & Children August 5. The unique paid internship program offers students a rare opportunity to gain first-hand experience in the health care industry, learn more about general operations within a hospital system and explore a variety of different health care professions.
This year, 29 high school seniors and 47 college students joined the Hawaii Pacific Health team and had the opportunity to interact with and learn from experienced health care professionals, to get a better idea of what health care field they are interested in pursuing. Students also participated in activities such as RIMPAC hospital emergency exercises and attended events like Career Day where professionals from Kapiolani Medical Center, Pali Momi Medical Center and Straub Medical Center shared their stories of how they got to where they are today and challenges they faced along the way. They also offered career advice.
"We encourage students to explore opportunities in health care and take the next step toward a rewarding career," said Carl Hinson, director of workforce development for Hawaii Pacific Health. "The six-week internship program gives high school seniors and college students interested in pursuing a career in health care the opportunity to acquire valuable life experiences that will be beneficial as they transition from postsecondary education to the workforce." 
Since its inception in 2004, over 600 students have participated in the internship. Internships are offered at Hawaii Pacific Health and its network of medical centers in Hawaii, including Kapiolani Medical Center for Women & Children, Pali Momi Medical Center, Straub Medical Center, Wilcox Medical Center and Kauai Medical Clinic.