A stroke can happen at any time, and when it does, every second counts. Recognizing the symptoms of a stroke and calling 911 immediately can make a significant difference in treatment options and recovery outcomes.
Pali Momi Medical Center, Straub Medical Center and Wilcox Medical Center are certified Primary Stroke Centers, a certification that recognizes medical centers that employ the best practices for stroke care. Our physicians follow the latest guidelines from the American Heart Association (AHA) and American Stroke Association (ASA). These guidelines, such as expanding the window for treating acute ischemic stroke  from six to up to 24 hours, could mean better outcomes for patients and more lives saved.
---
Warning Signs of a Stroke
For every minute you wait after a stroke has happened, about 2 million brain cells die. Do you know how to recognize a stroke as it is occurring? From numbness to blurred vision, here are the most common warning signs of a stroke: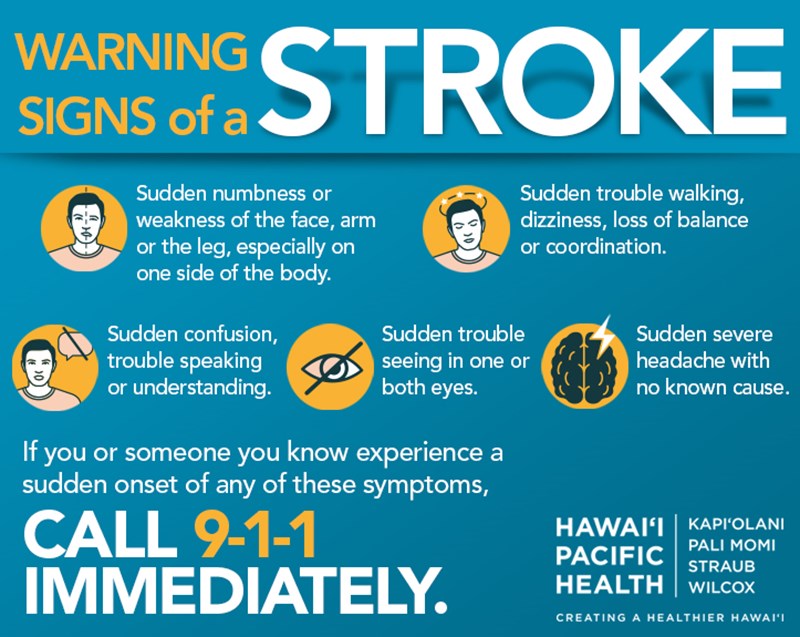 ---
Other Stroke Symptoms
If you experience these less common symptoms of stroke, seek immediate medical attention:
Sudden nausea or vomiting not caused by a viral illness
Brief loss or change of consciousness, such as fainting, confusion, seizures, or coma
Transient ischemic attack (TIA), or "mini-stroke":

A TIA can cause many of the same symptoms as a stroke, but TIA symptoms are transient and last for a few minutes or up to 24 hours. Call for medical help immediately if you suspect a person is having a TIA, as it may be a warning sign that a stroke is about to occur. Not all strokes, however, are preceded by TIAs.
---
A Higher Level of Care

Pali Momi Medical Center, Straub Medical Center and Wilcox Medical Center have earned The Joint Commission's Gold Seal of Approval® and the American Heart Association/American Stroke Association's Heart-Check mark for Advanced Certification for Primary Stroke Center. The Gold Seal of Approval® and the Heart-Check mark represent symbols of quality from their respective organizations.
The certification recognizes centers that follow the best practices for stroke care. Certified primary stroke centers:
Use a standardized method of delivering care.
Support patient self-management activities.
Tailor treatment and intervention to individual needs.
Promote the flow of patient information across settings and providers, while protecting patient rights, security and privacy.
Analyze and use standardized performance measure data to continually improve treatment plans.
Demonstrate their application of and compliance with clinical practice guidelines published by the AHA/ASA or equivalent evidence-based guidelines.