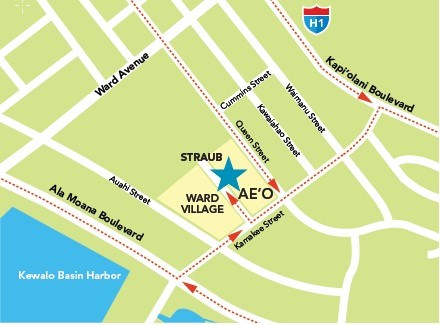 Location and Contact: 
1001 Queen Street, Suite 102
Honolulu, HI, 96814
Phone Number: 808-462-5200
Fax Number: 808-462-5299
Clinic Hours:
Primary Care:
Monday - Friday: 8:00 a.m. - 6:00 p.m.
Urgent Care: 
Daily 10:00 a.m. - 8:00 p.m.
---
At Straub Medical Center, the health and safety of our patients, care providers and staff is our top priority. In light of current events, all non-urgent office visits are being postponed for at least 30 days. Patients are being notified directly to reschedule. If you have any questions, contact your physician's office for more information.
Please visit HawaiiPacificHealth.org/Coronavirus for the most up-to-date information on changes to our services and procedures.
---
Located in the heart of Kakaako, Straub Medical Center – Ward Village Clinic & Urgent Care brings convenient, high-quality, personalized health care to the people living and working in this vibrant community.
This new facility offers the following services to the entire family in one central, easy-to-access location:
Primary care
Urgent care
Imaging
Lab services (Clinical Labs of Hawaii)
Primary Care Physicians accepting new patients at this locations include:
And because Straub is a part of Hawaii Pacific Health, patients have access to one of the largest health care systems in Hawaii.
To learn more about primary care or find an available one near you, visit: hawaiipacifichealth.org/primarycare.
To schedule an appointment at this location, please call 808-462-5200.
This clinic is located on the street level between Whole Foods and Rinka Japanese Restaurant in the Aeo residential tower.
Contact Us:
Schedule an Appointment with a Primary Care Physician: