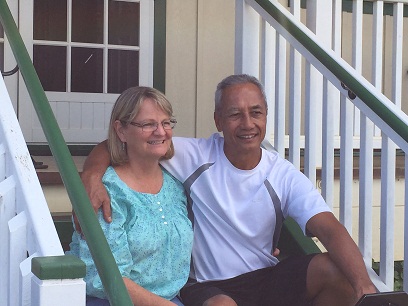 Duane Albano is a firefighter on Kauai and an active community member who has saved numerous lives.
But one morning, this certified hero would be the one in need of life-saving help.
When getting ready to start his day, Albano suddenly collapsed. His wife, Sammee, found Albano unresponsive and called 911. Sammee's years of experience as a nurse kicked in, and she performed CPR until responders arrived.
The firemen were the first on scene and were shocked to find one of their own in need of resuscitation. Unable to get a pulse, they used a defibrillator on Albano, but there was no response.
Paramedics transported Albano to Wilcox Memorial Hospital's emergency department, where the attending ER physician, Monty Downs, MD, told Sammee that Duane had suffered cardiac arrest.
Though now stabilized, Albano was in coma. He was transferred to Straub Clinic & Hospital on Oahu, where electrophysiologist Hingson Chun, MD, implanted a pacemaker into Albano's chest.
By the next morning, Albano came out of the coma.
His recovery was considered miraculous, as Albano suffered no additional medical challenges.
In fact, he's already back in action, coaching and playing competitive-level soccer at home on the Garden Island.
Your continued support of Wilcox helps patients like Duane every day. Donate today.