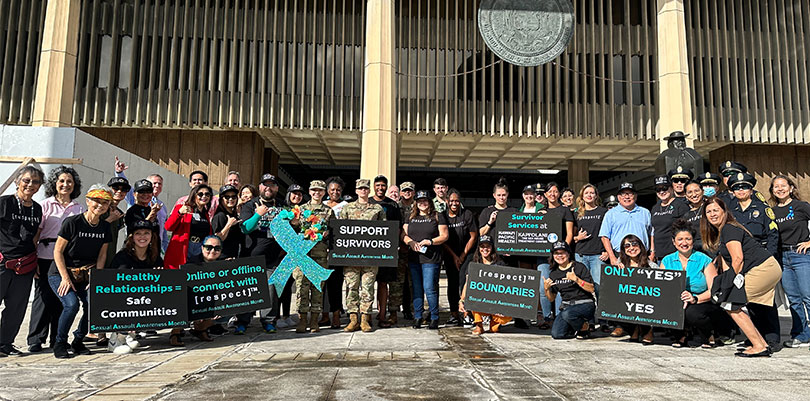 The Sex Abuse Treatment Center (SATC), a statewide program of Kapiolani Medical Center for Women & Children, held a sign-waving event in front of the Hawaii State Capitol today. April is nationally recognized as Sexual Assault Awareness Month (SAAM).
"If you have been impacted by sexual violence, we encourage you to reach out for services," said Lynn Costales Matsuoka, SATC executive director. "We want you to know that you're not alone and you don't have to go through it alone."
Today's sign-waving event also featured SATC's various partners, including Honolulu's Department of the Prosecuting Attorney, Honolulu Police Department, Hawaii Department of Health, Hawaii Department of the Attorney General, and the University of Hawaii's Title IX and the Office of Institutional Equity.
In 2022, SATC provided specialized services to 1,750 callers through its 24/7 crisis hotline (808-524-7273). The hotline offers immediate help to sex abuse survivors, including counseling and assistance in accessing medical-forensic exams.
There were also 738 survivors who connected to SATC for the first time in 2022. Of these survivors:
53% were children.
7% were under the age of 5.
46% were 5-12 years old.
47% were 13-17 years old.
Youngest person served was under the age of 1.
Oldest person served was over the age of 80.
SATC expanded its hotline services last year to include texting as an outreach option for survivors who may be in a situation where they cannot make a phone call. Anyone can text the hotline to receive a link to an encrypted web chat with a trained crisis worker. The web chat is also available on SATCHawaii.org. The web chat is available Monday-Friday, 8:30 a.m.-4 p.m., excluding holidays.
As a program of Kapiolani, a not-for-profit medical center, SATC is supported by the Kapiolani Health Foundation and relies on community support to help fund its services. To learn more or to donate, call 808-983-6334 or visit SATCHawaii.org/Donate.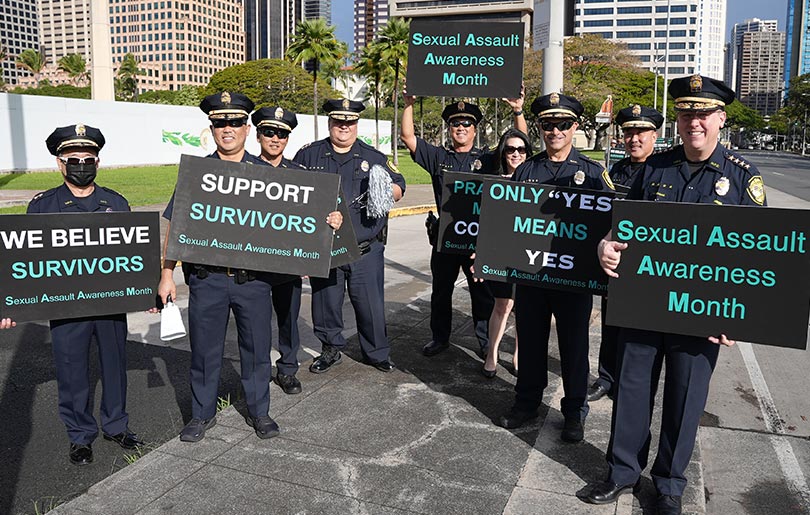 Top Photo: People representing various community groups and organizations gathered on April 4, 2023 at the Hawaii State Capitol in support of national Sexual Assault Awareness Month.
Bottom photo: Honolulu Police Department officers joined the sign-waving event.