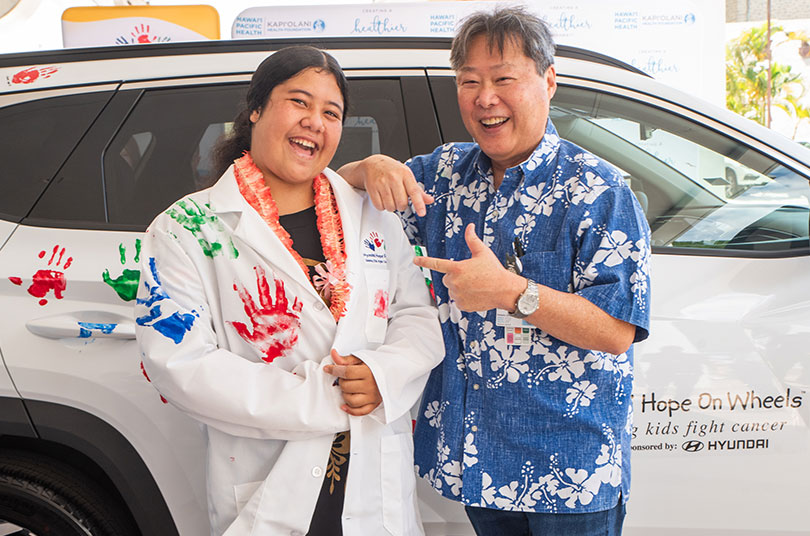 Pediatric cancer care at Kapiolani Medical Center for Women & Children received a $100,000 boost during Childhood Cancer Awareness Month, thanks to Hyundai Hope On Wheels (HHOW). Kapiolani is the only medical center in the state to receive the Hyundai Impact Grant. Since 2009, HHOW has donated $965,000 to Kapiolani toward the treatment of pediatric cancer patients.
"We greatly appreciate the continued support of Hyundai Hope On Wheels," Dr. Randal K. Wada, Kapiolani chief of pediatric hematology and oncology, said. "This money will go directly to Kapiolani's pediatric Bone Marrow Transplant program, the only one of its kind in the state. Donations like this help us provide lifesaving care to Hawaii's keiki so that families don't have to travel to the mainland."
This year's grant will go toward purchasing apheresis equipment, which is a vital component of the Bone Marrow Transplant program at Kapiolani, Hawaii's only full-service women's and children's hospital. The equipment isolates stem cells so they can be collected and used in transplants. Through its support, Hyundai Hope On Wheels has helped to expand the medical center's pediatric oncology services and research programs.
During the event, Hyundai partners joined Kapiolani patients and staff in the Hyundai Hope On Wheels signature Handprint Ceremony. They dipped their hands in paint and placed their handprints on a Hyundai vehicle at the medical center to symbolize the collective fight against pediatric cancer and hope for a cure.
For 25 years, Hyundai Hope On Wheels, a 501(c)(3) not-for-profit organization supported by Hyundai Motor America and its U.S. dealers, has been on a quest to end childhood cancer and has become one of the nation's leading funders of pediatric cancer research. HHOW got its start in 1998 when a small group of New England-area Hyundai dealers joined together to support a local children's hospital. Today, more than 830 Hyundai dealers donate a portion of every vehicle purchase to the cause, paired with support from Hyundai Motor America. During its 25th anniversary, HHOW will donate $25 million to the cause of ending pediatric cancer, bringing it to a lifetime total of $225 million given since 1998.
Photo: Rachel Ioane, former Kapiolani cancer patient, and Dr. Randal K. Wada, Kapiolani chief of pediatric hematology and oncology.