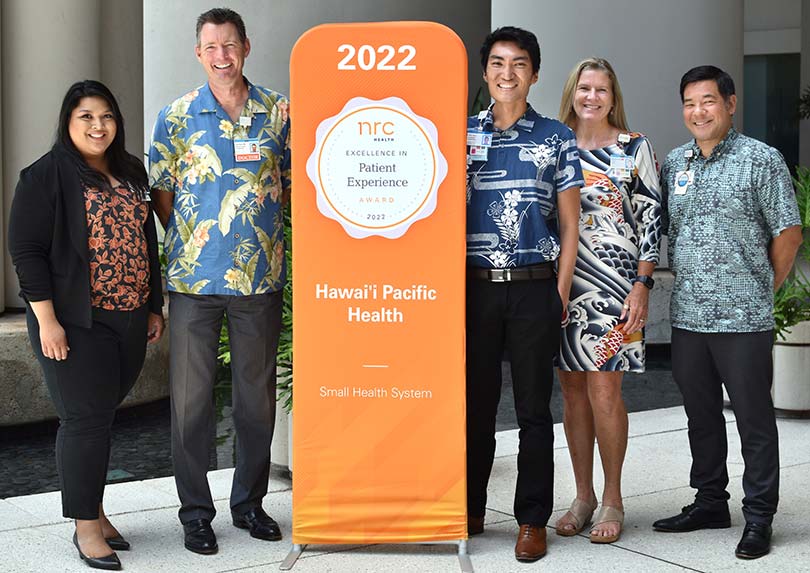 Hawaii Pacific Health (HPH) has been named the nation's top small health system for patient experience by NRC Health, a health care data analytics company. HPH was honored with the 2022 Excellence in Patient Experience Award after ranking first out of 42 eligible health systems with two to four medical centers each.
"Every member of our care team treats our patients with compassion and aloha," said Dr. Dale Glenn, physician liaison for quality management and service excellence at HPH. "They do this not only to relieve physical illness but also alleviate emotional stress and improve overall well-being. This national recognition demonstrates the exceptional care delivered by our teams here in Hawaii."
Hawaii Pacific Health was one of eight health care organizations honored with the Excellence in Patient Experience Award, which is given each year to medical systems that receive top satisfaction ratings from patients and their families.
"It is incredibly gratifying to be able to honor another esteemed group of organizations this year who deliver exceptional patient care day in and day out," said Helen Hrdy, chief growth officer at NRC Health. "Human understanding is at the core of what we do and to see it come to life is rewarding beyond words. Congratulations to Hawaii Pacific Health for this recognition. Your work is inspiring."
NRC Health analyzed net promoter scores based on 65,000 Hawaii patient surveys – a measure of how likely a patient would be to recommend a health care organization to others in the community. This data was collected from April 1, 2021, through March 31, 2022.
Photo (left to right): Xuchyll Roman, HPH quality improvement program manager; Dr. Dale Glenn, physician liaison, HPH quality management and service excellence; Christopher Chow, HPH patient experience coordinator; Marsha Durbin, HPH director of ambulatory quality; Bryce Watanabe, HPH director of patient experience.