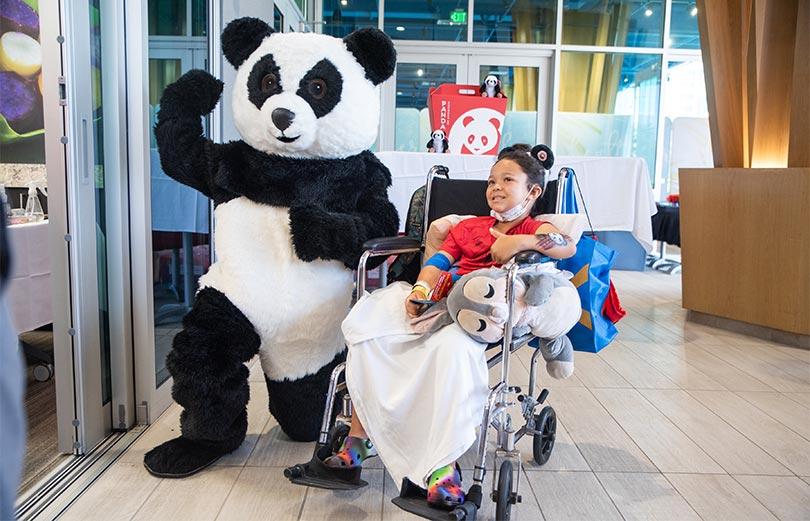 Panda Cares, the philanthropic arm of Panda Express, raised $439,077 in 2022 for programs and services at Kapiolani Medical Center for Women & Children, Hawaii's only Children's Miracle Network (CMN) hospital.
For the second-straight year, the Panda Express location at Moanalua Shopping Center generated the most funds of any Panda restaurant in the country, raising $42,561.
Panda's fundraising efforts for 2022 supported the Child Life team and Pediatric Heart Center. Panda's donation moves it closer to its goal of a $5 million commitment to Kapiolani.
"We are extremely grateful for Panda Restaurant Group's support of Kapiolani through the years," Ray Vara, Hawaii Pacific Health president & CEO, said. "The company's commitment to Kapiolani and the patients it serves is a testament to Panda's generous spirit and community-minded philosophy. It's always humbling to see the wonderful support of Panda's customers and employees in Hawaii."
To celebrate the milestone of giving, dozens of Panda Express employees wanted to meet those who benefit the most while serving up smiles for keiki at Kapiolani. Panda staff members were able to meet with pediatric patients and engage in some fun activities like ring-toss games, face painting and photobooth picture taking.
The visit was capped off with a symbolic ribbon-cutting ceremony in the Panda Cares Center of Hope, which is known to Kapiolani patients as "The Playroom" because of the toys, arts and crafts, video games and other fun distractions found there. The space was renamed the Panda Cares Center of Hope in 2020. The room supports the physical, emotional, mental and spiritual needs of pediatric patients through play. Child Life staff work in this activity room to support the social and emotional needs of children, as well as to help them understand what's going on and what to expect during their stay.
"We are proud to partner with Kapiolani, a Children's Miracle Network hospital, to bring the vision of the Panda Cares Center of Hope to life and are proud to be part of the healing journey for the families and kids at these hospitals," Dr. Peggy Cherng, co-founder and co-CEO of Panda Restaurant Group, said. "Children are our future, and through this partnership and curriculum designed to give children the strength to succeed, we will bring smiles and hope to communities nationwide."