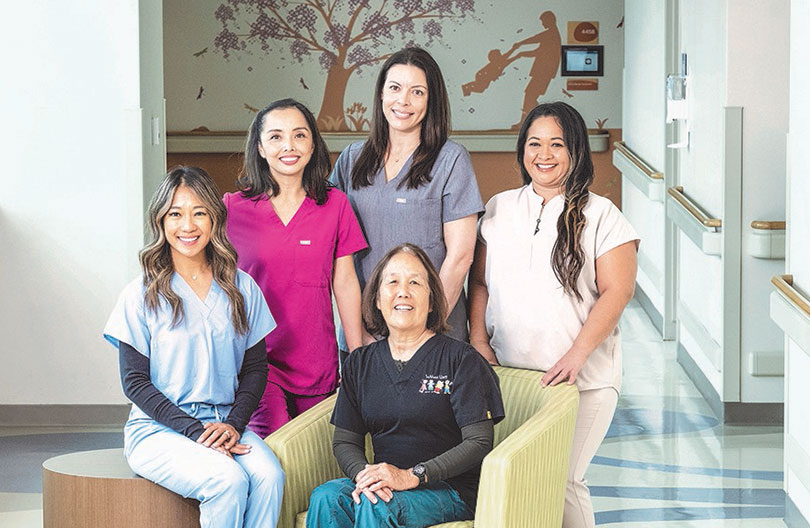 To honor National Nurses Week, the cover story of this week's issue of MidWeek and MidWeek Kauai (May 10, 2023) shines the spotlight on Hawaii Pacific Health's dedicated nurses.
The article gets to "The Heart of Health Care," sharing the profiles of five HPH caregivers — all of whom demonstrate their compassion and commitment to providing high-quality care and are leaders who instill excellence in the nursing profession.
Featured in the story are (as pictured on the cover clockwise from left to right):
Alma Mancini, charge nurse for Pali Momi Medical Center
Rochelle Bartolome-Steffens, urgent care RN for Straub Medical Center — Kapolei Clinic & Urgent Care
Charmaine Oshiro, endoscopy charge nurse for Straub Medical Center
Tiara Kali, resource nurse for Wilcox Medical Center
Lori Conley, pediatric oncology nurse for Kapiolani Medical Center for Women & Children
At Hawaii Pacific Health, we believe that working together enables us to make the greatest impact on individuals, families and our communities. Caregivers like Alma, Rochelle, Charmaine, Tiara and Lori — alongside our inspiring team of more than 2,300 other licensed registered nurses systemwide — remind us that, together, we can achieve our mission of creating a healthier Hawaii.
"Our nurses go above and beyond every day in so many ways," says HPH System Chief Nurse Executive Amy Thomas in the article. "We are so proud of our nursing workforce at HPH, and we truly thank them for their commitment to excellence!"
Read the article online now in MidWeek or MidWeek Kauai.