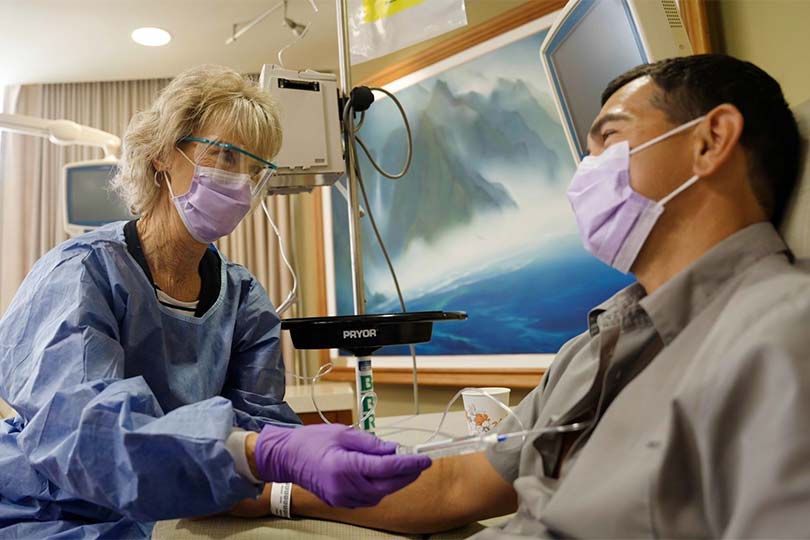 Hawaii Pacific Health is the first system in the state to earn a prestigious accreditation for the cancer care it provides to patients across Hawaii. HPH is now recognized as an Integrated Network Cancer Program (INCP) from the American College of Surgeons Commission on Cancer (CoC).
All four of HPH's medical facilities — Kapiolani Medical Center for Women & Children, Pali Momi Medical Center, Straub Medical Center and Wilcox Medical Center — have been individually accredited by the CoC for years, dating back to Straub's first accreditation in 1980. The commission evaluates more than 35 standards including specialized credentials for medical staff, specific procedures for cancer, data collection and research, and patient services ranging from psychological and nutrition to palliative care.
The additional INCP accreditation, however, now recognizes HPH for providing quality, comprehensive care for cancer patients across all its medical centers. In some cases, the targets HPH had to meet were even higher than those utilized for prior CoC accreditations.
"We are extremely proud of this accreditation which acknowledges that Hawaii Pacific Health physicians and medical teams have taken the integration of cancer care to the next level," said Dr. Jeffrey Killeen, HPH medical director for oncology services who is also a breast and gynecological pathologist. "It means that patients in Hawaii can trust that they will receive consistent and continuous high-quality care within all of our facilities."
Patients at CoC-accredited facilities gain access to clinical trials and new treatments, genetic counseling and patient-centered services.
HPH Cancer Centers have been providing lifesaving cancer care for people of all ages across Hawaii for decades. Nearly 3,000 men, women and children are diagnosed or treated for cancer every year through HPH's four medical centers and more than 70 locations statewide.
Specialized services include:
The James T. Kakuda Cancer Center at Pali Momi Medical Center is the first integrated center of its kind serving Central and West Oahu.
Pali Momi's cancer center recently opened a multidisciplinary clinic, including surgeons who specialize in gynecology oncology and breast surgery. In 2021, it provided more than 24,000 hematology, oncology and infusion treatments.
Kapiolani Medical Center for Women & Children has the only women's cancer facility in Hawaii that specializes in treating breast and gynecologic oncology patients.
About 200 children receive specialized cancer care at Kapiolani every year. About 85% are in clinical trials through Kapi'olani's membership in the National Cancer Institute-sponsored Children's Oncology Group.
Kapiolani opened Hawaii's first CAR T-cell clinical trial for pediatric patients. It is the only dedicated site in the state for bone marrow collection and transplants for children.
Straub Medical Center's Cancer Center has been accredited by the Commission on Cancer since the 1980s. Its team treats patients on Oahu and travels to Maui to provide care for patients there.
Straub led efforts to develop a process that reduces the number of times cancer patients visit the emergency department. Connecting clinic patients directly with an infusion nurse was so successful, the practice has been adopted systemwide.
Wilcox Medical Center offers patients the only dedicated cancer services and infusion center on Kauai.
Wilcox has started an outpatient palliative care program for cancer patients.