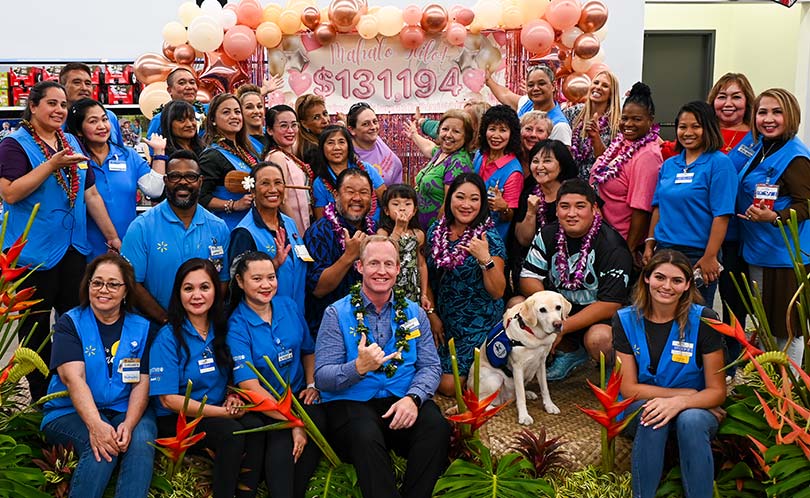 For the second year in a row, Hilo Walmart's customers and team of enthusiastic associates helped break the national Children's Miracle Network Hospitals (CMN) campaign fundraising record for a single Walmart store.
The store raised $131,194 for Kapiolani Medical Center for Women & Children, the only CMN hospital in Hawaii. This is the fourth year in a row that the Hilo Walmart was the top fundraiser out of more than 4,600 Walmart stores in the U.S.
"Our secret is our people," Mark Roberts, Hilo Walmart store manager, said. "Our entire team is passionate about helping Kapiolani because they know someone who has received care there. The Hilo community is so generous because they know their donation helps children in Hawaii."
The store recently held a festive event to celebrate the creative ways Hilo Walmart associates inspired customers to contribute. Cashiers celebrated every donation at the register with cheers and cowbells. Associates also dressed up in inflatable costumes and sang and danced in front of customers.
"When customers see us having fun, it makes them happy and they give," Wendel Dait, Hilo Walmart frontend coach who helped organize fundraising efforts, said.
Overall, Hawaii's nine Walmart stores, one distribution center and two Sam's Club locations raised more than half-a-million dollars for Kapiolani this year.
The money will go toward a new retinal imaging system at Kapiolani that can help detect eye abnormalities in children, especially in premature babies who may face a higher risk of eye damage or blindness. The donation will also support cancer care at Kapiolani, where approximately 150 children are treated for cancer every year.
Joan Kanemori, Kapiolani's vice president of patient services and chief nurse executive, called the Hilo team amazing. "Their excitement, dedication and commitment to the communities across the state of Hawaii is inspiring," she said.