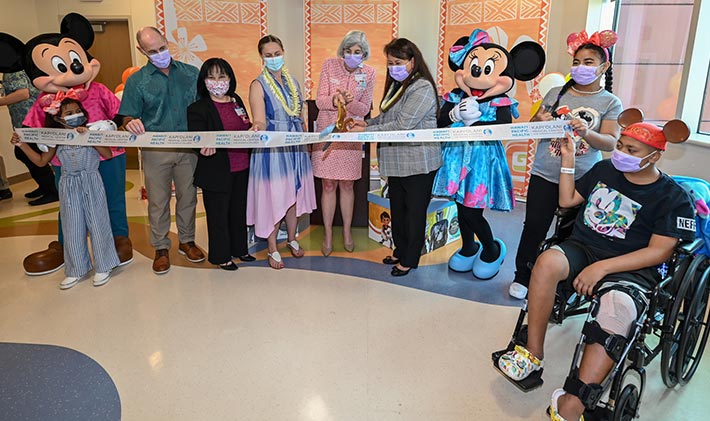 The magic of Disney is now enhancing the patient experience at Kapiolani Medical Center for Women & Children. The Walt Disney Company's children's hospitals initiative launched this week at Hawaii's only full-service children's hospital. This new program brings classic tales to life through interactive artwork and digital displays for pediatric patients and their families. These newly designed areas include the surgery waiting rooms and entrances to specialized care.
"For children, a key to their medical care is a healing environment that is welcoming, encouraging and fun, which is something The Walt Disney Company knows and does best," said Gidget Ruscetta, chief operating officer for Kapiolani Medical Center for Women & Children. "This is a wonderful opportunity for Kapiolani and Disney to collaborate together to instill hope and inspiration in our young patients."
This unique transformation of hospital spaces brings the positive power of Disney stories, characters and experiences to children of all ages. It's a patient experience like no other that allows children to explore colorful, visual storytelling murals throughout the facility and interact with beloved Disney stories through magical window displays, all while wearing their favorite Disney-themed hospital gowns from Starlight Children's Foundation. Children and their families can also enjoy the latest Disney shows and movies through the complimentary Disney+ and Disney Movie Moments access provided via the Child Life team.
While Disney pledged $100 million in 2018 to support children's hospitals around the globe, Disney will continue to expand its innovative programs around the globe in 2023. Kapiolani is among select hospitals where Disney is offering the full suite of engaging experiences that can bring comfort to patients undergoing treatment. Walt Disney's legacy is reflected in this opportunity for kids to reimagine their patient journey with optimism, while also reducing the anxiety of a hospital visit or stay.
The ribbon-cutting ceremony had a special Hawaii touch. Disney friends from Aulani, A Disney Resort & Spa, including Mickey Mouse, Minnie Mouse and Moana visited Kapiolani to meet with patients and their families. Aulani cast members know first-hand the impact Kapiolani has in the community.
"Aulani Resort is proud to team up with Kapiolani here in Hawaii because we understand the important role they play in serving the medical needs of children on every island across our state," said Kimberly Agas, general manager for Aulani, A Disney Resort & Spa. "Our cast members are part of this community, and many of them were born at Kapiolani or received treatment for their own children. It's truly in support of a healthier and happier community that we celebrate this incorporation of Disney stories and spaces to help deliver joy and spark happiness when it's needed most."
For more information about The Walt Disney Company's Children's Hospitals Initiative program at Kapiolani visit Kapiolani.org/Disney.