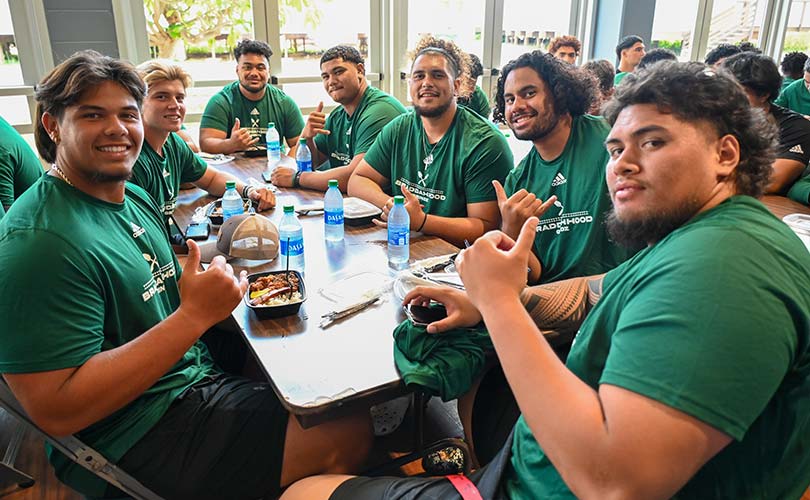 Hawaii Pacific Health is proud to provide healthy meal options to University of Hawaii student-athletes during the offseason. HPH has joined local businesses and organizations participating in the Braddahhood and Sistahhood Grindz program to help student-athletes maintain the necessary nutrition required to perform at their best. HPH kicked off this new partnership by feeding the Rainbow Warrior football team.
"It's the same thing as the stands being filled with 50,000 cheering fans at Aloha Stadium," said Timmy Chang, UH football head coach. "When our players eat a meal every week from a different restaurant or organization that's helping to support their needs and taking care of them – I know they feel it. It's just good to see the outpouring of support."
HPH employees prepared more than 100 bento boxes and delivered the packaged meals to players as part of their daily training table at the Stan Sheriff Center.
"There's nothing like seeing the players sitting together and bonding over a meal," said Art Gladstone, HPH executive vice president and chief strategy officer. "It's a lot of joy that I see in them enjoying a meal together, and we're really proud to be a part of that."
The UH football team expressed its gratitude today when several players visited Kapiolani Medical Center for Women & Children. The Rainbow Warriors met with pediatric patients and shared words of encouragement.
"It's all about fighting, keeping your head up, staying strong and just pushing through," said Andrew Choi, senior UH defensive lineman. "For football, it's play-by-play, just keep fighting through. For these kids, it's day-by-day, they're fighting for their lives."
The Braddahhood and Sistahhood Grindz program was created in 2022 by a group of local restaurants that donated meals to the football team during the summer. Since then, community support has grown. The meal program now feeds eight UH sports teams, with plans to add more.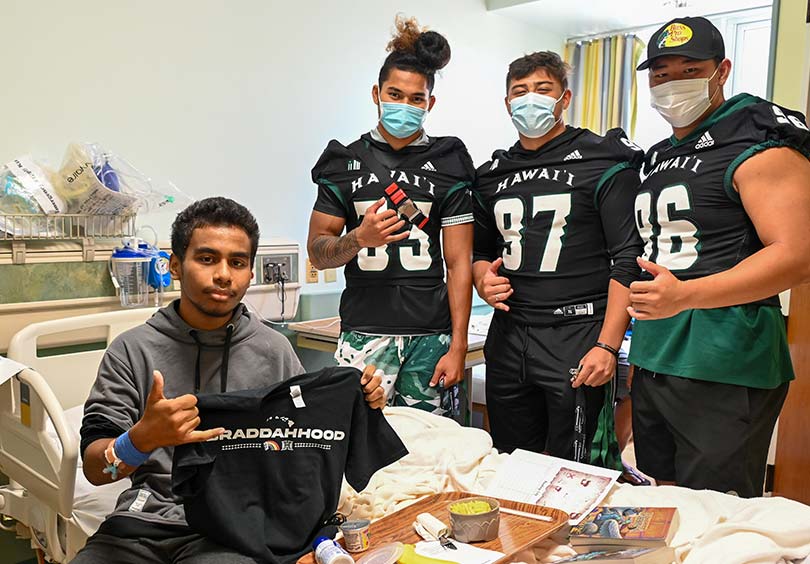 Rainbow Warrior football players visit a pediatric patient at Kapiolani Medical Center for Women & Children.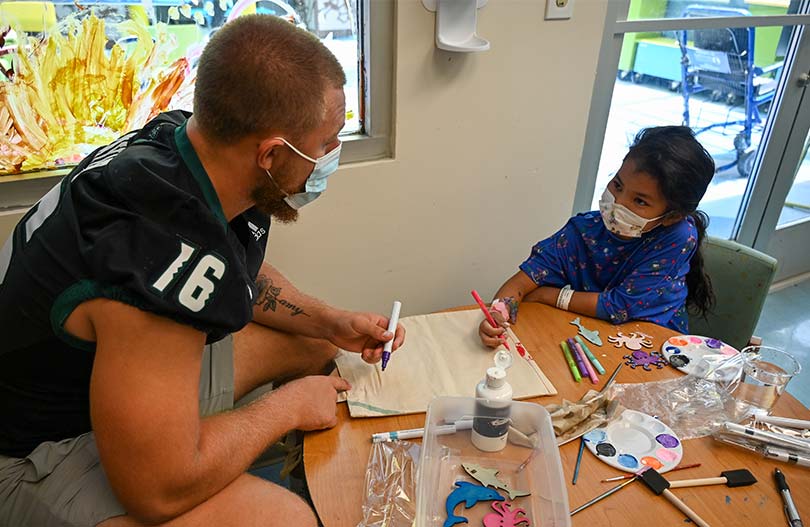 Player coloring with a pediatric patient at Kapiolani Medical Center for Women & Children.
Top photo: Rainbow Warrior football team players enjoy bentos at Braddahhod Grindz.