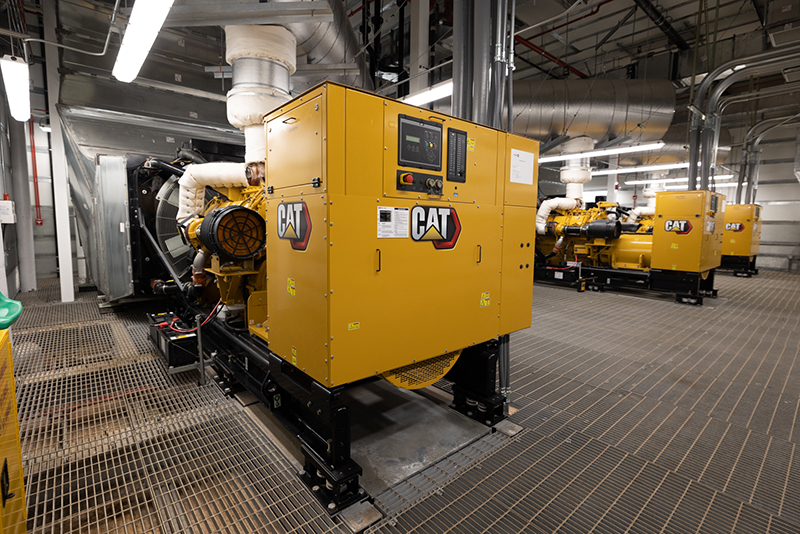 Three new generators that will provide electricity to Wilcox Medical Center during emergencies and power outages were blessed during a ceremony that celebrated these critical, one-megawatt power sources.
"This generator system will provide uninterrupted power for hospital operations at Wilcox Medical Center when needed and that means a lot to our community considering what Kauai residents have experienced from recent flooding and other natural disasters over the years like Hurricane Iniki," said Jen Chahanovich, president and CEO of Wilcox Medical Center and CEO of Kauai Medical Clinic. "We are extremely grateful that everyone involved viewed this project as a way to ensure the health, welfare and safety of the people of Kauai. We always want to be prepared for the unexpected and these generators are essential to caring for our patients when they need us the most."
Wilcox's 72-bed medical center supports critical and routine hospital operations for Kauai's more than 72,000 residents and thousands of visitors each year. These new generators will increase Wilcox's power capacity to provide uninterrupted electrical energy in the event of an emergency.
Hurricane Iniki is the one natural disaster that clearly demonstrates the importance of these new generators. When Hurricane Iniki struck Kauai in 1992, the entire island was without electricity. About 20 percent of the island got power back in a month, while other parts were without electricity for another two to three months.
"We're seeing large storms come through," said Larry Kanda, disaster mitigation planner for the Hawaii Emergency Management Agency (HI-EMA). "Hurricane Iniki was a category three and Hurricane Douglas in 2019 was a category four. These generators are a high priority for Kauai."
The three new generators will provide power to the entire medical center and have the capacity to support future facility expansion. The new generators are also more effective and more efficient with upgraded automatic transfer switches and transformers.
"It's three times the power of the two previous generators," said Roland Resurreccion, project manager for design and construction at Hawaii Pacific Health. "With the old system, there were some manual switches. This project has automated technology, with paralleling switchgears and switchboards. The computerized software and equipment is advanced in terms of running the generators and communicating with detail logs to show how everything is running efficiently."
This project is a collaboration between federal, state and county officials, who worked together to secure the new generators. Wilcox Medical Center committed to pay $9 million towards the project. The remaining funding was the result of a partnership with the Hawaii Emergency Management Agency (HI-EMA) that allowed Wilcox the opportunity to apply and receive a $4 million grant from the Federal Emergency Management Agency (FEMA) through the Pre-Disaster Mitigation Program.
As for Wilcox's two retired generators, they still serve a purpose on Kauai. Wilcox donated the older emergency generators to the County of Kauai Department of Public Works in May 2021. Plans are in the works for the generators to be used by the Wastewater Management Division to help add a level of reliability to its operations. In the event a County of Kauai wastewater treatment plant requires emergency power, these generators will act as mobile backup units and help the county avoid interruptions to its wastewater service.
"Mahalo again to Wilcox Medical Center for their generous donation last year to the County of Kauai," said Mayor Derek S. K. Kawakami. "The contribution of two retired generators from Wilcox will be tremendous assets for our County's wastewater needs."
This long-term investment in electric technology coincides with another facility upgrade of Wilcox's Emergency Department, which was financed through a successful fundraising campaign by the Wilcox Health Foundation. Wilcox is Kauai's only Level III Trauma Center and was the first neighbor island medical center to achieve that designation. It is also Hawaii's first Level III Trauma Center to be verified by the American College of Surgeons. Wilcox's Emergency Department averages 25,000 visits annually and 450 trauma activations per year.