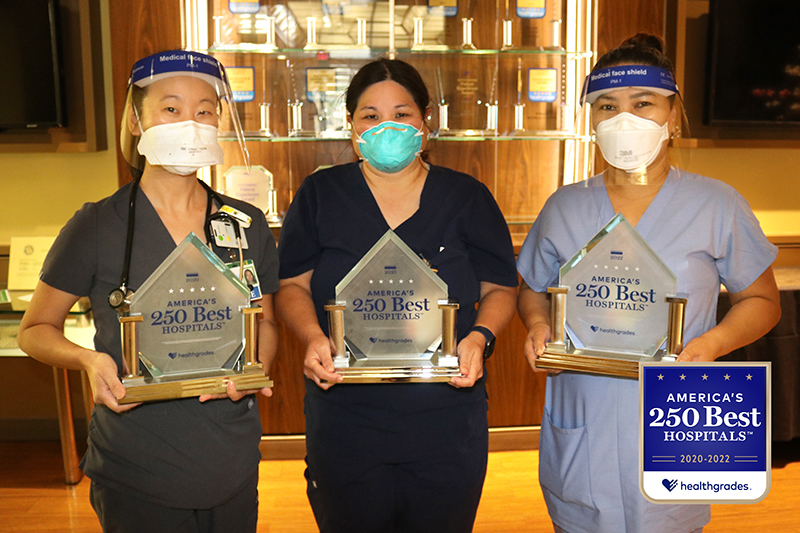 Straub Medical Center has been named one of America's 250 Best Hospitals, placing it in the top 5% of nearly 4,500 hospitals assessed by Healthgrades.  This is the third year in a row (2020-2022) that Straub Medical Center is the only hospital in Hawaii to receive the America's 250 Best Hospitals Award™.
"We are humbled by this continuing recognition, and see it as a direct reflection of our Straub team's consistent dedication to providing quality, personalized care," said Straub Chief Operating Officer Travis Clegg. "We remain committed to our patients and community. The clinical outcomes that this award acknowledges require our staff to be collaborative, innovative and effective. Our patients benefit from this team approach and the many exceptional employees who contribute to their care."
Straub Medical Center was also recognized as One of America's 100 Best Hospitals for Gastrointestinal Care™ and received the Pulmonary Care Excellence Award™ and the Surgical Care Excellence Award™. In addition, Straub is the only hospital in Hawaii to receive the following:
Cranial Neurosurgery Excellence Award™ for two years in a row (2021-2022)
Stroke Care Excellence Award™ for three years in a row (2020-2022)
Gastrointestinal Care Excellence Award™ for five years in a row (2018-2022)
Gastrointestinal Surgery Excellence Award™ for eight years in a row (2015-2022)
"It is a great achievement to be awarded as one of Healthgrades' America's 250 Best Hospitals," said Healthgrades Chief Medical Officer and Head of Data Science Brad Bowman, MD. "Now more than ever, patients are learning the importance of taking control of their health and using resources like Healthgrades to find the perfect hospital and caregiver match. We commend Hawaiʻi Pacific Health's Straub Medical Center for providing superior service and committing themselves to keeping their communities safe."
Recipients of Healthgrades America's 250 Best Hospital Award™ showed overall excellence across a broad spectrum of care. Healthgrades reviewed outcomes for patients in the Medicare population from 2018-2020 across 31 of the most common procedures and conditions including pneumonia, strokes and heart failure. To learn more about how Healthgrades determines award recipients and for more information, visit healthgrades.com/quality/americas-best-hospitals.