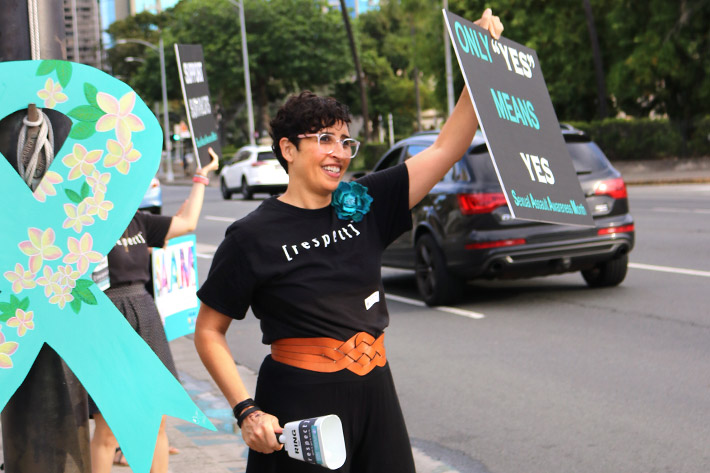 The Sex Abuse Treatment Center (SATC), a program of Kapiolani Medical Center for Women & Children, is observing Sexual Assault Awareness Month (SAAM) by offering the public several opportunities to learn more about issues surrounding consent, respecting boundaries and resources in place for survivors.
"SATC is making a concerted effort this year to reconnect with the community as we slowly emerge from the COVID-19 pandemic," said Lynn Costales Matsuoka, SATC associate director.
SATC joined partner agencies (the Department of the Prosecuting Attorney, City and County of Honolulu; the Honolulu Police Department; the Hawaii Coalition Against Sex Assault; the Hawaii Department of the Attorney General, Crime Prevention and Justice Assistance Division; the Office of Institutional Equity; and armed forces personnel) in a sign-waving event in front of the Hawaii State Capitol today, April 6, to mark the beginning of its month-long awareness campaign.
As part of SAAM activities, SATC will highlight its new confidential web chat feature. This secure online platform gives individuals the option of reaching out to an expert when calling the hotline may not be possible.
Anyone experiencing sexual assault (or a victim's family member or loved one seeking help) can text 808-524-7273 to receive a link to the encrypted web chat, where they can engage in a confidential online conversation with a trained crisis worker. The web chat is available Monday-Friday, 8:30 a.m.-4 p.m., excluding holidays.
"While we continue to have our 24-hour hotline available, anyone can now use our web chat feature that is confidential and anonymous," Costales Matsuoka said.
SATC also has expanded its online accessibility tools for those with hearing and visual impairments. In addition to enhanced audio and magnification capabilities, the website now provides translation into more than 100 languages, including olelo Hawaii.
The SATC team has other in-person and virtual events planned throughout April, including podcasts and presentations at Oahu high schools and universities. Additional information and resources can be found at SATCHawaii.org.
As a program of Kapiolani, a not-for-profit medical center, SATC is supported by the Kapiolani Health Foundation and relies on community support to help fund its services. To learn more or to make a donation, call 808-983-6334 or visit SATCHawaii.org/Donate