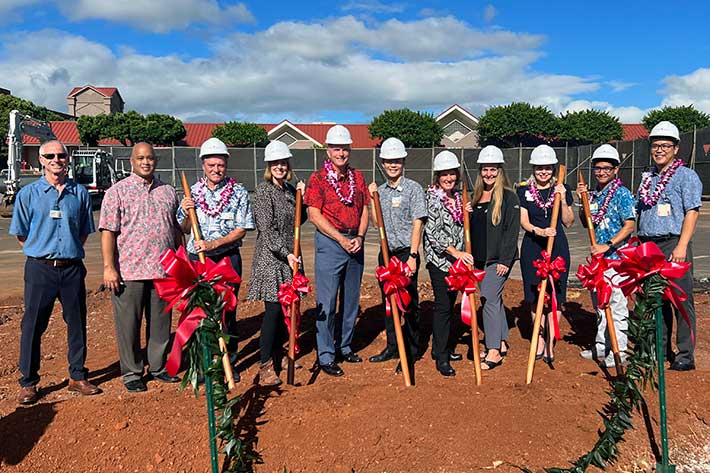 Hawaii Pacific Health and Town Center of Mililani leaders broke ground today, September 27, 2022, on a new medical facility that will serve people of all ages in Central Oahu.
The 24,000-square-foot Straub Medical Center Clinic will be constructed in the parking lot between Popeye's Louisiana Kitchen and the Hele Gas Station, which is just across from Straub's current clinic at the Town Center. The new clinic will offer patients primary and urgent care, as well as specialty care from OB-GYNs, sports medicine physicians and dermatologists. Other specialists will also provide medical services on a rotating basis.
"The communities in Central Oahu are growing, and so are the needs of those who call these areas home," said Dr. Leslie Chun, CEO of Hawaii Pacific Health Medical Group. "This new clinic will allow our physicians to treat an even broader scope of health care in one central, easy-to-access location.
"A large part of our mission to create a healthier Hawaii is providing our community with high-quality, personalized medical care. Patients here receive the benefit of the clinic being part of one of the state's largest health care systems, with medical centers, physicians and staff that are nationally recognized for quality care, patient safety and patient experience."
Construction plans include additional space for on-site specialty services, including imaging and laboratory services. The clinic is projected to open in 2024.
"The Town Center of Mililani is excited to welcome this new Straub Clinic," said Shelley Morisaki, general manager of Town Center of Mililani. "As Central Oahu's main destination to shop, dine, gather and celebrate, we host a wide range of guests daily. Straub's new clinic will provide our local community with access to state-of-the-art health services and support our ongoing commitment to nurturing a healthy and vital community in the years to come."
This will be Straub's largest neighborhood clinic in Hawaii, which will be in the largest shopping center in Central Oahu. Managed by M&J Wilkow, Town Center of Mililani is also one of the largest in the state of Hawaii, spanning a total of 449,000 square feet.

Photo: Artist's rendering of the new Straub Clinic at Mililani Town Center.
Photo: (top of page; left to right) Warren Chaiko, HPH Senior Vice President for Design & Construction; Roland Resurreccion, HPH Design & Construction Senior Project Manager; Art Gladstone, HPH Executive Vice President & Chief Strategy Officer; Dr. Jenny Satterberg, HPHMG Family Medicine Physician, Straub Medical Center – Mililani Town Center Clinic; Dave Underriner, HPH Executive Vice President of Oahu Operations & CEO of Kapiolani Medical Center for Women & Children, Pali Momi Medical Center and Straub Medical Center; Terence Young, HPHMG Vice President; Dr. Sandra Noon, HPHMG Chief of Primary Care; Nicole Jenkins, HPHMG Manager of Clinic Operations, Straub Medical Center – Mililani Town Center Clinic and Mililani Shopping Center Clinic; Jennifer Jones, HPHMG Vice President; Preston Kim, HPHMG Director of Primary Care; Dr. Leslie Chun, HPHMG CEO