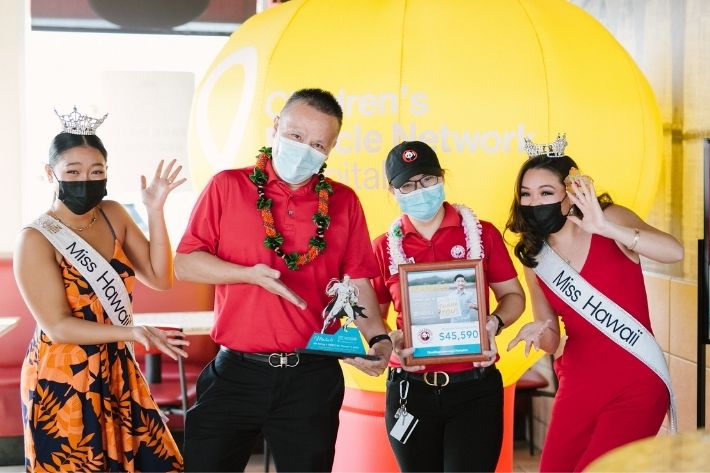 Its official store number is 1282, but the Panda Express at Moanalua Shopping Center is No. 1 with Children's Miracle Network (CMN) Hospitals. The eatery raised $45,591 for Kapiolani Medical Center for Women & Children, Hawaii's only CMN hospital, in 2021, which is more than any other location in the U.S. In total, 32 Hawaii Panda restaurants raised $394,455 for Kapiolani last year.
All of the money will go to Kapiolani programs and services, including the Panda Cares Center of Hope, also known as the "Playroom." The specialized area is designed as a "safe space" for hospitalized keiki who are receiving care or have a life-threatening illness. The center has helped nearly 14,000 patients and is a cornerstone of the Child Life program.
"Through the continued generosity of Panda Express, the Child Life team at Kapiolani is able to provide social-emotional support and developmentally appropriate care to enhance the well-being of pediatric patients and their families," said Heather Tamaye, supervisor of pediatric services at Kapiolani.
Panda's fundraising has also supported Kapiolani's new Pediatric Heart Center. Set to open later this year, it will be the first of its kind in Hawaii and employs Kapiolani's first full-time pediatric heart surgeon. The center will enable keiki to get the life-saving care they need without flying to the mainland.
"Giving is one of our core values at Panda Restaurant Group, and one of the ways we do this is through Panda Cares," said Ali Urbick, senior marketing manager of the Panda Restaurant Group. "Thanks to our generous guests and associates, and amazing partners like Children's Miracle Network, Panda Cares can bring hope to keiki throughout Hawaii."
Panda teams raise funds for Children's Miracle Network Hospitals year-round, and associates recognize each guest donation by ringing bells at registers. Panda employees also give out of their own paychecks through the company's employee giving campaign. The Hawaii restaurants have raised $2,577,874 for Kapiolani since 2016.
Kapiolani Medical Center for Women & Children has been Hawaii's only Children's Miracle Network hospital since 1984. Children's Miracle Network Hospitals is a not-for-profit organization dedicated to saving and improving the lives of children. One hundred percent of the money raised in Hawaii stays here to help our keiki, regardless of a family's ability to pay.