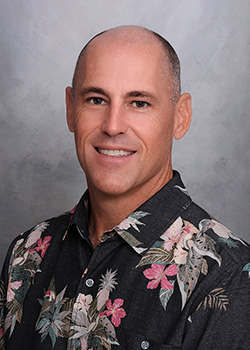 Mike Foutch, MA, has been named vice president of hospital operations for Kapiolani Medical Center for Women & Children.
"I feel very fortunate for the opportunity to join this respected medical center in our community," Foutch said. "I look forward to learning from those on the team so I can help lead Kapiolani to continued success in today's challenging and changing world of health care."
Foutch brings more than 25 years of health care experience to the position, having last served as the regional deputy director of medical care within the Pacific Air Forces headquarters at Joint Base Pearl Harbor-Hickam. Prior to that, he was the commander (which is equivalent to hospital CEO) of the Wright-Patterson Medical Center at Wright-Patterson Air Force Base in Dayton, Ohio. There, he directed the second largest medical center in the U.S. Air Force.
Foutch earned his bachelor's degree in management at the U.S. Air Force Academy and his master's in organizational management at George Washington University. After more than 27 years of service in the Air Force, Foutch retired as a colonel in August 2022. He is a fellow of the American College of Healthcare Executives (ACHE) and is a member of ACHE's Hawaii-Pacific Chapter.
Foutch and his wife, Jennie, live in East Oahu with their three children. He enjoys golfing, hiking, paddling and spending time outdoors with his family. He is proud to now call Hawaii home and looks forward to the opportunity to serve those in his community.
"I am excited to be part of the team at Kapiolani Medical Center and Hawaii Pacific Health," Foutch said. "The mission of creating a healthier Hawaii and supporting the women and children of Hawaii and the Pacific are very special, and are what attracted me to this position. I hope to use my skills, knowledge and experience to contribute to the culture of giving back to the community."