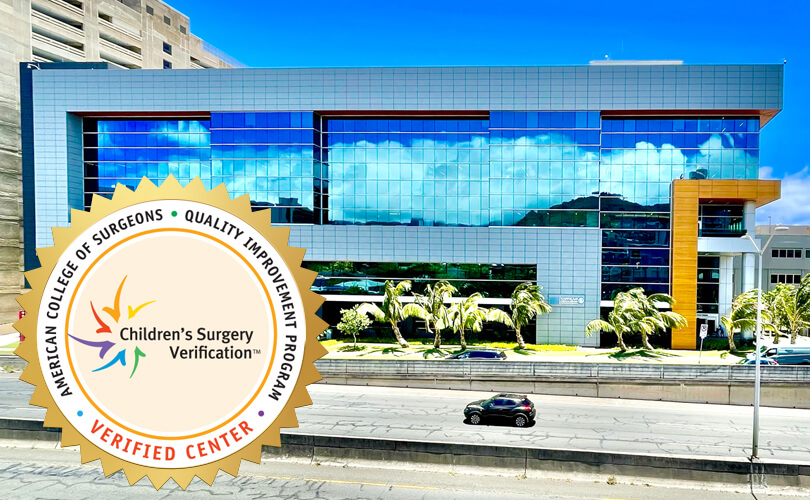 Kapiolani Medical Center for Women & Children has achieved another medical first in Hawaii. The specialty children's medical center has earned Level 1 Children's Surgery Verification from the American College of Surgeons (ACS), making it the only hospital in the state, and one of approximately 50 nationwide, to hold this distinction.
"We are honored by this recognition of our doctors, nurses and our entire pediatric team who are dedicated to providing the very best surgical care and comprehensive services for children in Hawaii and the Pacific region," said Gidget Ruscetta, Kapiolani's chief operating officer. "Since Kapiolani was founded more than 130 years ago, technology and treatments have changed, but our focus as a not-for-profit medical center has remained constant – to provide Hawaii families lifesaving and life-changing care, regardless of their ability to pay."
Level 1 verification is the highest of three designations given by the ACS Children's Surgery Verification Program to recognize hospitals providing multi-disciplinary, high-quality, patient-centered pediatric surgical care. Medical centers in this category have the resources and capability to care for infants through young adults, including those requiring complex surgical care such as congenital heart surgery, pediatric neurosurgery and neonatal surgery.
The ACS Children's Surgery Verification Program recognizes that the surgical care of children is special, with challenges that are different from adult care. It evaluates hospitals based on a comprehensive list of more than 140 requirements and considerations including the number of pediatric specialty surgeons on staff, specific pediatric training for medical teams, specialized pediatric facilities, systems and equipment, and specialized pediatric patient transportation.
Medical centers also must demonstrate consistent, effective processes to assess and improve patient outcomes and experiences, as well as contribute to community outreach, medical education and scientific advancement.
In its final report regarding Kapiolani, ACS said it was "impressed with the strong program that has been developed around children's surgical care."
"Every patient deserves the best quality care, which is why Kapiolani continuously works to ensure that our teams are meeting or exceeding national standards," said Dr. Russell Woo, Kapiolani's medical director for children's surgery. "As Hawaii's only full-service children's hospital, we are proud to be able to provide services which allow our families to remain in Hawaii so they do not have to travel to the mainland for care."