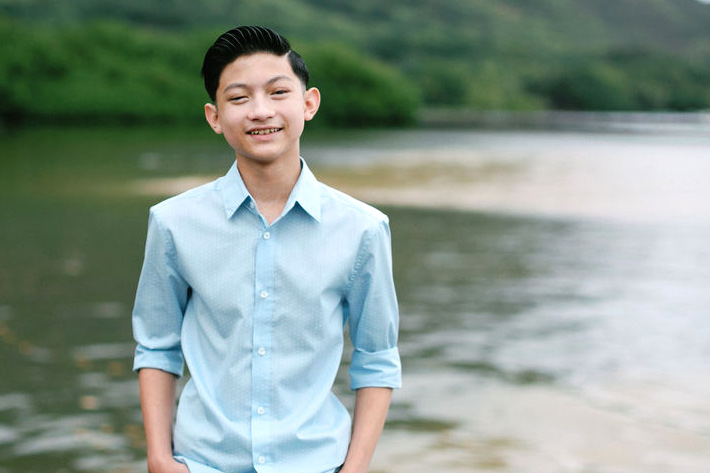 Xander Cabales says his mission in life is to inspire others. The 15-year-old will do just that over the next year as he serves as the Children's Miracle Network (CMN) Champion for Kapiolani Medical Center for Women & Children.
Xander accepted the prestigious role in front of Kapiolani staff members today at the medical center's auditorium. He will share his courageous story throughout the coming year, inspiring countless CMN community partners and supporters committed to the health and well-being of Hawaii's keiki.
"It's important for me to talk about all of the things that Kapiolani Medical Center for Women & Children did for me to get where I am right now," the high school sophomore said.
When he was 7 years old, Xander came down with a fever and, by the next morning, his temperature spiked to 105 degrees. A severe rash began covering his body. Then, the skin around his eyes and mouth began to soften and shed, while his breathing became shallow.
Doctors at Kapiolani diagnosed Xander with the life-threatening skin disorder Stevens-Johnson syndrome (SJS) and, later, toxic epidermal necrolysis (TEN), a severe form of SJS that only affects about one in a million people each year.
Due to the infection, Xander lost 60% of his skin. He spent four weeks on life support in the Kapiolani Pediatric Intensive Care Unit before showing signs of responsiveness. His family attributes his miraculous recovery to the team of Kapiolani specialists who cared for their son.
"The medical staff instilled hope in us," said his dad, Ronnie Cabales. "They gave us Xander back. They saved our son."
Xander's infection had severely damaged his eyes, skin, lungs and esophagus, requiring the care of several specialists at Kapiolani, including pediatric ophthalmologist Dr. David Young.
"Given the rarity of this disease and how severe it can be for children, this was the place to be," Young said. "We were able to coordinate all the different specialties – infectious disease, ophthalmology and the nurses who specialize in children's health – which is what the team at Kapiolani does on a regular basis for children in Hawaii."
As his health improved, Xander had to relearn how to hold his head up, sit, walk, talk and eat. The rehabilitation and Child Life teams at Kapiolani used video games to motivate him to continue his difficult but necessary therapy.
"Being able to play video games at Kapiolani was something I could enjoy and it was helping me get better," said Xander, who today is a high school sophomore who practices jiu-jitsu and expresses his creativity through detailed drawings of dinosaurs, monsters and superheroes.
Those who worked closest with Xander throughout his medical journey say his resilience and desire to pay it forward make him a natural choice for the role of the Kapi'olani CMN Champion.
"Xander is a great Champion for Kapiolani," Young said. "He represents just how difficult some of these medical problems can be and how it takes a special place and a special person to be able to come out of that as well as he did."
In addition to his family and Kapiolani ohana, Xander's Champion launch included several surprises, including a trip to Orlando and Universal Studios, along with a video compilation featuring CMN fundraising partners from across the state congratulating the teen on his new role and rocking his signature sunglasses.
"His fight and resilience after all he has been through is incredible," said Carol Cairme of CMN partner Marriott's Maui Ocean Club. "I don't know him personally, but his smile tells me he's marching through life, knocking down any walls that may be in his way and living life positively."
As Xander embarks on his Champion year, he is most excited to share his message of positivity, kindness and resilience with others.
"Through this, a lot of people can understand my story, and they can understand what a lot of kids in the hospital may have gone through," Xander said. "Being able to show how much Kapiolani did and what they accomplished to help save me – that's a really big part for me in being a Champion."
As a not-for-profit medical center, Kapiolani relies on community support to further its mission of caring for Hawai'i's families and creating a healthier Hawaii. Kapiolani is committed to providing advanced, quality care to all patients, regardless of their ability to pay.
In Hawaii, CMN funds help support key programs and services at Kapiolani, such as the Child Life program and critical care transport team, as well as lifesaving equipment. Gifts made in Hawaii, stay in Hawaii, with 100% of the funds going to help local keiki.
Local fundraising partners Costco Wholesale, Panda Express, Walmart, Ace Hardware, Marriott Vacations Worldwide, various Hawaii credit unions, KSSK with iHeart Media, D. Suehiro Electric and more helped raise nearly $3 million for Kapiolani CMN last year. Kapiolani has had a partnership with CMN for more than 35 years.